Naval officers were deployed Wednesday afternoon for evacuations in Kampong Speu province amid ongoing nationwide flooding that has hit more than 60,000 houses in just three of the affected provinces, and inundated at least 180,000 hectares of farmland since last week.
According to a list issued by the National Committee for Disaster Management on Wednesday, 12 deaths caused by the flooding include a girl who slipped from her father's hand into floodwaters in Preah Sihanouk province; a boy who drowned at a school in Kampong Thom province; and a girl who slipped while trying to catch fish in Banteay Meanchey province.
Five of the 12 recorded deaths are children.
Kampong Speu governor Vei Samnang told VOD on Wednesday that authorities had declared an emergency, expecting flooding in the provincial capital of Chbar Mon.
Some 100 naval officers and 11 speed boats were deployed for rescues, he said, with Chbar Mon's Thmey village in Kandorl Dom commune under particular threat.
He said he was on his way to the scene and had no further details at the moment.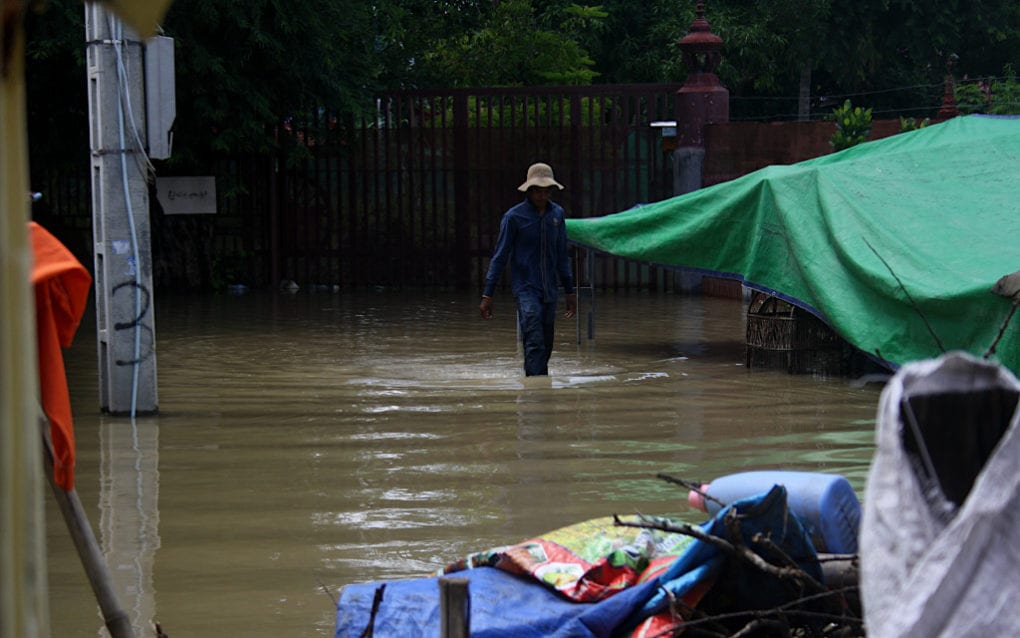 In Banteay Meanchey, provincial education department director Chhou Bunroeung said waters rose rapidly overnight Tuesday. Dozens of schools have been closed down, he said.
"Yesterday, it was 32 schools," Bunroeung said. "But last night the floodwaters rose sharply, so there will be many more," he said, estimating that more than 50 schools were flooded.
Flooding also forced authorities to evacuate 1,600 prisoners from the provincial prison, Interior Ministry prisons department spokesperson Nuth Savna said.
About half were taken to Siem Reap prison, while the remainder was distributed between the Kampong Thom, Oddar Meanchey and Kampong Cham provincial prisons, Savna said.
Prisons in Battambang and Phnom Penh were also under threat of flooding, he said.
"[I] hope that the water will recede, because Prey Sar [in Phnom Penh] is a big location," Savna said. "If there is a problem, forces will intervene to move them … but we need to find a place for them."
Prey Sar's prisons have about 10,000 detainees, and the move would require thousands of officers, he said.
On Tuesday, Banteay Meanchey provincial police said 630 police officers on trucks and boats watched over the transport of detainees from Banteay Meanchey to Siem Reap.
The Ministry of Water Resources and Meteorology continues to advise caution through Tuesday. A typhoon passing through Vietnam could affect Cambodia on Friday and Saturday, causing heavy rains and high winds, it warned.
The typhoon could hit Ratanakiri province on Sunday, the ministry said.
The ministries of transportation, rural development and health also issued statements advising caution during the floods.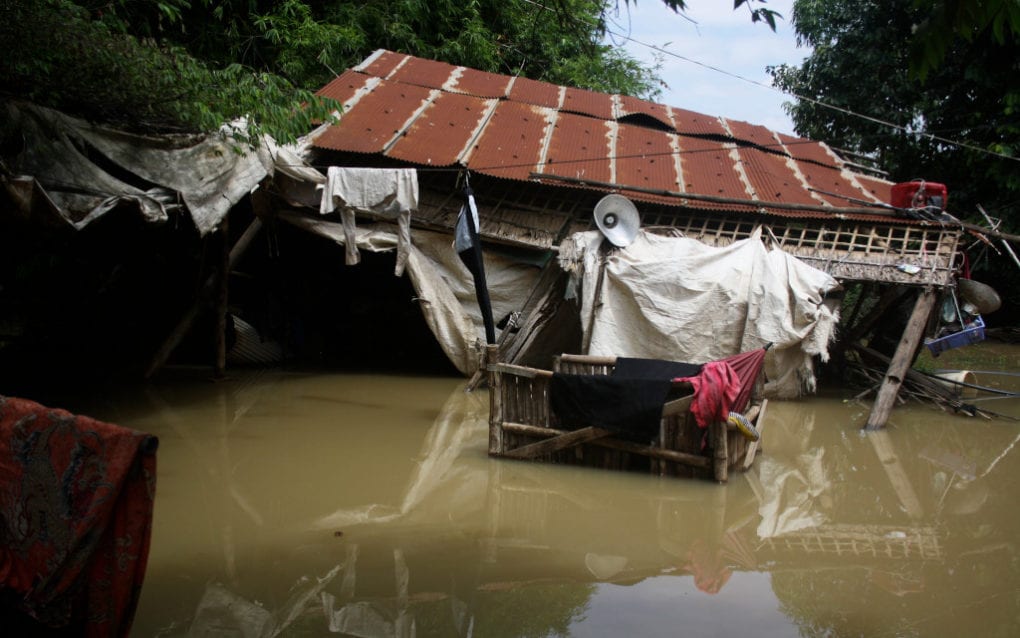 A report issued by the Banteay Meanchey government on Wednesday said five people had died and six health centers were forced to shut in the province.
More than 7,000 houses had been flooded, affecting almost 27,000 people. About 850 families had been evacuated to higher ground, while about 13,000 hectares of farmland in the province had been flooded, the report said.
In Battambang province, deputy governor Soeum Bunrith said 39,000 households in 14 districts had flooded, leading to the evacuation of 2,700 families — approximately 12,000 people, based on the province's average household size.
More than 82,000 hectares of rice and 49,000 hectares of agro-industry plantations were flooded, destroying at least 4,800 hectares, Bunrith said.
"Some schools have been flooded, while some schools and pagodas are being used as safe ground for people," he said. "Roads that are on higher ground and not flooded are also being used."
A force of 3,000 officers was participating in rescue operations, he said.
Bunrith said the province had recorded no deaths caused by the flooding, though he added that an 18-year-old fisherman had drowned while trying to fish the floodwaters.
"Local commune authorities went knocking on villagers' doors to evacuate quickly on time, so no one drowned," he said. He would not explain why the fisherman's death was not counted.
Stung Treng province was fearing major flooding on Wednesday after Laos released water from some dams on the Sekong river. Water levels reached 11.2 meters — just under emergency levels of 11.5 meters — before Laos again closed the dam, said provincial spokesperson Men Kong.
"So far it's OK," Kong said. "It hasn't reached emergency levels yet."
In Pursat, a statement issued by the provincial administration on Tuesday said almost 15,000 households and 35,000 hectares of farmland was flooded, damaging 6,000 hectares and leading to the evacuation of 770 families.
In Phnom Penh's Dangkao district, Soth Lay, 56, was among about 500 people evacuated from four communes in the district.
She had moved to a nearby pagoda with two children and her husband two nights ago, she said.
"I was scared to death," Lay said. "I ran back and forth and up and down the house to carry things here."
Some of the evacuees had to stand in the rain waiting for tents, she added.
Mom Soeun, 37, said she had evacuated with her five children after floodwaters almost reached her bedroom.
"It's very difficult," she said. "When we go to work, there's nobody to look after my mother."
Additional reporting by Hun Sirivadh