The workers scrambled deep in the belly of the sand barge, the muscles in their arms visibly straining as they each held steady a thick green hose blasting a torrent of water.
Their 1,500-cubic-meter barge was sidled against a pump station, a smaller, flat barge with a crowded deck dominated by a hulk of roaring machinery that powered a flexible suction pipe wide enough to swallow up a child. When reporters visited the pump station Wednesday afternoon, the pipe was dangling into the hold of the KT Enterprise-logoed sand barge to empty it of its cargo, which was just the latest haul to be worked into a watery slurry before being sucked away.
Overseeing this station is Try Mean, a large, affable man who identified himself as a manager at the site, which is located along the banks of the Bassac river just out from the Chak Angre Loeu pagoda in Phnom Penh. Mean explained the station on an average day offloaded four barges of the same size observed by reporters.
"Every day, we pump," said Mean, whose family lives at the site in a floating house made of sheet metal. "If there are no problems with the machines, we only have a break for national holidays."
Sand dredging activity in Phnom Penh's rivers is almost impossible to miss, with fleets of barges making their way along the channels at almost every point during the day. Sand is a hot commodity in Cambodia, where the grains are used to fill wetlands and make cement, all of which is vital to the country's construction industry.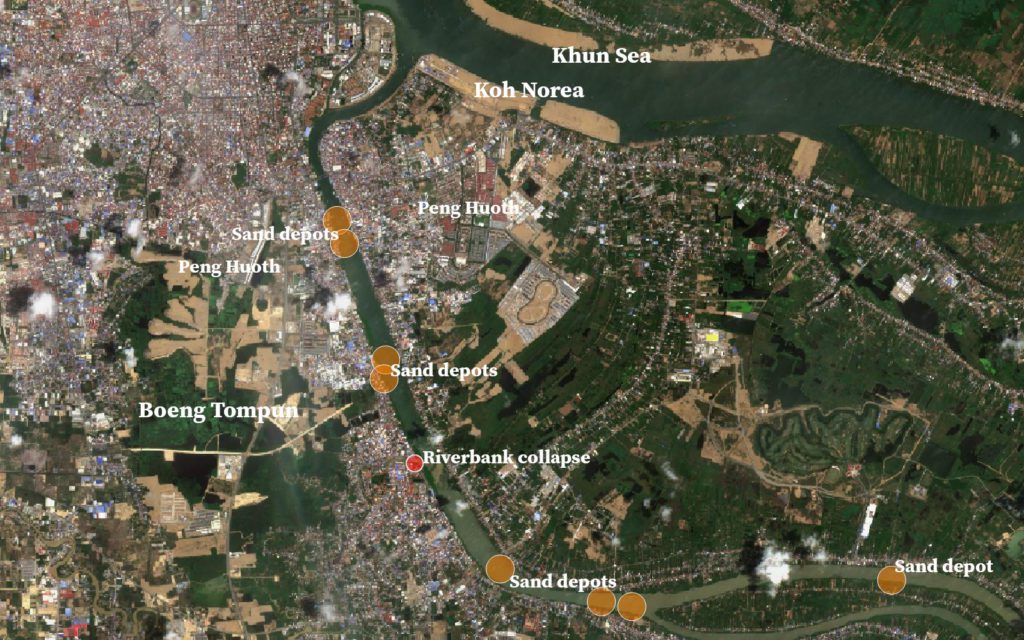 Though dampened by the pandemic, construction was previously a major pillar of the national economy and will likely recover with time. The foundation of the sector has come largely from the riverbeds of the arterial waterways that meet in the confluence at Phnom Penh.
Much of the actual dredging is done in the Mekong itself. But a relatively short stretch of the Bassac river, which meets the Mekong just south of the Tonle Sap river, serves as a major staging area where sand is hauled onto land and off for filling.
Here, sand depots dot the shores at regular intervals. Most are easily spotted by the massive heaps constantly replenished by barges hanging low in the water just off the banks, waiting for their turn to unload sand. Most of their haul is likely destined for the expansive wetlands south of Phnom Penh as part of a major landfilling campaign to make way for new development.
But such mineral bounty comes at a high environmental cost. That's the refrain from hydrologists, who stress that, among other problems, intensive dredging can cause riverbanks to become unstable, ramping up the natural process of erosion and causing more frequent landslides.
After last week's high-profile bank collapse in Takhmao, which saw both sides of the concrete-reinforced Stung Prek Tnaut tributary to the Bassac fall to the water below, damaging a historic Chinese-Khmer temple, residents told VOD they were wary of the dredging activity happening around them.
The Stung Prek Tnaut has been running fast lately, swollen with water from past weeks of unseasonal levels of high rainfall. Even without that, there's likely no way to know for sure the collapse was caused by dredging activity, such as that of the multiple pump stations moored in the Bassac less than 100 meters off the banks from Tuesday's collapse.
At any rate, for those in the industry, work continued as usual on Wednesday. VOD reporters out on the Bassac that day for two hours in a hired fishing boat counted about 43 barges in total at various stages of the dredging process.
Of those, reporters watched 21 unloading or waiting at various depots and pump stations along roughly 10 kilometers of the river spanning both sides of the Takhmao bank collapse site. They also spotted what appeared to be six other barges that appeared to be filling with sand, and eight more that were already full and cruising to their drop-off locations. Nine more empty barges were also steaming along in that period.
All but one of the empty barges were heading north, possibly to dredge locations in the Mekong. That directional pattern was reversed for the full barges, with all but one heading south, likely to offload sand at one of at least eight depots observed by reporters.
Some of the most intensive traffic was just south of the bridge to Chbar Ampov, within easy sight of central Phnom Penh. Though all this dredging activity is readily observed, it's less clear how much sand is actually being hauled from the rivers.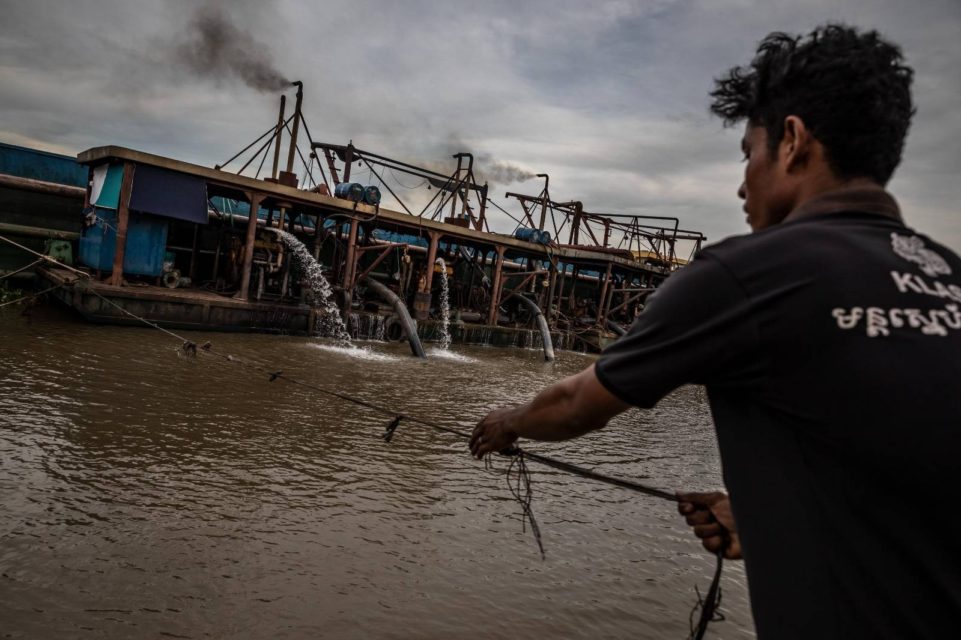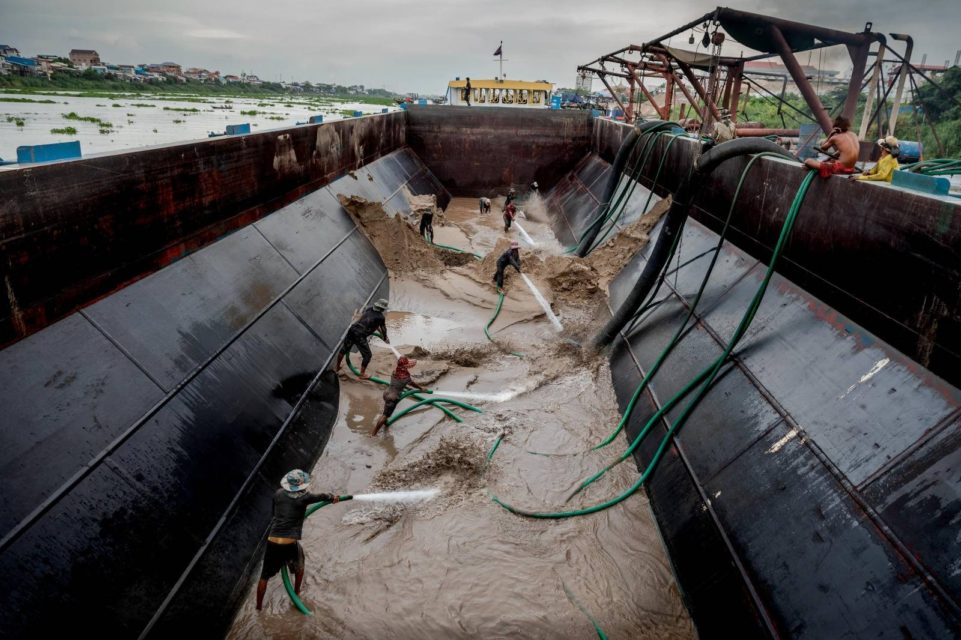 Near Chak Angre Loeu pagoda, Mean said he earns $350 per month for his work. He'd been at his particular station for about six years, during which time the crews had maintained their current rate of pumping. Doing the quick math, four barges of a capacity of 1,500 cubic meters arriving just about every day would add up to roughly 2.1 million cubic meters of sand per year, as a high estimate.
That's equal to about 3.5 million metric tons of sand per year, said researcher Chris Hackney, who studies Mekong sand extraction as a geographer with the University of Newcastle in the U.K.
The Ministry of Mines and Energy oversees sand dredging in Cambodia and had previously released statistics for sand mining for 2019 that placed the industry at about 9 million cubic meters extracted that year.
Today, said Ung Dipola, who is the deputy director-general of the ministry's General Department of Mineral Resources, that figure is more than 13 million cubic meters. That is divided between the Mekong and Bassac rivers, Dipola said, with almost 1 million cubic meters coming from the latter.
He told VOD there are currently 44 licensed sand companies along the Mekong stretching from the border of Laos to Vietnam, and seven others on the Bassac. Dredging sites on the smaller river run from the confluence at Phnom Penh down to the Vietnamese border, he added.
Speaking to the licensing process as a whole, Dipola said a minimal amount of the Mekong's area had been approved for dredging.
"There are not even 1% of places where we have given the licenses to sand companies compared to how big the Mekong River is, as it is about 500 or 550 kilometers from the Laos border to the Vietnam border. It's a really small number."
Dipola said the ministry licenses sand operators for two years within their approved location. The ministry confirms sites where there is ample sand for dredging, typically in places where the river is shallow, and permits extraction only there, he said.
"We can't send any company to pump sand in a place where it's already deep," Dipola explained. "Sometimes when it's shallow, the sand will come together and then make a small island."
Having too much sand in the river can make it difficult for boat traffic to pass through, he continued, and can change the flow of water in such a way as to affect riverbanks. Dipola also believed that sand dredging was good for promoting biodiversity, "as when the water is shallow, the water will be hotter, and if it's hotter then the fish will die."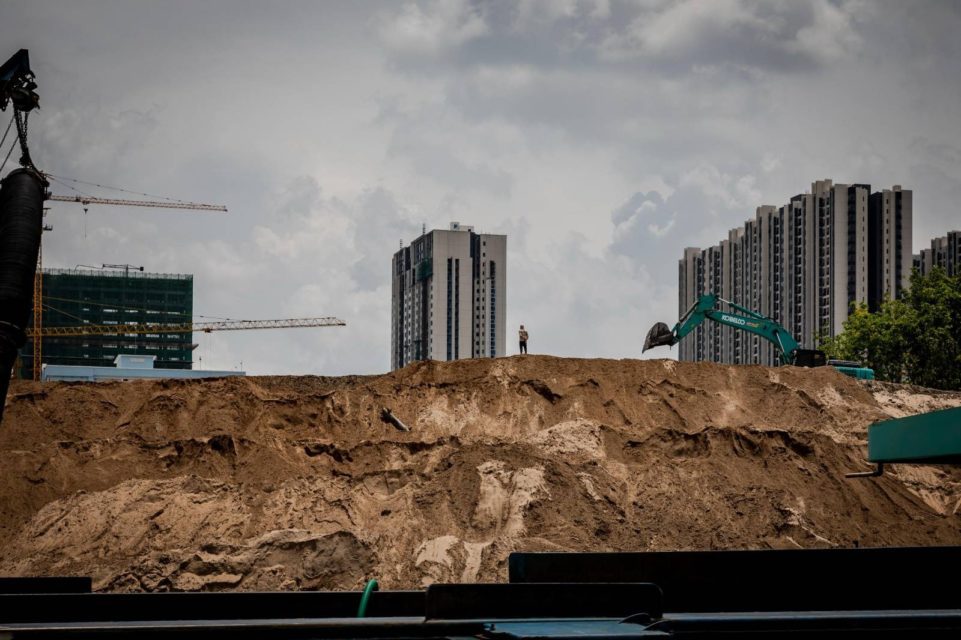 Hydrologists and conservationists generally say that intensive dredging has the exact opposite effects for the last two points, and is harmful both to biodiversity and bank stability.
Researchers, including Hackney, have also cast doubt on official estimates of Cambodia's river sand extraction, believing the actual amount to be much higher.
Some informational releases from the private sector would seem to confirm this. The mega-project developer OCIC, which expanded Koh Pich with a large amount of landfilling, announced at the end of 2020 that it required approximately 90 million cubic meters of sand to fill Koh Norea, an ongoing Mekong island scheme, as well as the massive new airport in Kandal province.
If the ministry's statistics are accurate, then the sand pumped through Mean's station alone could account for more than one-sixth of all sand hauled from the rivers in one year.
At any rate, Mean says his pump station is hardly the only one in the company he works for, which he didn't name.
"This is only one such site, but there are many … about 20-30," he said, though he didn't mention their output.
Mean explained these other locations provide sand to various projects around the Phnom Penh metro area, including the Kandal airport development.
The manager said that some of the sand from his station is purchased from dredging operations connected to Try Pheap, a powerful tycoon notorious for his dealings in resource extraction, as well as others he described only as "rich people."
Pheap's son, Try Dalin, is listed as the operator of a dredging outfit known as Global Green Cambodia Energy Development. That company reportedly supplies sand for major projects now filling in the Choeung Ek wetlands to the south of Phnom Penh.
Accordingly, Mean said the sand at his station is piped directly from the barges at a distance of about a kilometer to a major residential development site of the Peng Huoth Group, which builds large gated communities known as borey. Mean said the sand reached its final destination by way of pipes laid under roads.

Though he didn't specify the endpoint, it is likely the Peng Huoth development dubbed the Star Natural. That complex is located about a kilometer away from the river on the edge of Boeng Tompun lake, which is part of the same vanishing wetlands system as Choeung Ek.
Peng Huoth representatives did not respond to a reporter's request for comment on its use of sand for landfilling.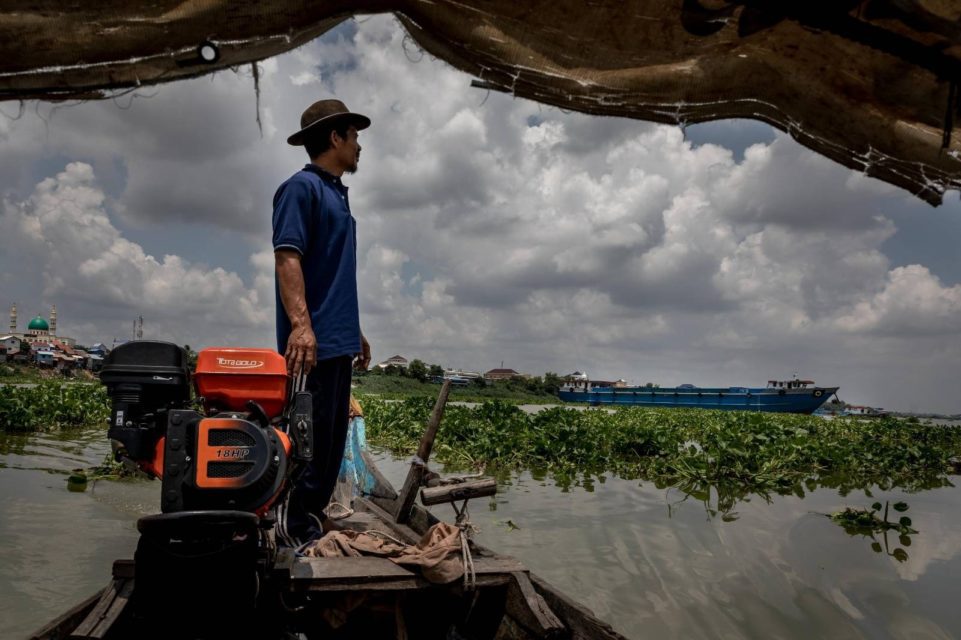 According to the researcher Hackney, the broader networks described by Mean are probably more in line with the actual amount of sand being dredged from the Mekong and other Cambodian rivers.
"It is always difficult to provide a definitive estimate, and numbers will vary depending on who you speak to, but using high-resolution satellite imagery we can count the number of sand barges operating on the river every month," he said in an email to VOD. "Our best estimate of how much is dredged from the Cambodian Mekong channel is currently 59 million tonnes (~39 million cubic meters) in 2020. This is up from 24 [million tonnes] in 2016, increasing year on year."
Hackney said the sand industry of Cambodia is well-equipped for intensive extraction due to some traits that set it apart from its peers in other Southeast Asian countries.
The first is the use of suction dredging, or thick pipes that suck up sand from the riverbed.
In countries such as Vietnam, dredging is typically done "mechanically," Hackney said, with bucket scoops and cranes. The use of suction equipment allows the crews of Cambodian barges to fill them more quickly and efficiently, he explained.
"In addition, there are often short transit times between the locations of dredging and the pumping sites around Phnom Penh and along the banks of the Mekong," Hackney continued. "This means there is a quicker turnaround between offloading and refilling the vessels — compared to Vietnam where loaded boats will often travel a few days to Ho Chi Minh City to unload and then return to the delta."
With ripe conditions for success, dredging operators who can afford to put barges on the river have made a bustling industry on the Cambodian Mekong.
For the workers tasked with the actual dredging, this may present work that is difficult but, in their eyes, decently paid.
Sal Vantha, a dredging crewman, spoke with reporters in the neat and airy cabin of his 300-cubic-meter barge as it unloaded at a small depot downstream from Mean's.
He said the process of unloading, which looked much the same as on the larger barge, could take about an hour, which is the same length of time it takes to load up with sand.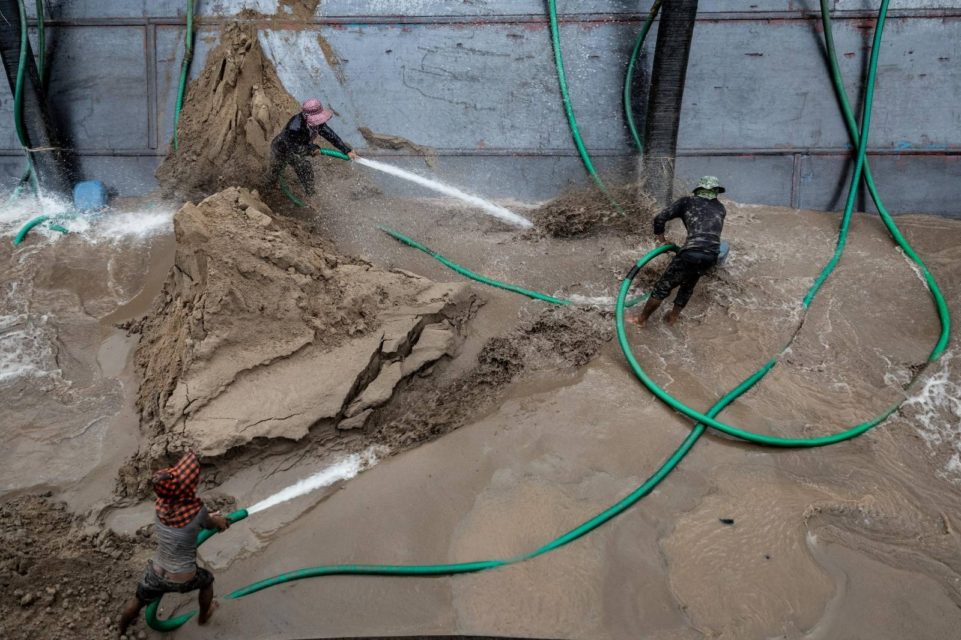 Vantha, 22, said he'd been a dredger for about two years and earned $300 per month.
He explained he had a boss, who he didn't name, who owned the boat and commissioned it to haul sand as needed. According to Vantha, the boss would tell him where to go to dredge sand, pumping it up with suction pipes, then to which depot he could drop it off.
In a day, he explained, if the dredging location is farther away, the barge can complete two loads of sand. If the hunting grounds are closer, they can fill three times. Beyond that, Vantha said he didn't know much about the use of the sand he pumped.
"I'm not too sure, but I know they take sand to fill things — maybe a pond or a lake," he said.
Back upstream at the much-larger pumping operation overseen by Mean, the manager was more forthright about some of the issues he'd faced in his time in the dredging industry. Sometimes barges damage riverbanks when they pull too close to the land, Mean explained, which can worsen erosion at sand depots. What's more, he said neighbors sometimes object to the roaring din of the pump machines, which run from 6 a.m. to 6 p.m.
"It's too loud and some people complain that we disturb them. But they should not complain to me — I'm not the boss, I'm just the worker," Mean said.
Still, he believed that, on the whole, the sand industry was a positive thing.
"For me, it's OK, this is a good development and we're doing it legally," Mean said. "Before, yes, I can say they did this [pumping] anarchically, everywhere, but now it's not like that. There are specific places where people can pump sand, and that pumping is good for the country's development."
The younger dredger, Vantha, also said his job was mostly good. He didn't say anything about the role of sand in development though, explaining that he was just doing the work for the money.
To that point, Vantha was dismissive when asked if he'd choose a different role if he had the opportunity.
"There is no [other] opportunity," Vantha said.