Protesters calling for the release of jailed unionist Rong Chhun were prevented by authorities from marching toward the Japanese Embassy in Phnom Penh on Monday, just days after Japan's foreign minister met with top Cambodian officials in the capital.
Before the group of about 30 union members, relatives of Chhun and youth activists were stopped, the demonstrators had submitted a petition to the U.N. High Commissioner for Human Rights office in Phnom Penh seeking intervention in the case of Chhun.
The president of the Cambodian Confederation of Unions was detained about three weeks ago on a charge of incitement to commit a felony over his comments about border markers between Cambodia and Vietnam.
Em Bunnarith, a unionist who worked alongside Chhun, said the group abandoned its attempt to deliver a petition at Japan's embassy on Monday because they did not want additional trouble with authorities.
"This obstruction gives a bad image, and an image of the decline of respect for human rights, showing the international community that our Cambodia's democracy really dropped below zero," Bunnarith said.
Chhun was arrested late on July 31 and provisionally jailed the following day in relation to statements he made on the alleged loss of Cambodian territory to Vietnam, which officials have denied and called "fake news." His arrest has triggered a spate of demonstrations, with youth activists arrested and injured during protests before last week's rescheduled Khmer New Year holiday.
Chamkarmorn district deputy governor Keo Samnang, who led the district authorities' effort to halt the protesters on Monday, said demonstrators were not banned from submitting a petition to the embassy, but authorities stopped the march because it disturbed public order.
"We wanted them to take tuk-tuks in order to avoid [disturbing] public order and [causing] traffic jams," he said. "We requested them to take tuk-tuks only."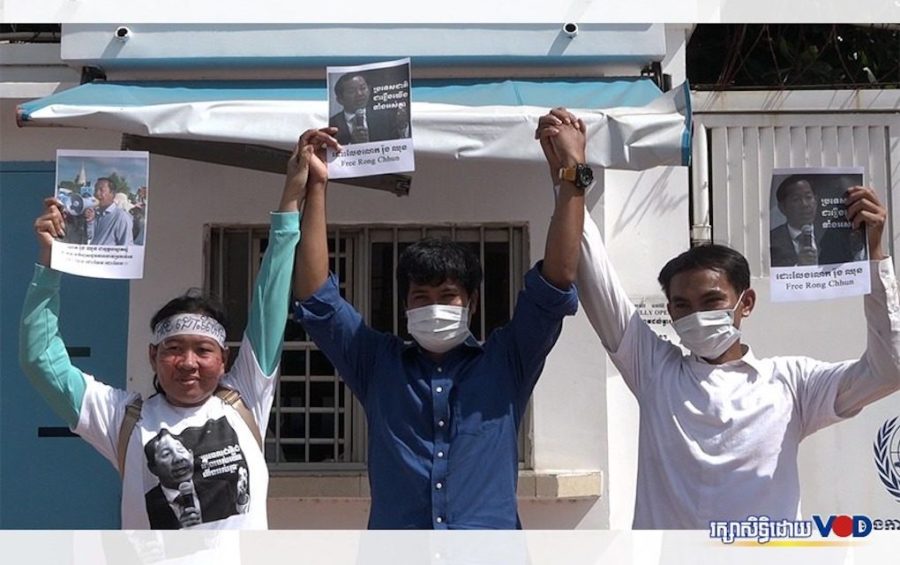 Long Rim, a Phnom Penh schoolteacher who joined the march, said he hoped to see Chhun released, adding that he supported the unionist's activism related to Vietnam border issues and his concern for workers and teachers.
"The government and some civil servants already said that we are a country with the rule of law," Rim said. "[So] why did [authorities] come to arrest Rong Chhun at night like that? It is an immoral act that we cannot accept."
The group's petition said that Chhun's arrest was unjust because he had been merely expressing concerns over the border, adding that he served as an internationally-recognized union leader.
"We all hope that his excellency and her excellency, and all democratic countries will intervene for the release of Rong Chhun immediately and without conditions," the petition states.
Bunnarith, Chhun's colleague, said similar petitions had been submitted to the embassies of the U.S., France and the E.U. The group also appealed in their petition to diplomatic representatives of Germany, the U.K. and Thailand, as well as the International Labor Organization.
In 2018, Japan was among a few countries that declined to send election monitors to Cambodia after the Supreme Court dissolved the main opposition CNRP the year prior, a move that some nations called democratic backsliding.
Japan continues to support Cambodia with new health and social development aid, and has not taken measures to sanction the government or Prime Minister Hun Sen's close associates as the E.U. and U.S. have.
President of the outlawed CNRP Kem Sokha met with Japanese Ambassador Masahiro Mikami in May, along with a range of other nations' ambassadors in recent months.
During his first visit to Cambodia on Friday and Saturday, Japanese Foreign Minister Motegi Toshimitsu praised cooperation between the two countries in the fields of politics, health care, the economy, security and culture in a post on the Japanese Embassy's Facebook page.
He did not directly address the arrests of Chhun or other activists amid the Covid-19 pandemic, but said that Japan would continue to support Cambodia's democratic development, adding that youth were a pillar to this process.
In a statement on Thursday, Human Rights Watch urged Motegi to raise the issue of rights abuses while visiting Cambodia, and "express grave concerns about harassment, intimidation, physical attacks, and arbitrary arrests against the country's union leaders, land rights activists, human rights defenders, journalists, and the political opposition."
Before Motegi's arrival, Justice Ministry spokesperson Chin Malin welcomed the foreign minister in a Facebook post, saying that the Japanese government focused on development and respected other countries' sovereignty.
"So, any group trying to ask Japan to put pressure and interfere in the internal affairs of Cambodia, a sovereign state, will inevitably suffer embarrassing failures," Malin said.
(Translated and edited from the original articles on VOD Khmer)