As crowds have packed some hospitals in hopes of getting Covid-19 shots, the Health Ministry suspended vaccinations for people aged 59 and under, saying remaining Sinopharm shots would be used as second doses for people who have already received one jab.
The government previously announced that it had so far received 600,000 Sinopharm shots to be used for people 59 and under, and 324,000 Oxford-AstraZeneca doses for people 60 and over and some foreigners.
As of Thursday, the Health Ministry said just under 130,000 people had been vaccinated, while the military has said about 100,000 soldiers have been given the shot.
At the National Pediatric Hospital on Thursday, people were packed in queues to receive a Covid-19 vaccine.
Hospital director Nhep Angkeabos said many people had been coming for both Sinopharm and Oxford-AstraZeneca vaccines, and the crowds were difficult to control.
"The doctors are busy injecting and preparing. We cooperate with the authorities, but sometimes it is still difficult," Angkeabos said. "[We] ask our people to cooperate because we are coming to vaccinate, but there is the fear that it will not protect [us] but make [us] sick when we come and squeeze together."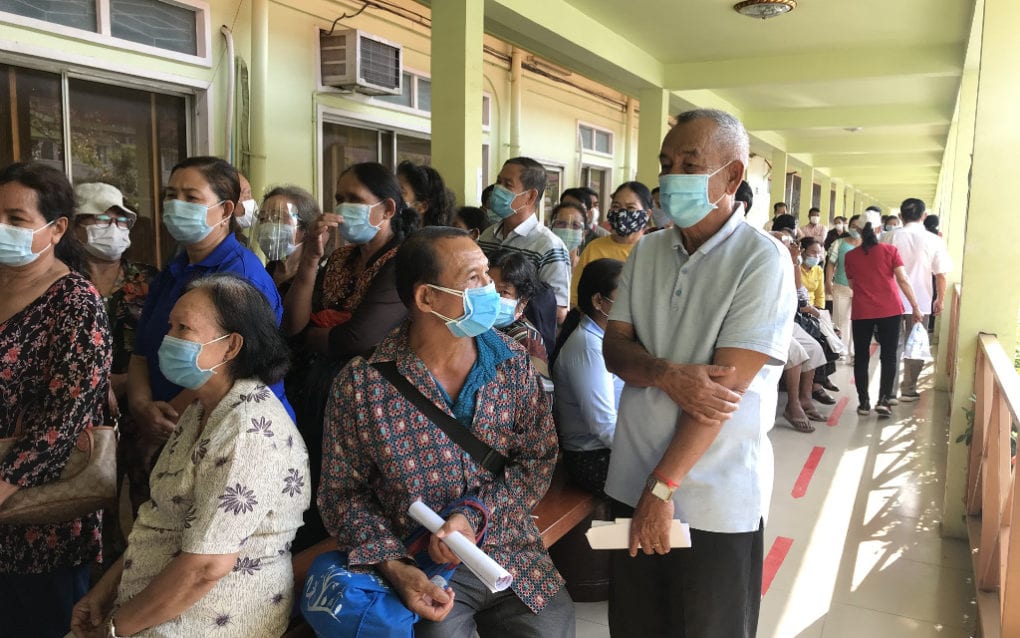 Health Ministry spokesperson Or Vandine acknowledged the difficulty in controlling crowds, and called on people to avoid cramming together in line at hospitals.
"I apologize for the limited vaccines," Vandine said, and asked that people under the age of 60 hold off on getting vaccinated.
"[We] are afraid of infections, especially fear Covid-19 infections. Therefore, I urge all of our people to respect order and respect the health measures as set forward by the hospitals," she said.
Phnom Penh governor Khuong Sreng said City Hall did not manage the national hospitals, but at municipal hospitals the city had set up extra facilities for those coming for vaccinations.
"My sites are working very well. I have both shelters and chairs so that our people who go to get vaccinated can stop or take a rest after vaccination," Sreng said.
According to a Health Ministry statement, the suspension of Sinopharm first doses will be rolled out in phases:
Phnom Penh's Khmer-Soviet Friendship Hospital, National Pediatric Hospital, Preah Ang Duong and Preah Kossamak stopped giving first doses on Thursday, while Calmette hospital, and the National Maternal and Child Health Center stopped on Friday. The suspension will be extended citywide on Sunday.
The provinces of Preah Sihanouk, Kampot, Kandal, Koh Kong and Kampong Thom stopped between Wednesday and Friday.
The remaining provinces will stop between Saturday, for Prey Veng, and March 30 for Oddar Meanchey.