Six youth activists have been rounded up and arrested hours after rallying for detained unionist Rong Chhun, including a young woman dragged by her hair into a vehicle from outside a cafe.
So Metta, an activist who requested to use a pseudonym, told VOD that a group of about 10 officers — some of whom were plain-clothed and some in Prampi Makara district guard uniforms — grabbed one of the six, Chhoeun Daravy, around 4 p.m. on Thursday outside an Amazon coffee shop near the court.
Daravy had been sitting with about 10 people when the plain-clothed officers dragged her by the hair from behind and pushed her into a black Lexus SUV waiting outside, Metta said. The officers beat Daravy as they put her in the car, she said.
"They grabbed her hair and beat her up," said Metta. "The authorities beat … people without mercy."
Reached again Thursday evening, Metta said another of those arrested, Hun Vannak, had returned to the rented house where some of the activists were staying after Daravy had been arrested. Vannak recorded a live Facebook video while police surrounded the house, she said.
Metta said five of the six activists arrested were members of Khmer Thavrak, which translates to "Khmer Strong," a youth group that has been central to many of the recent protests against the detention of Chhun, as well as environmental and social causes.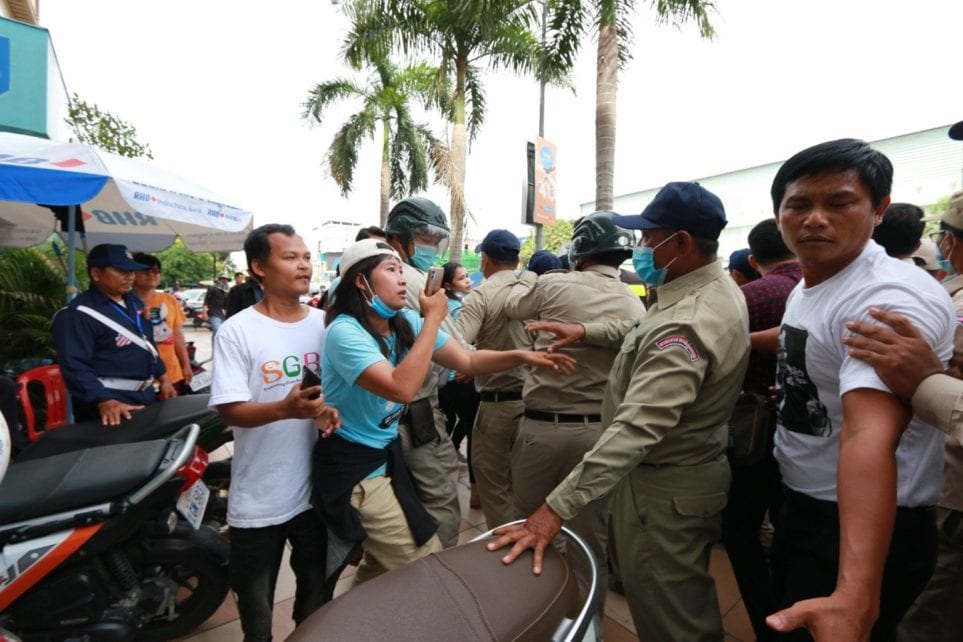 Municipal police chief Sar Thet said the six youth activists arrested on Thursday included three men and three women, five of whom were arrested at a rented house in Pur Senchey district.
"One was arrested based on the court's order while others were based on red-handed crimes because they went and caused disorder and insecurity," Thet said, adding that the activists remained in municipal police custody.
He earlier said that Daravy had been arrested for incitement to disturb social security based on a court-ordered arrest warrant, and officers were searching her house for evidence.
She was currently in the hands of municipal police and would be sent to the court for prosecution, he added. The incitement charge carries a potential jail sentence of up to two years.
Naly Pilorge, a spokesperson for human rights group Licadho, confirmed protesters Chhoeun Daravy, Hun Vannak and Heang Hai were among those arrested.
The arrests came after authorities and protesters again clashed outside the municipal court as Chhun, the union leader, was questioned inside over charges of incitement.
About 50 protesters, including members of Chhun's family, had gathered in the morning outside City Mall, near the court, holding banners and wearing T-shirts with Chhun's image.
At around 9:30 a.m., about 50 officers, including Prampi Makara district guards, advanced on the protesters to move them away from the corner. For about 10 minutes the guards were seen beating and kicking protesters who refused to leave.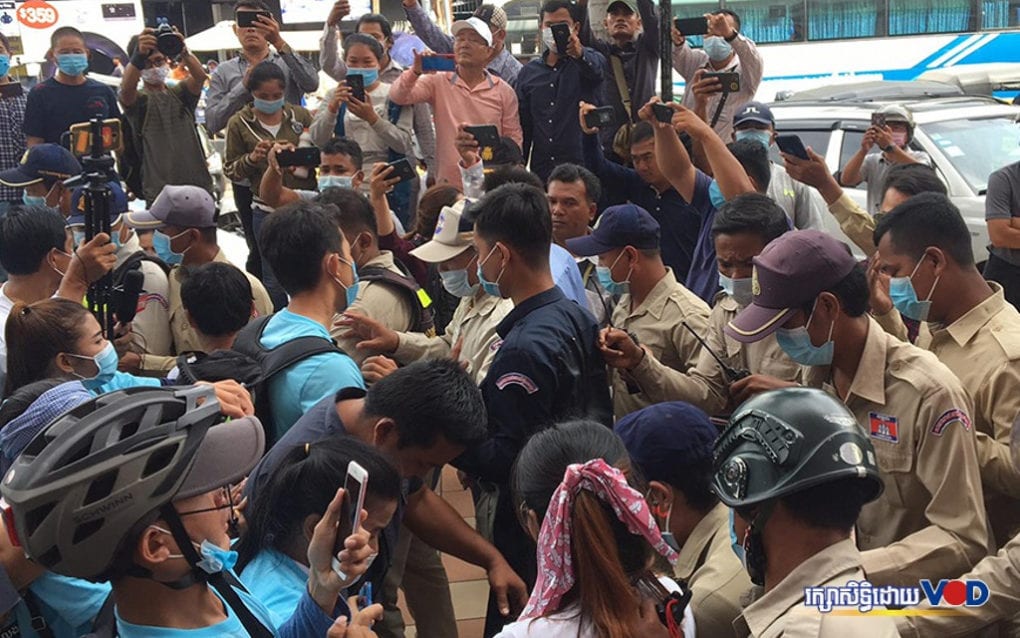 Chea Kunthin, one of the protesters who said she was injured during a rally last week, was treated by a doctor after the demonstration at the office of Licadho, which was monitoring the protest, Pilorge said.
Pilorge declined to describe Kunthin's injury, citing medical confidentiality rules, but said the woman left Licadho's office on Thursday afternoon. Later, Pilorge said the organization could not reach Kunthin, but could not confirm if she was among those arrested.
Chhun, a prominent unionist and former head of the Cambodian Independent Teachers Association, was arrested two weeks ago in relation to statements he made on U.S.-run Radio Free Asia that Cambodia was ceding hundreds of hectares to Vietnam as part of border demarcations — a topic that has long been a lightning rod for ethnically charged opposition fervor. Government officials said Chhun's claim was false, and the courts charged him with incitement to commit a felony.
His arrest sparked ongoing protests and criticism from rights groups. In response, City Hall on August 3 announced a ban on gatherings outside the court for reasons related to public order, traffic and Covid-19.
Kunthin, who is a member of Khmer Thavrak, said earlier on Thursday that she had suffered bruises in the clash.
"We didn't do anything against the law," Kunthin said. "Why do they use violence against us again and again? It's shameful that the authorities don't love the people, and use violence against them."
Another protester, Yin Moliny, said the demonstration had been peaceful.
"I had no intention to clash with the security guards … but they came and pushed us. So what can I do as an innocent person? We did not fight back. Where is the law?" Moliny said. "They came here to mistreat people, not to protect people. They get a salary from the people and they mistreat the people. It's unacceptable."
Prampi Makara district governor Lim Sophea could not be reached for comment.
Four opposition activists were also arrested last week after participating in protests calling for Chhun's release.
Sam Sokong, Chhun's lawyer, said the court had questioned the unionist on Thursday morning about why he had been investigating the border issue. Chhun had told the court that he had merely interviewed witnesses, and he did not intend to cause trouble in society, Sokong said.
'Patriotic' Protest
A day earlier on Wednesday, about 20 protesters, including members of Khmer Thavrak, briefly marched in Phnom Penh holding Cambodian flags and wearing T-shirts proclaiming "I Love the Nation."
They started at Boeung Keng Kang district's Olympic market under the watch of about 100 security officers. They were stopped around 11 a.m. between the market and Wat Moha Montrei, less than 500 meters away, as guards shouted at the protesters, blocked their path and took their flags.
A protester, Tha Lavy, said the march was about supporting "patriotic heroes" arrested trying to protect the national border.
"When they arrested those who demonstrated patriotism in protecting the national border, our people did not concern themselves with the national problem, and let powerful people use their power to arrest our patriotic heroes," Lavy said. "We cannot accept it, and want to spread a message for people to love our nation."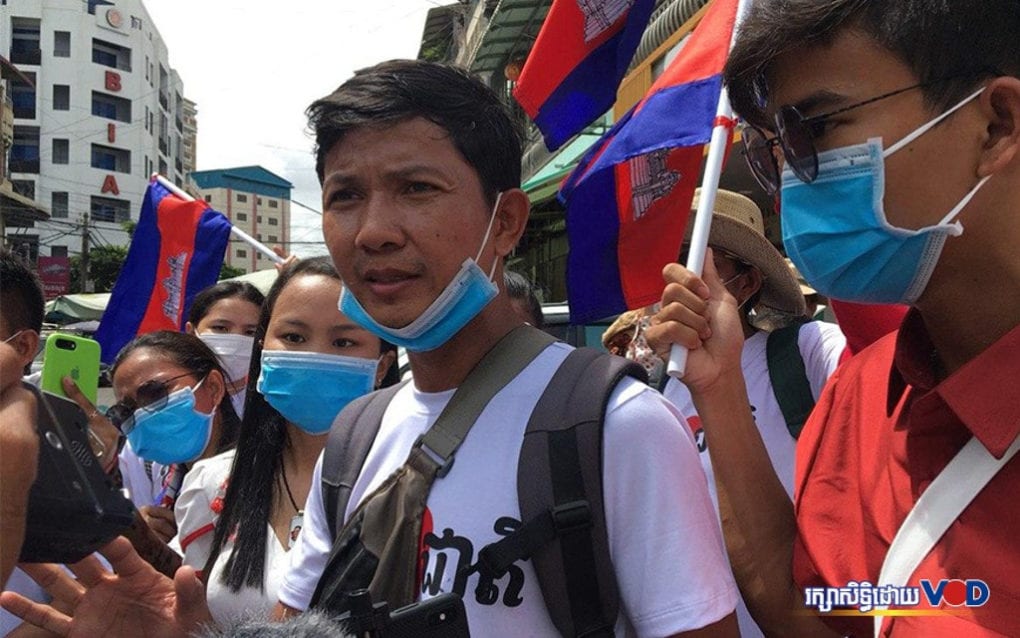 Vannak, another of those arrested on Thursday and also a member of Khmer Thavrak, said on Wednesday that the group was turning its protests about Chhun's release into a campaign for Cambodians to care more about their country.
"Most people are not very patriotic yet compared to other countries," Vannak said. "So we have changed our plan from [only] demanding the release of Mr. Rong Chhun into a campaign to encourage Cambodians to love their nation more, think of common interests, think of heroes who sacrificed their lives, who sacrificed their time for our common interests."
City Hall spokesman Met Measpheakdey told VOD on Wednesday that authorities had blocked the march because the protesters had not sought permission beforehand.
"They gathered and marched and did things that were not in accordance with legal principles that require them to do better than this," he said.
Additional reporting by Matt Surrusco
(Translated and edited from the original articles on VOD Khmer)