A group of 12 men wearing turquoise shirts are furiously tapping away at their smartphone screens on a shady sidewalk along the Toul Tom Poung school. While some are attentively looking at their phones, others are chatting, but the tapping never stops.
The men work for a popular delivery service, Nham24, and are hoping to beat their colleagues to the next delivery. They say the application does not pick a single driver but instead they have to quickly accept any orders deployed in the vicinity.

Thy, a 35-year-old delivery driver, says orders were flowing in fast during the early months of the pandemic, when residents of Phnom Penh were concerned about an outbreak and there were social distancing norms in place.
"Yes, during Covid-19, we had a lot of people ordering. But now, not so much," he says, all the while tapping away at his phone.
Thy used to work at a local brewery but had to find a new job after workers were laid off due to the pandemic-induced economic downturn. He says the job at Nham24 is more relaxed than his previous work but also competitive because drivers have to almost battle — with their phones — for orders.
He says the company went on a hiring spree for drivers, estimating that there are maybe 700 to 1,000 drivers employed by the delivery service. The increased recruitment — which came as the garment and tourism sectors shed tens of thousands of jobs — gave him an opportunity, but as business slows down many workers are now finding it hard to get by.
"If they reduce the number of drivers we sometimes cannot catch up with the pace of orders," he says. "But we will get more orders [each]."
Thirty seconds later, Thy's phone beeps; he has accepted an order to deliver fried bananas and speeds away on his motorcycle.
Following aggressive expansion by the country's delivery services, a number of drivers speak of fast-dropping delivery fees, which some say have fallen to less than a third of what they once got; uncertainty over worker benefits, such as health insurance and occupational safety protocols; and a lack of collective representation.
VOD spoke to around a dozen drivers from Nham24, E-Gets and Foodpanda, all of them disclosing potential saturation in the fledgling delivery services sector. Unionists say workers' labor rights are also at risk because delivery workers are often classified as independent contractors, and therefore lose out on protections — a trend already seen in other countries where companies tout a "gig economy" that often leaves workers vulnerable.
Short-Lived Golden Age
The Cambodian government never imposed a complete lockdown of the country during the height of the viral outbreak, barring a four-day travel ban around Khmer New Year. But, out of an abundance of caution, private businesses, NGOs and international organizations allowed staff to work from home.
The hectic pace of life in Phnom Penh visibly slowed down during March and April, and the number of drivers zipping across the city — often with little care for traffic rules — was on the rise. Newer delivery services entered the market during the pandemic, including Muuve, BLOC and Tuk Out, which focuses its services in Siem Reap, Kampot and Sihanoukville.
Most drivers say that there was an uptick in orders early in the year, as people stayed home and placed orders for food and groceries.
These orders then started to decline starting in June and July, in some cases significantly, as businesses reopened and social distancing guidelines were relaxed, drivers told VOD.
Bun Sambath says he left Foodpanda a few months ago, after the company decided in June to slash delivery prices from around 5,000 riel a trip to 1,600 riel for the same trip. Sambath says he earned $500 a month from February to April, but his earnings dropped to $100 in June.
"We have protested outside the company two times. There is no response," Sambath says. "We don't know why they dropped [the price]."
The company continued to hire drivers, though down from around 40 to 30 a day at its peak to around 10 a day, he says.
There have been at least four protests against Foodpanda, Sambath says, including one on Hun Sen Boulevard, images and videos of which circulated on social media platforms. A similar protest of E-Gets drivers took place at the same location.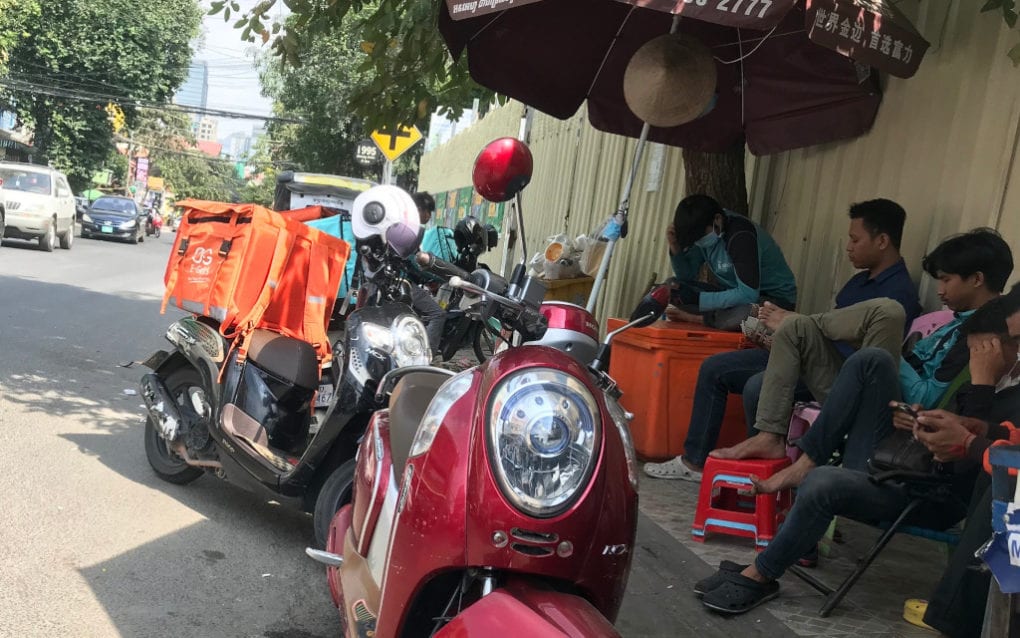 Regional media reports show similar protests in Malaysia and Taiwan over changes to payment schemes for drivers.
While the drop in income was one of the reasons Sambath left Foodpanda, he was also unhappy that the company refused to help him when he had an accident while making a delivery.
"I had an accident with another motorcycle, but they said insurance is only for serious accidents," he says.
But life after Foodpanda hasn't been any easier. Sambath says he is struggling to find work, resorting to pawning his motorcycle and family jewelry to make ends meet. The Cambodian economy continues to reel from the effects of the pandemic, following mass layoffs in the garment and tourism sectors.
Sambath says delivery drivers should unionize and collectively push for better benefits and protections afforded to employees of other sectors.
A Rigged Gig
The issues facing the sector have not gone unnoticed by unions and federations. Ou Tepphalin, president of the Cambodian Food and Service Workers, says there is opacity in the workings of the sector, such as the number of workers employed by delivery service providers.
There is also uncertainty over the employment status of these workers, affecting their access to worker benefits promised in the Labor Law.
Tepphallin says it is unclear if the workers have contracts, and whether employers are classifying them as self-employed, allowing companies to sidestep mandatory worker benefits.
Additionally, drivers must provide their own motorcycles and smartphones, she says, meaning the delivery firms make little investment beyond smartphone apps. Drivers told VOD that they are also required to buy or pay a deposit for company-specific hotboxes strapped to the back of motorcycles and branded clothing.
"This image makes it look like workers are self-employed," she says. "But in practice, they earn money from commissions and the app owners get the profits without being responsible for the workers."
Questions raised by Tepphalin are echoed around the world, where labor activists have expressed concerns over the increase in jobs in the gig economy.
Critics say companies, including Uber, Amazon and GrubHub, misclassify their workers as "independent contractors" to deny workers health care, employee benefits and collective bargaining rights.
Executives at E-Gets, Foodpanda and Nham24, as well as a Labor Ministry spokesperson, did not respond to requests for comment.
In Boeng Keng Kang I, Mom Nareth has just entered the food delivery business. After three days of training, the 34-year-old E-Gets driver has already realized the cutthroat nature of the business.
The driver says that while orders get distributed to specific drivers, unlike Nham24, there is a penalty for not accepting, whereby they lose preference for future orders. But what concerns him is the drop in orders that his colleagues talk about, partly because of the application's focus on Chinese clientele and the continued hiring of new drivers.
"If they keep recruiting, there will be a surplus of staff," he says. "People are complaining that they are getting fewer orders and they don't want more [drivers] to be recruited."