Chim Phan wakes up every morning, gets on his moto and makes the 30-minute ride to Phnom Penh to train with a personal trainer. After the workout, he gets back on the motorbike, rides back to Khsach Kandal district, where he lives, and in the afternoon trains again, this time with his trainer on a Zoom video-conference call.
The track and field athlete is one of few Cambodian athletes with a disability who have represented, and continue to represent, the country at international para-athletic events. The athlete has had a long career and hopes to retire soon. He is 52 years old.
"I want to stop running because I'm a little bit old. In general, for an athlete who runs … or other kinds of athletics, they will stop from the sport around 40," he said.
Phan said his trainer and the para-athletics committee in Cambodia have pushed the athlete to continue with his training with the aim of competing in the 2023 Southeast Asia Games, which will be held in Phnom Penh.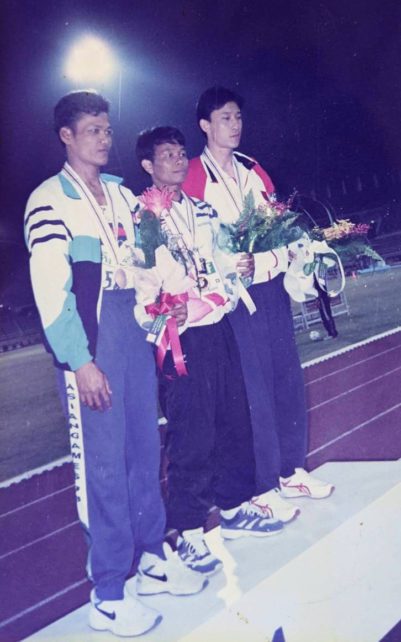 "My trainer says I'm still healthy and will be able to run. He doesn't want me to stop and gives me a chance to compete, but I think I will stop next year or soon because I'm old already," Phan said.
The athlete now competes in regional para-athletic events, and is training for an event in Vietnam next year. The peak of his athletic career was when he won three medals at the 1999 Southeast Asia Games — two silver and one bronze in track and field events.
The success saw him attend the 2000 Paralympic Games in Sydney, Australia, representing Cambodia in standing volleyball, where the country reached the quarterfinals before being beaten by Germany.
The runner usually competes in the 100- and 400-meter sprints and standing volleyball, but stopped playing volleyball in 2010 because his prosthetic leg would bother him after every game.
"I am getting old and my body is not fit for volleyball anymore," Phan said.
Phan lives in Kandal province's Ksach Kandal district. In 1994, when he was 25 years old, he was on his way to fish but stepped on a landmine and lost his right leg. The former soldier was lucky to come across a local NGO who encouraged him to train for volleyball and short-distance sprints in 1997, and two years later he made his debut at the 1999 SEA Games in Thailand.
Early on, it was difficult to get funding for equipment, but the government, through the National Center for Disabled Persons, and an NGO helped him to get the $5,000 to buy a prosthetic leg meant for sports. Phan says entering the sporting arena changed his life by not only giving him a salary but also a competitive edge.
"When I am running and doing exercise it can help a lot. Secondly, when I play outside the country, I try hard to win a medal," Phan said.
Ye Sopheaktra, who works at the paralympics department at the National Paralympic Committee of Cambodia, said that Phan and another athlete, San Mao, have been representing the country in track and field events even though they are both above the age of 50.
He said the country was working to try and train new athletes but there was low awareness about para-athletics and budgetary constraints made it hard to purchase prosthetics.
"We do have people to replace them and they need to have three to five years of training to become an international level competitor," Sopheaktra said. "After the SEA Games in 2023, I hope we will have more people interested in this kind of sport."
At the recent Paralympic Games in Tokyo, Japan, Sopheaktra said the country had only one athlete who qualified to represent the country. Vun Van led the Cambodian delegation in Tokyo and competed in the 100-meter wheelchair race, ranking 7th in the final tally.

San Mao is also in his 50s and works as a security guard at a borey housing project in Phnom Penh. He too lost a leg to a landmine, in Battambang. Like Phan, he is a runner and was encouraged by an athlete friend to enter the sport.
He is more optimistic about his participation in international events, and wants to compete as much as possible before having to retire.
"I don't have plans to stop running. If they give me a chance I will keep doing it, and if they want me to stop I will stop," he said.
Both Mao and Phan said they hoped to at least compete till the 2023 SEA Games in Phnom Penh and represent the country.
Phan said he was proud of his career as an athlete and is able to show his community that he can compete as well as someone without a disability. His family — a wife and three children — were supportive of his sporting career and that he had yet to face any discrimination for being a athlete with a disability.
"I don't have any experiences of discrimination. People appreciate that I have a disability and that I can play such a sport."
Correction: An earlier version of this article misstated the year Phan stopped playing volleyball.