5:03 p.m.
Tens of thousands of ruling-party supporters have departed Koh Pich island and are headed along Sothearos Blvd. The mass of blue-clad supporters, larger than the morning's march, have filled the road as they inch their way through the city.
3:35 p.m.
2:55 p.m.
CPP supporters began to disperse from Koh Pich island amid lightning and thunder around the capital. The Candlelight Party march was continuing along Chroy Changva peninsula, but as a sparser convoy in some parts. Many Candlelight supporters on motorbikes were scattered among traffic, separated from tuk-tuks and trucks.
Not long after 2 p.m., dark clouds overhead burst into a sustained downpour. A crowd of mostly younger CPP supporters stayed near the stage to sing and chant in the rain. Governor Khuong Sreng did not appear to make a showing. By 2:30 p.m., supporters began to stream out of Koh Pich, creating a traffic jam of motorbikes plowing through ankle-deep water. Still, some CPP supporters at roadside stands continued to sing and wave flags as their bedraggled compatriots flowed past.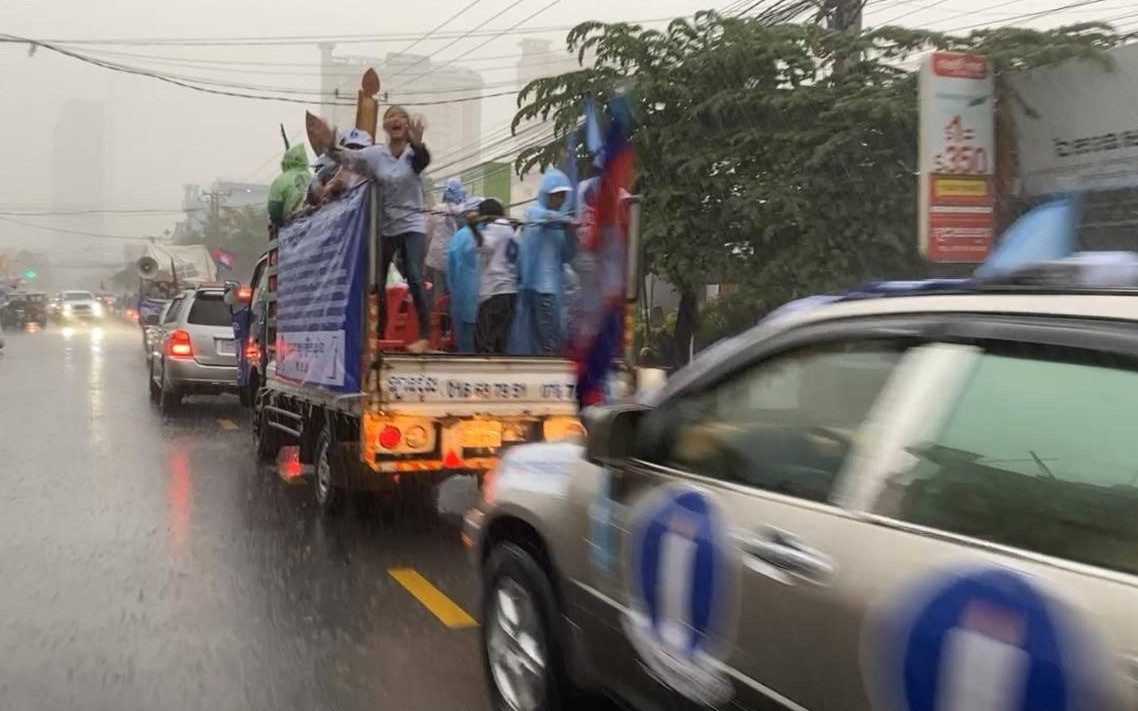 2:12 p.m.
As rain began to fall, CPP supporters were gathered near a stage on Koh Pich to listen to live music from a band atop a specially equipped, double-decker truck.
Organizers near the stage on Koh Pich told VOD the plans for the speaker were unclear. They earlier said they expected a speaker would address the crowd around 1 p.m., and that the speaker would likely be municipal governor Khuong Sreng.
They said around midday that the road portion of the afternoon rally should restart at about 2 p.m., but that had not transpired when rain fell.
11:08 a.m.
The CPP's rally took over much of Koh Pich island. Motorists filled the streets, settling in for a midday break, as organizers put together a stage in the large open lot near the Koh Pich Theater.
Party supporters said they expected CPP officials to address the crowd before resuming the rally at 1 p.m.
10:45 a.m.
The Candlelight Party's march, which began around 8 a.m., has passed near Toul Tom Poung.
As the convoy of cars, tuk-tuks and motorbikes made their way along the capital's roads, members shouted on loudspeakers: "Change or no change?" People watching from the roadside waved, and some asked for hats and flags.
Chhiv Pisakh, a 38-year-old engineer, said he had taken a day off work to join the rally from 7 a.m.
"I'm happy. I want to cry. I didn't expect to see this many people," he said on Chbar Ampov. "I put gasoline and came by myself."
Lang Sreylen, 40, a cleaner, said around 9 a.m. on St. 271 that she wanted a new commune chief.
"I want to find [one] who really helps the people," she said. "I'm so happy to join the rally of Candlelight, even by spending my own money."
A lone Khmer Will Party passed by VOD's office in Boeng Keng Kang around 9 a.m.
10:24 a.m.
More photos from the CPP's march from Hun Sen Blvd.
10:07 a.m.
The CPP made a show of strength on Friday morning with a road rally that filled Hun Sen Boulevard with a river of white-clad supporters.
The day before the event, party leaders had projected an attendance of about 50,000 people. By this morning, that seemed to have come together in a roadshow that wound its way from the southern edge of town, then up along its western fringe on its way to an endpoint on Koh Pich.
The slogans and other messaging piped through loudspeakers from the assembled masses drew largely on familiar CPP talking points about peace and development. Also visible among the crowd were many young faces, likely due in part to the CPP's youth outreach platforms.
Sen Sokunmonyroth, 18, said she felt the youth representation had increased over the past few years.
"There are older people too, but some are really old," she said. "My family are CPP supporters, and I follow them. I can also see for myself that the CPP has developed the country a lot."
A group of people who looked in their 30s or 40s told reporters from the back of a pickup truck that they had come from the city's Boeng Keng Kang, alongside "10,000 or more" other supporters from that same district. The group briefly spoke to reporters before pulling off to start the rally, shouting they were excited to kick things off.
"We want to protect the peace," said one man. "If we protect the peace, we have everything. Because without peace, there's no development."
Phnom Penh governor Khuong Sreng, of the ruling CPP, said in a speech early morning that he appreciated party members' patience and maturity during the campaigning period.
"The reality of Cambodian history has already shown that only the CPP has the full ability to solve national issues and people's problems, and stay with the people in all kinds of circumstances. By voting CPP, our country can truly have peace and development," Sreng said.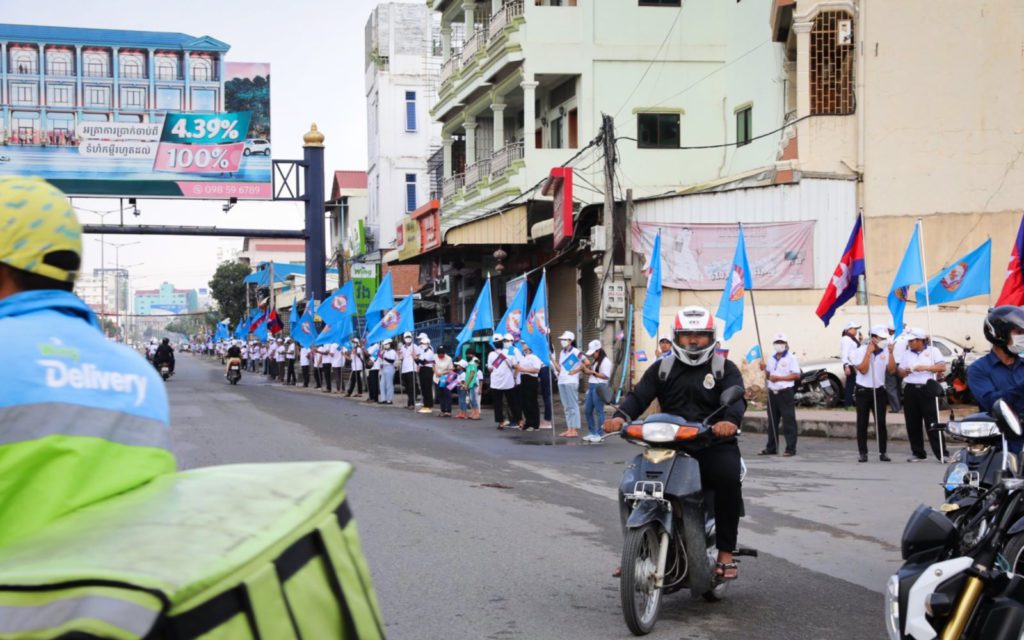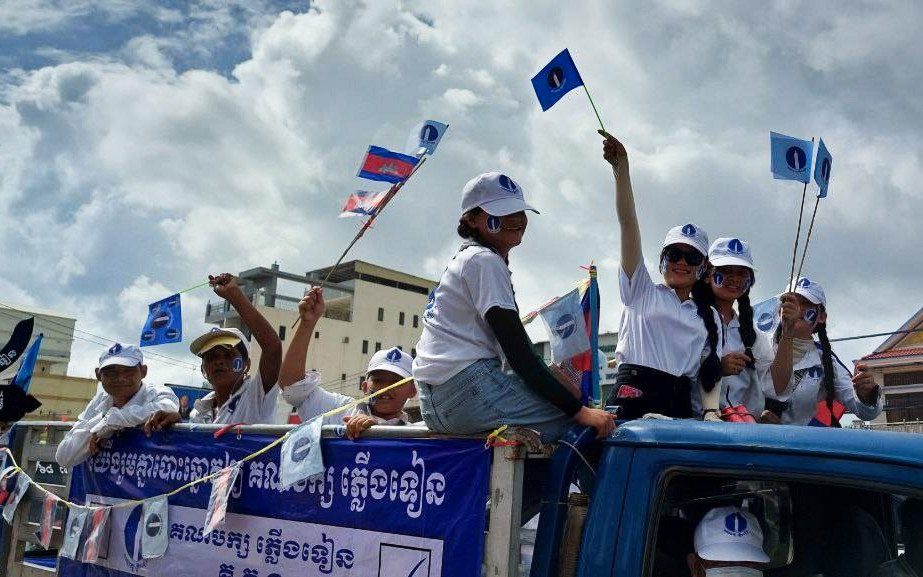 In the opposition camp, the Candlelight Party began a march from Chbar Ampov, in Phnom Penh's southeast.
Party vice president Son Chhay told reporters that he was pleased with the turnout. Both parties are claiming crowd numbers in the tens of thousands.
"It makes us really happy because with this number, it is enough to show the feeling of the people in Phnom Penh, because Phnom Penh used to be a city that supported the opposition party and this large participation shows that we will win the election in Phnom Penh."
Chhay added that he had visited many provinces across the country over the past weeks, and had seen support throughout. He believed the party could win a similar number of seats to the CNRP in 2017.
"They want to see an opposition party, the Candlelight Party, be their representative to protect and serve them properly again. The difficulty of the previous years has made them want to go and vote to have a good representative to protect them."
"[We] have to participate in elections together in order to make democracy grow bigger and stronger, and take root in our society."
— Reporting by Andrew Haffner, Roun Ry, Keat Soriththeavy, Phin Rathana, Khan Leakhena, Mech Dara and Ouch Sony