Two Svay Rieng land dispute representatives, previously fined $1,000 each under Covid-19 regulations for gathering people to rally, have now been charged for obstructing the enforcement of health measures and face up to three years in jail, according to a rights group.
En Soth and Yous Sophorn, representing families seeking compensation for land the Water Resources Ministry wants to turn into a reservoir, were summoned by provincial police on Friday and detained overnight, according to Soth's husband, Mom Kosal.
They were then sent to the provincial court for questioning on Saturday, Kosal said.
Licadho spokesperson Am Sam Ath said they had since been charged under articles 10 and 11 of the Covid-19 Law. Infringement of administrative measures can be fined up to 5 million riel, or about $1,250, and obstruction of enforcement up to 10 million riel, or close to $2,500, and punished by up to three years in jail.
"This is a threat against the community for protesting, and secondly this move impacts other communities from protesting. If they dare to protest, they could face the same charges," Sam Ath said.
Earlier this month, Soth and Sophorn were fined $1,000 each for posting photos of protesters holding up banners, as authorities deemed the rally a violation of Covid-19 measures.
Kosal, Soth's husband, said the deadline for paying the fine was Monday, and Soth had planned to hand over the money on Saturday.
Provincial police chief Koeng Khorn would only say that the two land disputants had committed wrongdoing and police had taken action. "If you know, why do you keep asking?" Khorn said when asked about the case.
Provincial court spokespeople could not be reached on Monday about the land dispute, in Svay Chrum district's Chhoeuteal commune.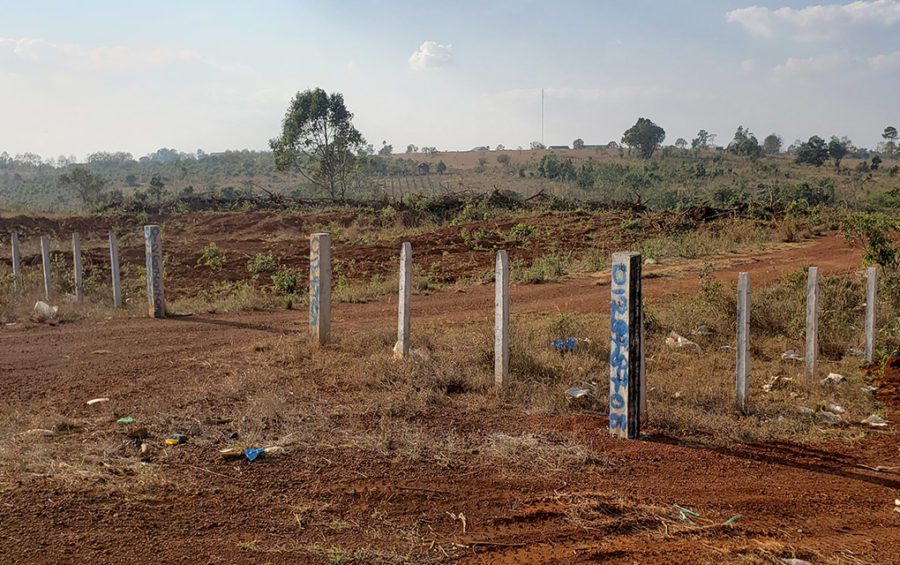 Separately, 18 Bunong indigenous families in Mondulkiri province alleged in a complaint to the provincial administration that a land trader was bulldozing their fields.
The complaint, against Kandal's Takhmao city resident San Soth, 50, said the accused cleared more than 10 hectares of people's land on August 20, damaging rice and other crops. The 18 families are demanding $100,000 in compensation.
One of the complainants, Te Ron, said indigenous people had cultivated the land in O'Reang district's Sen Monorom commune since 1992.
"They threatened us to take money for it. They said that if we didn't take the money now, we would get nothing in the future. I responded that if we accepted the money, we would lose the land, and how could I distribute it to my children? Indigenous people have only that land to cultivate and earn a living. What would we depend on if we lost the land?"
Soth, however, said he had bought the land more than 15 years ago and had documents recognizing his ownership from village and provincial authorities. He said there were land brokers behind the indigenous people's complaint.
"I bought it from the old indigenous people, and when their children grew up, they grabbed my land," Soth said. "The land I bought has enough legal documents from the village and provincial levels. So I would like to confirm that I have all related documents. If you do not believe it, you can go to check at the district or provincial levels."
Mondulkiri deputy governor Cheak Mengheang said he had yet to see the families' complaint, but agreed that Soth had proper documentation confirming the transfer of land rights.
"I just know that the individual San Soth has bought some people's land with proper documents," Mengheang said.
Kreung Tola, a coordinator at the Mondulkiri Indigenous People's Network, said the allegation was that Soth claimed more land than he had actually bought.
"Mr. San Soth has problems everywhere, because he bought just 1 hectare of land, but illegally did the land title for 2 hectares. Everyone is aware of him," Tola said.