SUONG CITY, Tbong Khmum — Four defendants were in hiding while dozens of local CNRP supporters gathered for what they said was the first time since the party's dissolution as the Tbong Khmum Provincial Court on Tuesday sentenced five ex-opposition officials to jail for plotting.
Sim Seangleng, Mean La, Yem Vanneth, Chok Hour, who are at large, and Kong Sam An, who was detained earlier this month, were sentenced to seven years in prison, said court spokesperson Theng Cheang.
Van Sophat, who was sentenced in absentia, and Choem Vannak, who was seen near the court on Tuesday after joining the ruling CPP, according to ex-CNRP officials, also received suspended five-year sentences, Cheang said.
The spokesperson declined to say if arrest warrants had been issued for the four at large.
Reporters and a monitor from human rights group Licadho were not allowed in the courtroom during the proceedings, and defense lawyer Sam Sokong did not attend the hearing.
Kong Mouyly, 31, the daughter of Sam An, said she could not accept the court "punishing" her father and pleaded for help in an emotional testimony to supporters outside the courthouse.
"I relied on him but now he has been imprisoned so who can I rely on?" Mouyly asked, before shouting through tears: "This is an injustice."
Sam An's wife, Eab Sour, said she too could not accept the verdict.
"I have nothing. I have only my 10 fingers," Sour said. "Why did you arrest him?"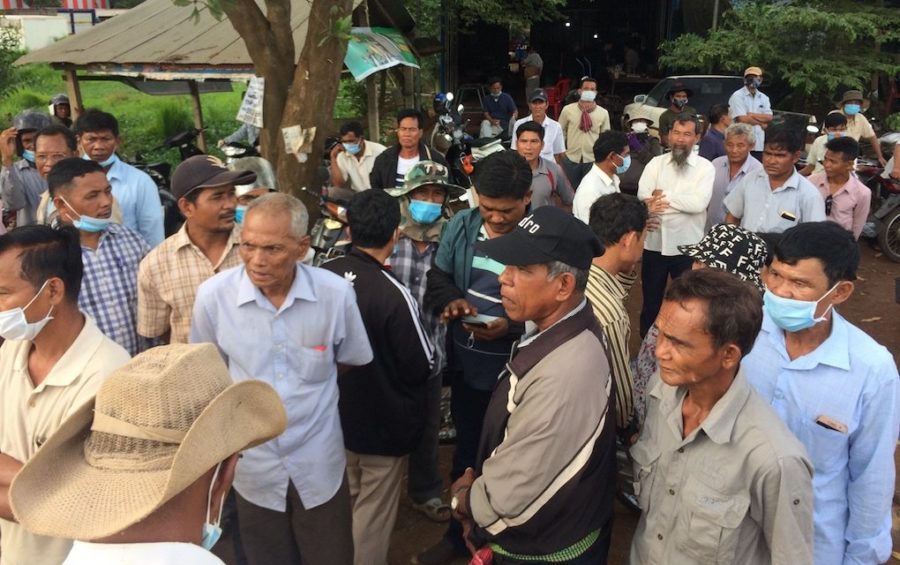 Dozens of protesters gathered on the opposite side of the road from the courthouse in the afternoon, including about 40 from Memot district, where Sam An is from.
"There's no forcing [to be here], no money — it's from the heart," said Mok Sam An, a former commune councilor in Memot.
He said the district's CNRP supporters had not assembled since 2017, when the party was dissolved and outlawed.
The supporters understood the risks but felt "we must come," he said.
Sam An said the community had been threatened and monitored and were too scared to gather before. "Our freedom has fallen to zero, and we can't accept it," he said.
"Our boss has a problem so we have to show," said supporter Y Sokheang, 55.
"We're all only one ball of ash [in the end]," she said when asked where the supporters got their courage to gather on Tuesday. "The rich and poor die the same way."
The latest convictions follow a number of arrests in recent weeks of opposition supporters.
On Monday, Ouer Narith, a former CNRP public affairs officer and assistant to party deputy president Mu Sochua, was released on bail after police accused him of "plotting" and funneling funds collected overseas to local opposition activists. Sochua denied the accusation this week and said the government was criminalizing anyone who was in contact with the CNRP.
She also said earlier that she expected as many as 100 CNRP supporters to gather at the Tbong Khmum court on Tuesday.
Two weeks ago, ex-CNRP member Pen Mom was sentenced and jailed in Kampot province in a case, like the Tbong Khmum proceedings, stemming from old charges of incitement and plotting connected to party co-founder Sam Rainsy's failed pledge to return to Cambodia last year and other campaigns promoted by CNRP leaders living in exile abroad.
In 2018, accused ex-party members participated in a video highlighting that the E.U. was considering suspending trade benefits with Cambodia over human rights concerns.
The CNRP was dissolved by Supreme Court order in 2017, after which the ruling CPP won every seat in the National Assembly in the 2018 national election. The E.U. criticized the CNRP's dissolution and the 2018 election, and after a yearlong review partially rescinded the "Everything But Arms" trade deal in August, citing "serious and systematic violations" of human rights.
Defense attorney Sokong has said the government was relitigating cases related to activists' support for Rainsy, including joining a "clean fingers" campaign in 2018 advocating for an election boycott, as well as last year's "noodle campaign" where CNRP supporters planned to eat cold noodles, or num banh chok, en masse as a symbol of protest.
At least 10 youth activists have also been arrested since August in connection to street and online protests.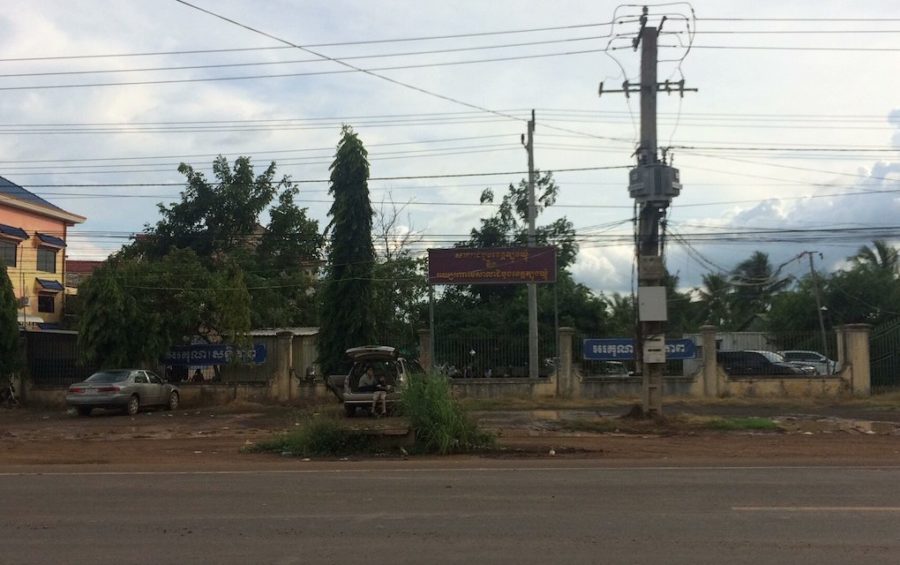 On Tuesday in Suong City, Om Yeath, 66, a former CNRP district councilor in the city, said two of the seven defendants were overseas — including his daughter, Vanneth, in Malaysia — while three others were at a "safe place."
"I really don't want my daughter to be away," Yeath said. "But if she didn't escape, she would've been arrested."
Vanneth had originally gone to Thailand about a year ago when Rainsy promised his dramatic homecoming from his exile in France. He said he would walk across the Thai border surrounded by thousands of supporters, but did not even make it to Thailand. More than 100 CNRP supporters were charged at that time, including Vanneth.
Rainsy recently renewed his vow to come back to Cambodia, although he has not set a return date.
Yeath said he had also gone into hiding for 20 days last year, staying at relatives' houses in Phnom Penh, Kampong Speu and Preah Sihanouk for a few days at a time.
He returned home after Rainsy failed to return and some jailed activists were released, but for a week he didn't step on the ground outside, he said.