KANDAL STUNG — Almost as soon as her husband got back home, Hay Sok Hem heard four explosions in the distance — unfamiliar sounds she assumed were tires bursting.
She would soon find out, however, that they were armed officers firing warning shots into the air against protesters.
In September, a clash between residents and the developers of Phnom Penh's new international airport in Kandal province came to a head, as armed officers descended on a group of locals camped out to prevent bulldozers from razing their rice fields.
Around 30 people were taken into custody that day, and authorities set up blockades around village roads to prevent ongoing resistance.
Sok Hem, 43, said on Friday that she had been frightened by those events — especially for her husband, now a local council candidate for the opposition Candlelight Party in Prek Sleng commune for the upcoming June 5 election.
"He was there to take pictures and videos. He was lucky he just got home. He had just arrived home and we heard explosions," Sok Hem said. "We have four children. He's not scared of dying. He never tells me anything; he can be gone for days. He says, 'When I die, you will know. Don't worry about it.' How could he say this?"
"I was scared about his bravery."
Prek Sleng, alongside the nearby Boeng Khyang commune and others, has faced increasing tensions due to the airport land dispute: rising discontent that some believe will be reflected in the upcoming polls. It has become an area of divisions — between the major infrastructure project and the dusty villages that it slices through; between residents and local administrators; and even among the residents as distrust proliferates.
"This land issue forced him to return to politics," Sok Hem said of her husband.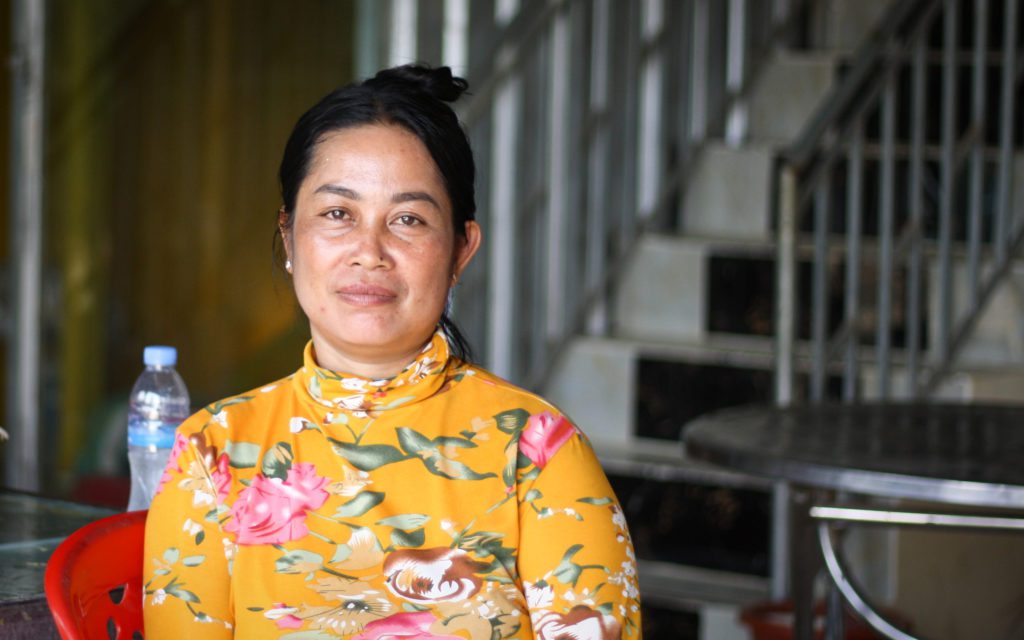 The husband, Kuon Sam Ath, 48, was gathered with around 30 Candlelight Party activists just before midday on Friday, erecting another roadside party billboard. The activists raised the sign, chanted "win, win, win," posed for pictures, and drove away on motorbikes.
Sam Ath participated in the 2017 election with the opposition CNRP, and served for around three months — until the Supreme Court controversially outlawed the party and removed all its elected officials.
There was little political activity for five years, he said. Then, around three months ago, his old CNRP colleagues coalesced again around the Candlelight Party.
"It just re-emerged," Sam Ath said. "It's almost the same, just changing the logo."
He never even considered the other ex-CNRP parties, he added.
In 2017, the CNRP narrowly lost Prek Sleng to the ruling CPP 1,395 votes to 1,441 — a gap of just 46 votes.
Sam Ath said he was hopeful about the party's chances in Prek Sleng this time around considering the recent turmoil.
"The ones who haven't experienced something like this believe in the ruling party," he said. "But anyone who has experienced this will want change. They can't stand watching authorities bulldoze their land."
The system doesn't serve the people, Sam Ath argued. "I want the country to be more like Germany or the U.S.," he said, optimistically imagining societies with rule of law and consideration for rights — not necessarily communities with those foreign countries' wide highways and enormous airports.
Amid Kandal Stung district's villages, the airport development appears as if it is from another world. A large control tower, still under construction, rises from beyond expanses of muddy rice fields. A smooth concrete highway cuts through swampland where a few inhabitants live in shacks.
In the district, Boeng Khyang commune has felt the brunt of the conflict. While many others are so far only slated to lose farmland away from their houses, in Boeng Khyang, homes — still inhabited — have been marked with blue spray paint for removal.
Ros Dy, 44, said authorities had offered him $4,000 as compensation for his house. He said it cost as much to construct, without counting the landfill he built it on.
"It's like exchanging a lovely cow for a pig," Dy said. "We live here. We don't want to leave."
Nearby irrigation had been blocked by the airport construction, so there was no more farming, he said. The changes were being enforced with guns and electric batons — "who could protest?" he added.
"You step on my neck and don't allow me to talk," he said.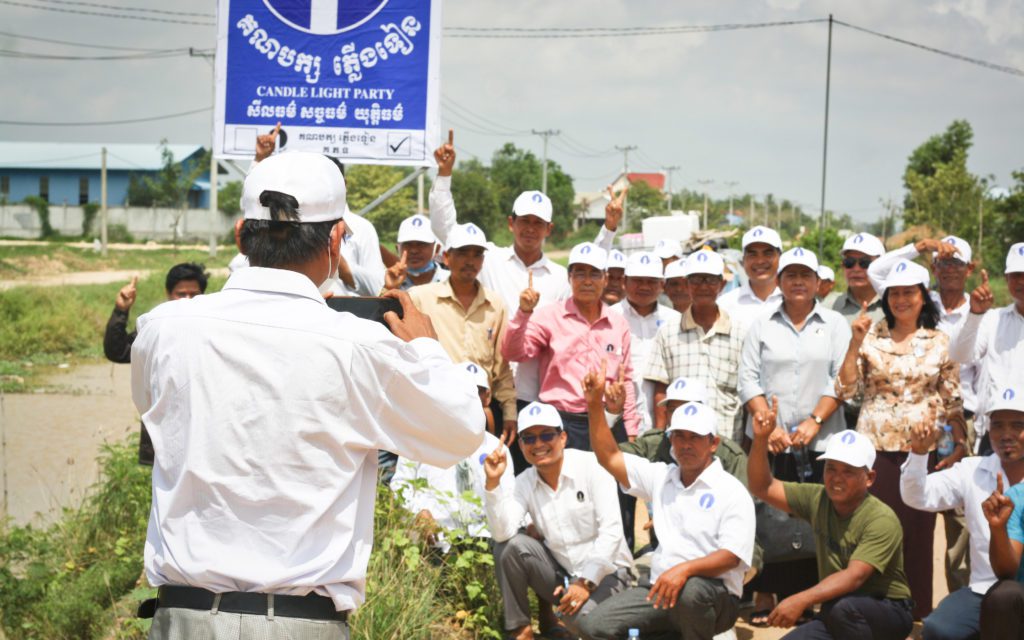 For Dy, however, the Candlelight Party held little appeal. "Neither party can solve it. They don't have the commitment," he said.
Hieng Hiek, 42, came onto Dy's property while driving past when she saw reporters. "I want to speak about it and get it off my chest," she said. "We want to tell the world this is how the people suffer when they build this airport."
"My farmland is finished. I only have the title in my hand. There's nothing I can do with the land."
Authorities are offering compensation of $8 per square meter, or $80,000 per hectare. Hiek has lost 1.5 hectares of farmland, so she stands to get around $120,000 in compensation. However, the problem is that on the market, neighboring land has been selling for as much as $120 per square meter; for residents, the wide disparity is a serious injustice.
Hiek has little hope. "I almost give up sometimes. My mother's getting old," Hiek said, suggesting that the airport project was backed by the head of the government — Hun Sen. "If even god can't help you, because he's the one who ordered it, no one can."
Nearby, Lay Laim, 71, said she had been visited by CPP officers on Thursday. They gave her $5 and a small packet of shampoo. "Please help and vote," they told her, she said.
"Yeah, I'll go to vote. But it will be for a different one," Laim said.
Boeng Khyang's current CPP commune chief, Nay Chandy, acknowledged local residents' unhappiness amid the airport dispute.
"But what can we do because this is the government's policy that requires this development," he said. "We can only do and follow as the parents decide. How could we oppose them? This is the difficulty."
"It is unavoidable that they are unhappy and upset," he continued. "At what scale, I cannot estimate, because it is their hearts' judgement."
The CPP's pitch in the upcoming elections was to build more roads, schools, hospitals and infrastructure to serve the community, he said.
Back in Prek Sleng, Sok Hem, the Candlelight candidate's wife, spoke about staying in school only until Grade 3 and feeling too uneducated to talk about politics. She also said that she was worried no one would want to step into her house if her husband continued with politics.
Nevertheless, she added that she believed in the cause.
"We're in the light. They're in darkness," Sok Hem said. "I would take the land, not the airport. What's the point of getting an airport when we're losing our farmland? Without this farm, what can these people eat?"