Candlelight Party candidates in a Phnom Penh commune alleged they faced pressure and bribery ahead of the party's nominee list being disqualified by an electoral hearing — including three who admitted to taking gifts and signing onto a complaint against their own party.
Chroy Changva district's Prek Liep is among three communes whose Candlelight Party candidates were completely removed by the National Election Committee following a hearing on March 31, amid nationwide complaints that stripped the opposition party of 150 total candidates, according to the party. The dissolved CNRP won the commune in 2017.
In interviews, six Candlelight Party members in Prek Liep raised several allegations:
One potential candidate alleged that she had decided not to run after a family member with a government job was pressured about her possible Candlelight Party candidacy.
Three candidates said they were given gifts of rice and cash, taken out to lunch by CPP commune officials, then taken to the NEC office and made to sign a complaint against their own party.
One of those three said she was later threatened against attending the NEC's hearing into disqualifying the party's candidates in Prek Liep.
The local CPP commune chief declined to respond to the allegations, while a ruling party spokesperson said the candidates were wrong to complain to journalists, as they should file official complaints instead. The NEC said that a party submitting illiterate candidates was committing forgery, and that it was natural those candidates would need the help of other Cambodian citizens to file written documents renouncing their nominations.
'Going for a Walk'
Phouk Kim, a Candlelight Party member in Prek Liep, said that when she got home from a trip to Mondulkiri on March 14, she immediately received a visit from a village official before she even had the chance to sit down.
The official, whom she knew, requested that she not register as a Candlelight Party candidate, according to Kim. But she told him that she had already registered.
Later, she received a call from a commune official asking her if she wanted to go to lunch. They initially met at a restaurant in Prek Liep: Six Candlelight candidates plus a group of commune and village officials, according to Kim.
After eating, they went together by car to the NEC office, which is attached to the NagaWorld 2 casino on National Assembly St.
"I was confused," Kim said. "When I asked them where we were going, they told us we were going for a walk."
Once they arrived at the office, the commune and village officials asked them to thumb-print written complaints which the officials had already prepared for them, Kim alleged.
Kim initially denied having signed the complaint, but after repeated requests for clarification, she acknowledged that she had thumb-printed the letter.
She had already received gifts from the officials on two separate occasions, and received another after leaving the NEC office, she said.
"I accepted this because they persuaded me, and I didn't want to have any more issues with them. I just took it," Kim said. "They came to me and there were a lot of people."
In total, she received 190,000 riel (about $37.5), one sack of 25-30 kg of rice, one case of noodles, one case of fish sauce and some milk, she said.
However, Kim added that the NEC had not accepted the complaint that day. Her understanding was that the rejection was related to the amount of time it would take to process the complaint.
Another Candlelight Party candidate in Prek Liep, Mao Chamnan, said he had received similar gifts as Kim and attended the same lunch.
"I didn't know they had another purpose for us. I thought it was just a normal meal together. That's why I went," Chamnan said.
When he arrived at the NEC office, the officials presented them with the complaint for them to thumb-print and then submit to the elections body, he said.
According to Chamnan, the complaint said that he was illiterate and that he had not wanted to join the Candlelight Party. The complaint also alleged that the Candlelight Party had promised him they would provide him with IDPoor benefit payments. Chamnan denied such a promise was made.
He said he was a longtime opposition CNRP supporter, but he knew the commune officials well and had agreed to sign the complaint as he did not want any problems with them. He said he could read and write some, but not well.
A third Candlelight Party candidate, Yeth Kimyang, who is Chamnan's wife, gave the same account of the lunch and visit to the NEC, and said she had also signed a complaint saying she was illiterate. There were three other candidates at the lunch, according to the attendees, but they could not be reached for comment.
Prek Liep commune chief Prep Mony declined to comment on the Candlelight Party members' accounts. Deputy Bak Khaeng village chief Mao Rin, whom Kim said was the one who had visited her at home, also declined to comment.
Threats Ahead of Hearing
On March 25, the NEC released the primary list of candidates from three parties standing in the commune election in Prek Liep: the ruling Cambodian People's Party, the Candlelight Party and the Khmer National United Party — a royalist party led by general Nhek Bun Chhay.
Three days later, a complaint was filed to the NEC against the Candlelight Party by resident Sou Kanha, whom Candlelight Party members alleged was a commune administrator and member of the ruling CPP.
The complaint said five candidates from the Candlelight Party were illiterate: All five of them had attended the alleged lunch between candidates and commune officials, according to the party members.
Kanha, the complainant, had noticed that one of the Candlelight Party candidates was Saing Suon, a lay priest at a local pagoda, whom she knew to be illiterate, the complaint said.
"Saing Soun could not read and write in Khmer and did not thumbprint or sign and write his own resume. I do not think the Candlelight Party is qualified to stand for the commune council election," Kanha said in the document.
A hearing was scheduled for March 31 at the NEC.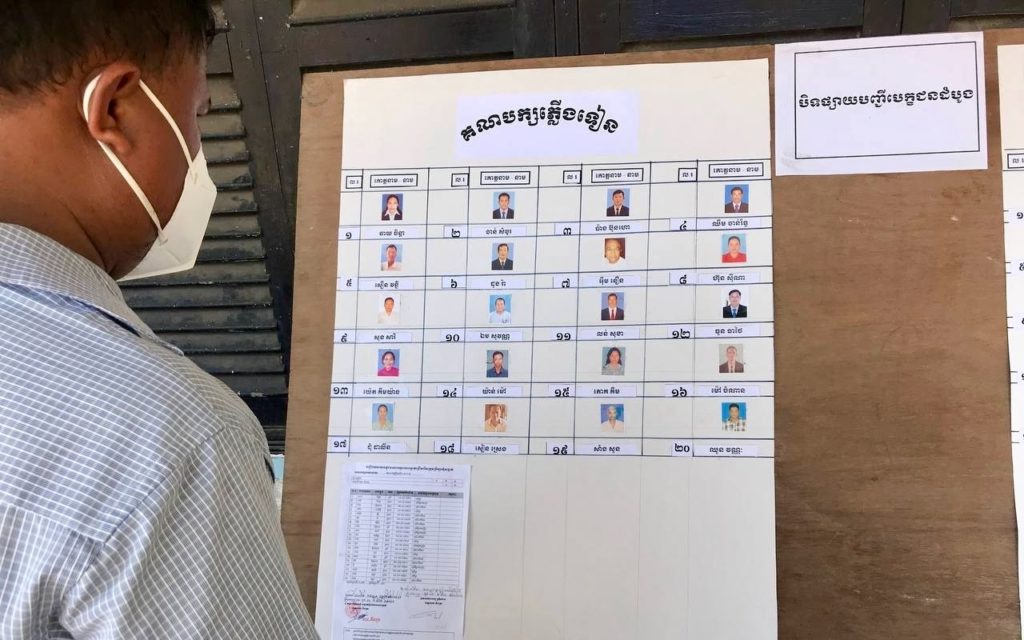 Literacy is a legal requirement for people running for the commune council, and Interior Minister Sar Kheng has spoken about the need to be able to draft and discuss strategic plans and other matters.
Kim, the Candlelight Party candidate, said Rin, the same village official who had visited her home two weeks prior, returned to speak to her.
He asked her not to attend the hearing, and added: "I cannot guarantee your safety later if you go to the hearing," according to Kim.
Kim said she shot back that she would inform her children to be aware of the threat, that "if somebody kills me, it's going to be you."
Rin replied that he was only joking, according to Kim. But Kim said it was no joke. "This is a threat for me. It is not kidding around."
Since then, she received repeated phone calls — she was unclear from whom — to not attend the hearing, she said.
"I refused," Kim said. "Gold never fears fire, and I had done nothing wrong."
She attended the hearing on March 31, and was questioned whether she had joined the Candlelight Party willingly, and replied that she had. She was also asked to read some text. Kim said she hadn't brought her glasses, and struggled.
Kimyang was also questioned the same way, and also had a hard time reading the given text, Kim said.
The NEC decided that day to disband the party's entire candidate list in Prek Liep.
Beyond Prek Liep
Another Prek Liep Candlelight Party member, who declined to be named for fear of repercussions, said she had intended to stand for the party until a family member started facing pressure about his government job.
The family member received a call from the Prek Liep commune chief that he could lose his position if the party member continued with the Candlelight Party, the woman alleged. She decided to drop out.
"I really wanted to do what I wanted, but this problem, it was linked to my [family member]," she said. "I feel frustrated. … But I thought, it's OK for me because I had better protect my family."
"We'll just keep quiet until we can go to vote. And even if we can't vote, it's still OK for me because I wouldn't be able to change anything anyway," she said.
Sor Longdeth, the Candlelight Party's chief for Phnom Penh, said there was intimidation in many of the city's communes after the party quickly assembled nominees for the June election. The party, which had been largely dormant for years, managed to submit candidates in all but three of the country's 1,652 communes. Previously called the Sam Rainsy Party, it formed the main opposition CNRP in a merger in 2012, but continued to operate to represent politicians elected under the former banner.
"The accusations against Candlelight Party candidates being illiterate are politically motivated," Longdeth said. Many party members were active in writing social media posts online, and it should have been easy to clear those accused of illiteracy, he said.
However, NEC spokesperson Som Sorida said the committee could not accept falsified documents for the election, and the submission of illiterate candidates amounted to forgery.
"If he is a candidate who does not know how to read and write Khmer script, then it is certain that he cannot write a resume and declaration letter of his own candidacy," Sorida said.
"If it is found that a political party has falsified candidate documents, even in one case of forgery in the attachment to the political party candidate list, the list of political party candidates will not be valid​ or qualified to participate in the election."
He added that illiterate people would need the help of other Cambodian citizens to correct their false candidacies, and commune officials were within their rights to act as those helpers as ordinary citizens.
"The people who do not know how to read or write would need to ask for help from somebody else," Sorida said. "The NEC would look at the helper as a Cambodian citizen, even if it is a commune councilor still in office. He or she is a Cambodian by birth, so this citizenship is not lost even though he has the position."
It was allowed under law, even if the Candlelight Party often raised issues about their positions, he said.
CPP spokesperson Sok Eysan said that if any of the accusers had faced real problems, they should file official complaints.
"If there is an irregularity, if they understand there is a violation, a violation by any means, they should complain to the NEC," Eysan said. "They should not shout in the news. It is useless."
"In the past, some candidates kept saying that they were threatened and had party billboards removed, but I only heard that they were shouting — they did not file a complaint," he added. "In my opinion, if there is any problem that you are not satisfied with, you can file a complaint with the NEC at your place."