Years of political pressure preceded opposition leader Kem Sokha's arrest on September 3, 2017, which came amid a year of escalating incidents. Five years since that day, his treason trial drags on with the country's political opposition cowed by arrests and toothless in the face of a dominant ruling party.
Lead-up
1993-2001
Entering politics
Kem Sokha, around age 40, is elected to the National Assembly from Takeo for the Buddhist Liberal Democratic Party. The BLDP arose out of a U.S.-backed faction that fought against Cambodia's Vietnamese occupation from its base near the Thai border.
In 1999, Sokha joins the royalist Funcinpec party and becomes a senator.
2002-2007
NGO work
Having resigned from the Senate, Sokha establishes the Cambodian Center for Human Rights.
Prosecutors during his recent treason trial have alleged that this was done at the behest of the U.S. hoping to spark a grassroots opposition movement. Voice of Democracy is started as a radio service as part of CCHR.
December 31, 2005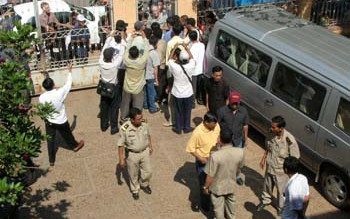 Arrest for defamation
A human rights rally at Phnom Penh's Olympic Stadium featured a large banner: "I don't vote for political parties that threaten and intimidate the people."
A hand-written comment on the banner further asserted that Prime Minister Hun Sen's government was a "traitor regime that sells territory to Vietnam."
Three weeks after the event, Sokha is arrested from his CCHR office for defamation for leading the rally.
January 17, 2006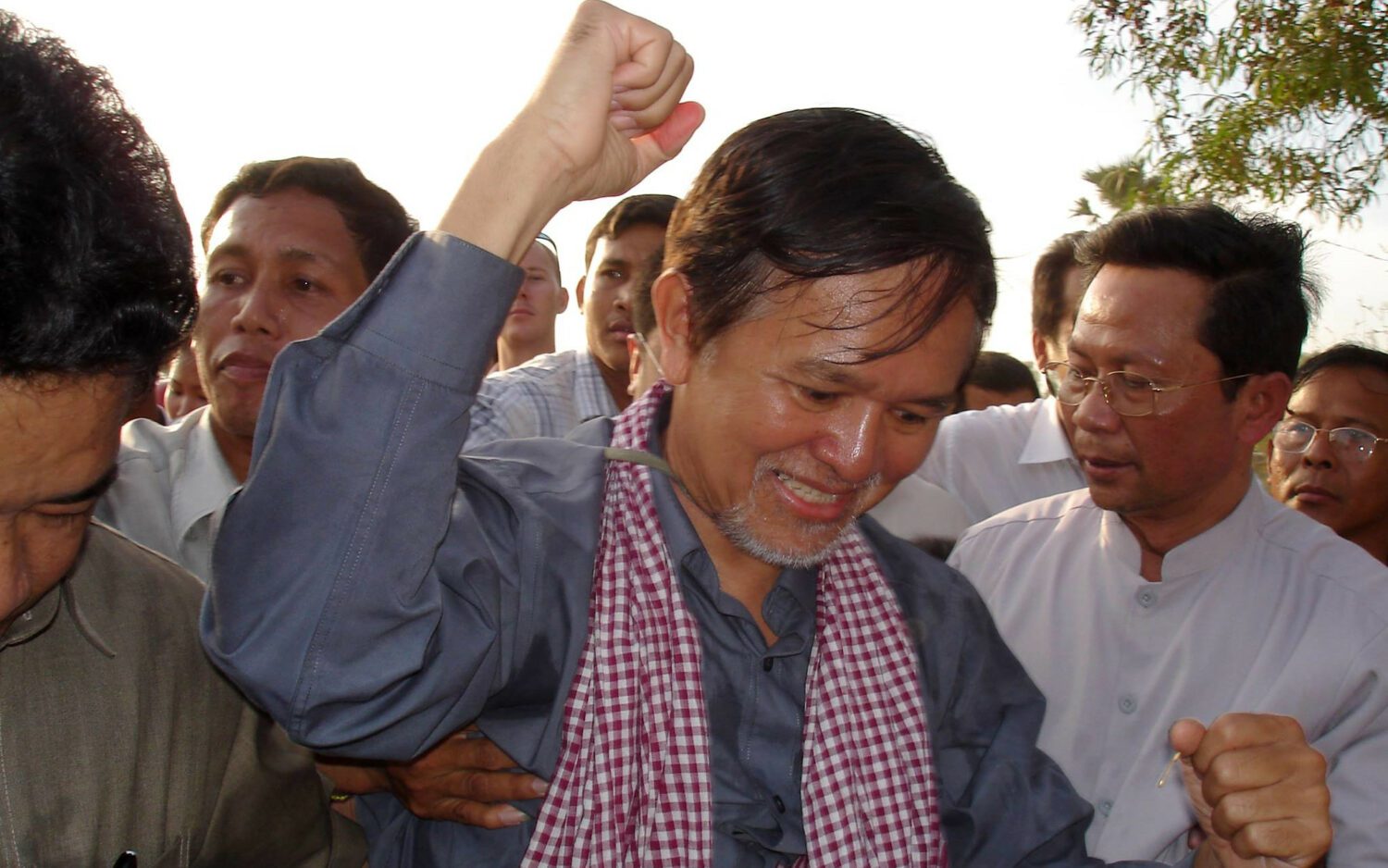 Release
Sokha is released on bail alongside his colleague Pa Nguon Teang, who is currently director-in-exile for VOD's parent organization the Cambodian Center for Independent Media. Radio broadcaster Mam Sonando and unionist Rong Chhun are also released at that time.
But the legal difficulties continue as a former staffer — and later CPP spokesperson — sues Sokha alleging the embezzling of funds.
2007-2012
Human Rights Party
Sokha leaves CCHR to form a political party in 2007.
However, the party wins less than 7% of the vote in 2008 and just under 10% in 2012.
July 17, 2012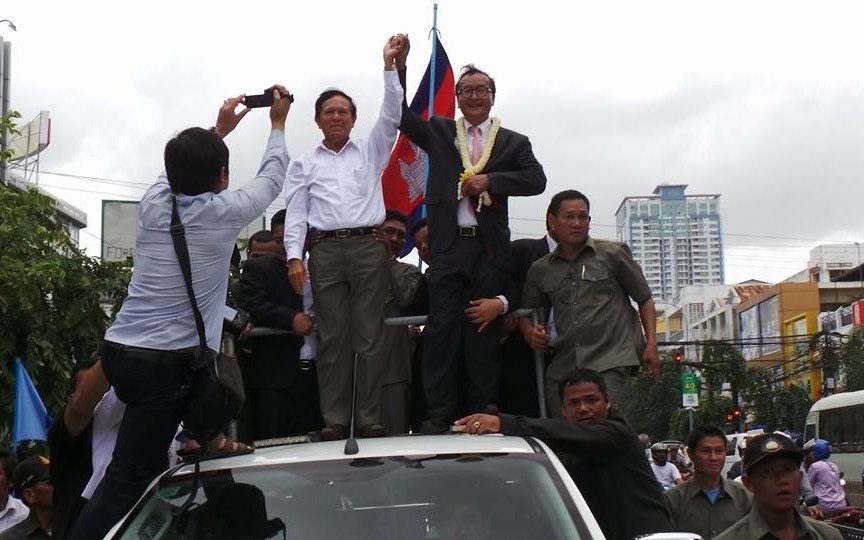 CNRP merger
Lackluster showings at the 2012 commune election by both the HRP and Sam Rainsy Party lead the two opposition parties to join forces — presenting Hun Sen's CPP with its biggest electoral challenge in two decades.
2013-2014
Elections and protests
The CPP is pushed to near defeat in 2013 with 49% of the vote to the newly merged CNRP's 45%.
The opposition alleges election irregularities, sparking months of mass public protests.
Those protests have become one pillar of the government's treason case against Sokha.
January 3, 2014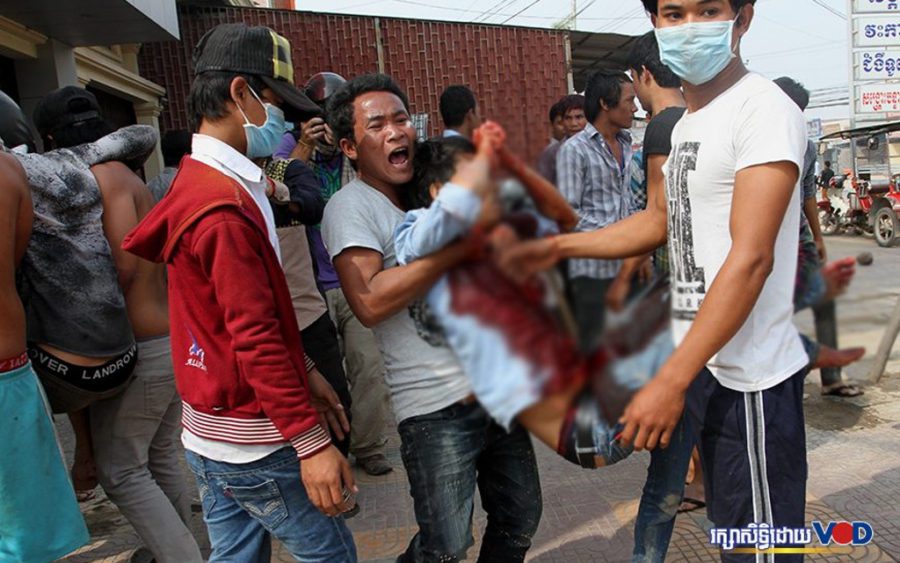 Veng Sreng Blvd.
Garment-worker protests ballooning in parallel to political rallies turn violent. Military police open fire with AK-47s, killing five.
2015
Rainsy's exile
Hit with an arrest warrant for defamation, Sokha's popular political partner Sam Rainsy, who was traveling at the time, remains abroad rather than face jail time in Cambodia.
Rainsy has not returned to the country since, and has become a vocal critic and political instigator from his home in Paris.
August 21
'Color revolution'
University student Kung Raiya is arrested on campus after posting online: "Does anyone dare to make a color revolution with me?"
The "color revolution" rhetoric soon becomes a favorite refrain of the ruling party in accusing the opposition of plotting an illegal overthrow of the government.
Raiya is jailed for 18 months for incitement but has since continued his political activities, including running for commune chief in 2022.
May 26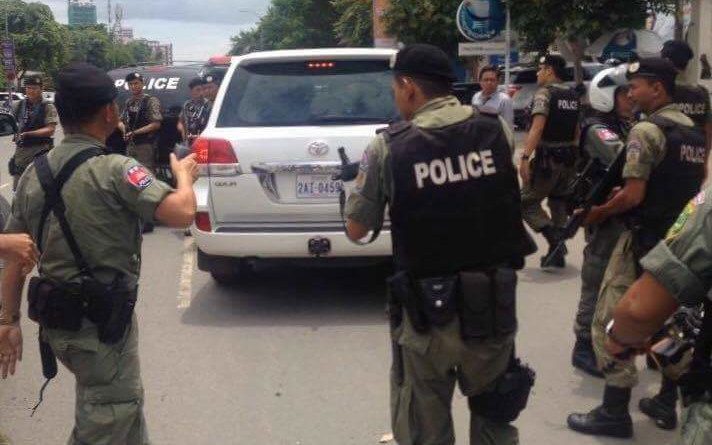 Arrest attempt
Police stop Sokha's car on Phnom Penh's Norodom Blvd. and raid the CNRP headquarters seeking to arrest the political leader over the lover case. But he is not in either location, and afterward holes up in the party headquarters for several months, surrounded by supporters, to evade arrest.
December 2
Pardon
Sokha is sentenced to five months in jail for failing to appear as a witness in the lover case, but is later pardoned by the king at Hun Sen's request.
A recording of Hun Sen negotiating with Sokha suggests foreign pressure in the background: "I guaranteed the Japanese deputy minister of foreign affairs" that Sokha would not be arrested if he stepped out for voter registrations, Hun Sen tells Sokha.
Arrest
2017
Collapse
From the CNRP's highs of 2013, a series of escalating incidents in 2017 sees the opposition party come under pressure and ultimately be disbanded. The political opposition — as well as civil society and independent media — are decimated.
February 11
Rainsy steps down
The government passes amendments to the Political Parties Law that make it illegal for Sam Rainsy to remain president of the CNRP. Still in exile in France, Rainsy resigns under pressure, and vice president Kem Sokha steps up to fill the party's top position.
May 22
Sokha leads CNRP election campaign
"Today, here, I still stand with my brothers and sisters even though there have been these obstacles of rain, thunder and lightning," Sokha says while campaigning for the 2017 commune election, referring to recent knocks endured by the CNRP. "Do you believe it or not, brothers and sisters? Can the Cambodia National Rescue Party cross these huge obstacles?"
June 5
Opposition makes gains
The CNRP closely contests the local-level commune election, winning 44% of the popular vote in a contest long dominated by the ruling CPP, which won 51%. The CPP loses 11 percentage points in the popular vote and 436 commune chief positions compared to 2012.
June 22
Hun Sen threatens opposition
"Your tongue is the reason for war. If you still make insults and threats to kill, you have to prepare your coffin," Hun Sen says in a speech while wearing military garb. "To protect the peace for millions of people, if necessary, 100 or 200 must be eliminated. Please listen carefully. … Whoever intends to undermine peace will receive what you deserve."
August 7
Cambodia Daily hit with huge tax bill
Government-aligned Fresh News publishes a leaked tax department letter claiming the Cambodia Daily owes $6.3 million in back taxes. Fresh News also posts scathing anonymous "letters" attacking the independent English-language newspaper and prominent NGOs.
Dozens of radio stations, including those carrying VOD programs, are shut down.
August 23
US NGO shuttered
The U.S. State Department-funded democracy-building group National Democratic Institute is told to stop its operations and expel all foreign staff from Cambodia within seven days.
The move comes as the NGO is accused of helping the CNRP plan to overthrow the government.
September 3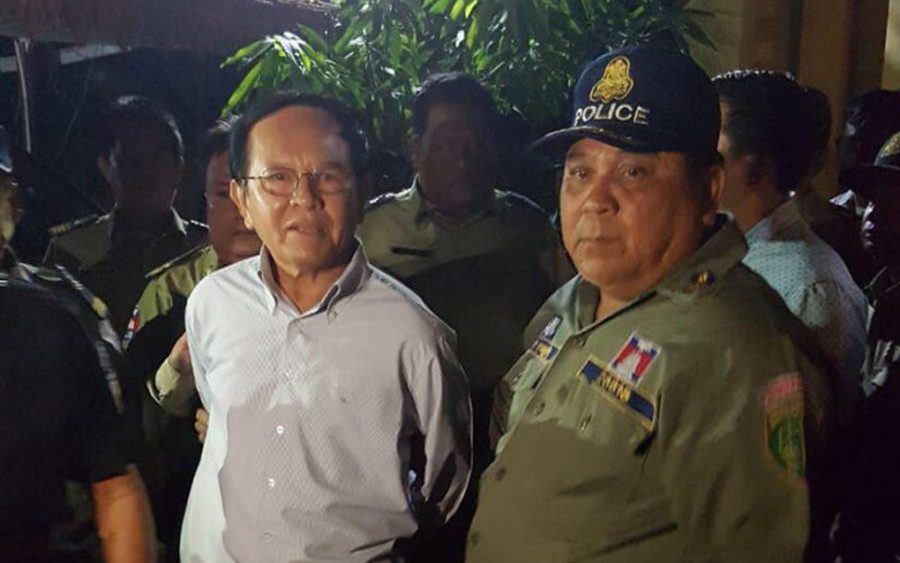 Kem Sokha arrested
A midnight raid by more than 100 police officers brings Sokha into custody for alleged treason. The opposition leader is taken from his Toul Kork home and moved to a Tbong Khmum province prison by morning.
The Cambodia Daily publishes its final issue the following day leading with Sokha's arrest: "Descent Into Outright Dictatorship," its front page reads. Radio Free Asia's Phnom Penh office closes on September 12.
November 27
CCHR threatened
"The Cambodian Center for Human Rights should be shut down because it follows orders from foreigners. It is because foreigners created it, not Khmer," Hun Sen says in a speech to garment workers.
Aftermath
2018
One party
With the CNRP gone, the ruling CPP sweeps all 125 seats in the National Assembly at the July national election.
September 9
House arrest
Kem Sokha is released on bail in Phnom Penh just over a year after his arrest. He is placed in de facto house arrest, prohibited from leaving the block around his house.
2019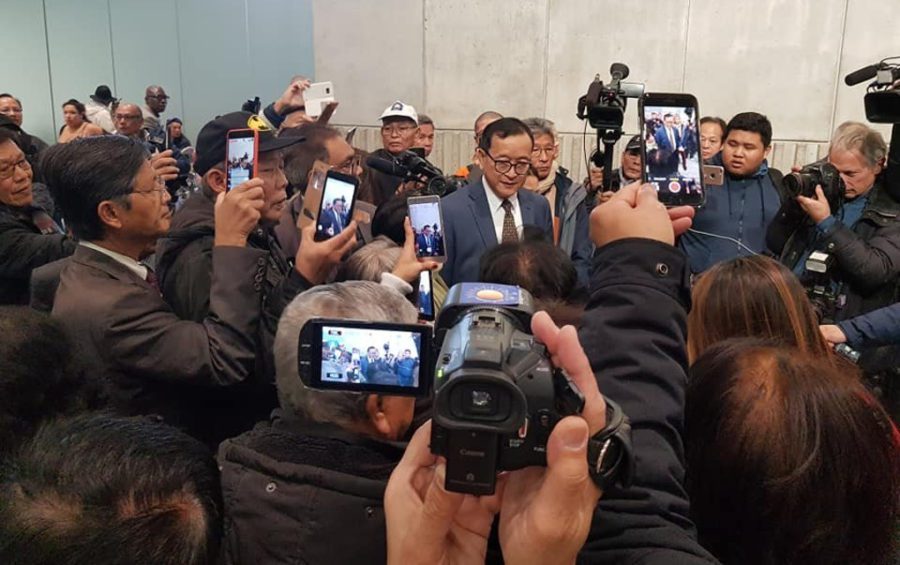 Rainsy's return attempt
The year is marked by exiled former opposition leader Sam Rainsy's announcement that he would try to return to Cambodia on November 9. At least 91 warrants are issued and 43 arrests made of supporters ahead of the date. Rainsy fails to board his flight in Paris. The incident leads to mass trials against more than 100 opposition activists.
VOD English also launches online on May 5.
November 10
Bail conditions relaxed
The day after Rainsy misses his promised return date, the court allows to Sokha to travel beyond his neighborhood as long as he remains in the country and does not conduct political activities.
2020
Trial begins
Sokha's treason trial finally begins on January 15 with questions about CCHR's funders. Subsequent hearings discuss overseas speeches, meetings and financing. But Covid-19 soon hits, and the court hearings are stopped.
February 12
EBA suspended
Citing a "series of repressive actions" against the CNRP and other "serious and systematic" human rights violations, the E.U. partially withdraws Cambodia's duty-free trade access to the European market.
2021
Trial on hold
Sokha's trial stays on Covid-19 hiatus for all of 2021. But Rainsy's faction is hit with mass trials and receives prison sentences in absentia.
By November, Sokha distances himself from Rainsy, posting online that "Mr. Sam Rainsy and his colleagues walked away from the original principals and spirit of unity."
December 20
Color revolution narrative returns
Mass layoffs at Phnom Penh's NagaWorld casino prompt accusations of union busting. As dismissed workers begin to protest in December, Labor Ministry spokesman Heng Sour warns of a "color revolution tactic," encouraging police to look out for evidence of foreign influence in the strike.
2022
Hopeful of a political deal
As his trial resumes on January 19, Sokha says he believes the court will drop the charges against him so the country can move forward.
"Whenever we have a quarrel, there's no benefit. We need national reconciliation," Sokha says. "I believe that there will be a solution. Even the ruling party, samdech also want national reconciliation."
May 8
Hun Sen, Sokha meet
Sokha pays his respects to Hun Sen at the funeral of the prime minister's brother, Hun Neng. The pair have a lengthy chat, again raising hopes of a political deal.
June 5
Sokha skips election
The June commune election sees a rejuvenated Sam Rainsy Party, renamed the Candlelight Party, winning 22% of the popular vote even as the ruling CPP dominates. Sokha abstains from voting.
"If Kem Sokha goes to vote, it will mean that he accepted that the dissolution of the CNRP was legal … and the government might say they are right in imprisoning Kem Sokha," Sokha ally Meach Sovannara says.
June 14
Mass trial verdicts
In the third of four CNRP mass-trial verdicts, 31 supporters of Rainsy's 2019 return attempt are sentenced to six to eight years in jail. Previous verdicts convicted at least 24 CNRP leaders and activists for incitement, inciting the military to disobey orders, plotting and attack.
In August, the courts announce a fifth mass trial of at least 34 defendants.
June 15
No links to Rainsy, Sokha says
Sokha continues to distance himself from CNRP co-founder Rainsy, seemingly trying to curry favor with the ruling party in a bid to end his treason trial.
"I have stopped having any connection with Sam Rainsy anymore. The words of Sam Rainsy and Kem Sokha as the same person no longer exist," Sokha says in court.
July 13
Sokha questioned over meetings with diplomats
A July treason trial hearing is shown a video of a 2013 political rally where Sokha speaks of plans to meet a foreign ambassador. Ambassador meetings have become a signature of Sokha's recent social media presence.
Photo credits: Kem Sokha's Facebook page, VOD.
Cited articles: The Cambodia Daily, The Phnom Penh Post, The New York Times, Reuters, RFA, VOA, VOD, Human Rights Watch.