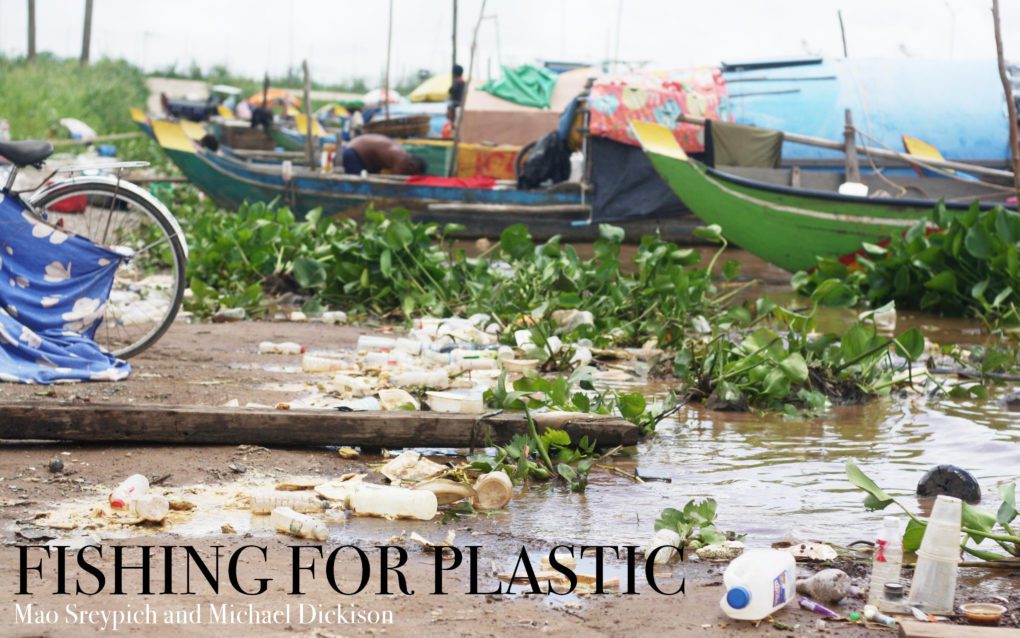 New research shows that hundreds of tons of plastic is carried away daily from Phnom Penh along the Mekong, Bassac and Tonle Sap rivers, traveling up these critical waterways and hurting aquatic life and human well-being.
The first research study measuring the actual flow of plastic in Phnom Penh's rivers has estimated that as much as 203 tons — the equivalent of about nine plastic bottles per resident — is discharged from the city into the Mekong every day, or 42 percent of the total plastic waste thought to be generated in the capital.
By weight, most of the plastic is relatively large pieces floating along the surface of the Mekong, Tonle Sap and Tonle Bassac rivers. But small microplastics were also found flowing throughout the rivers' depths — tens of thousands of particles collected over eight rounds of sampling.
The study's estimates are significantly higher than previous projections based on statistical modeling, and experts warn that plastic pollution presents a risk to livelihoods, water quality, aquatic life and human well-being.
At the tip of Phnom Penh's Chroy Changva peninsula, where the Mekong and Tonle Sap meet, fishers this week spoke of the pollution amid a shoreline cluttered with plastic bottles, bags, food packaging, cups, wrappers, utensils and other detritus.
Mei Som, 55, said the fishing families need to bathe and wash their dishes in the Phnom Penh rivers. They don't dare to drink it, she said, and added that the garbage flows in from around the rivers to their shores, especially during the rainy season.
"It affects our health. Sometimes it makes our children sick," Som said.
Mal Man, 64, said when the fishers go out to earn their living, plastic bags fill their nets. So when the community wants to fish a new area, first they need to spend time cleaning it of plastic, Man said.
"Whenever we want to fish, we need to raise money to buy petrol and hire someone to dive into the river to collect the garbage. It takes a week to gather all of that rubbish," he said. "Everything is difficult."
Charlotte Haberstroh, lead author of the study on Phnom Penh rivers' plastic flows, said fishing communities had assisted in the research, with the paper noting that researchers deployed nets from semi-stationary fishing boats.
"I felt the presence of plastic most shocking in those villages and along the shorelines where we would start off our sampling trips. On the river, at times everything would appear clean and beautiful, other times the plastic and other trash were floating in big patches down the river, directly confronting you with the reality of plastic pollution," Haberstroh said.
"However, as our results later showed, even when appearing clean, the rivers would still carry many microplastic particles."
The paper, "Plastic transport in a complex confluence of the Mekong River in Cambodia," estimates that 218 tons of plastic in the Mekong, 15 tons in the Tonle Bassac, and 75 tons in the Tonle Sap are flowing away from Phnom Penh every day during the rainy season. That mass is made up of an estimated 3.9 billion plastic particles per day in the Mekong, 450 million in the Tonle Bassac and 1.9 billion in the Tonle Sap.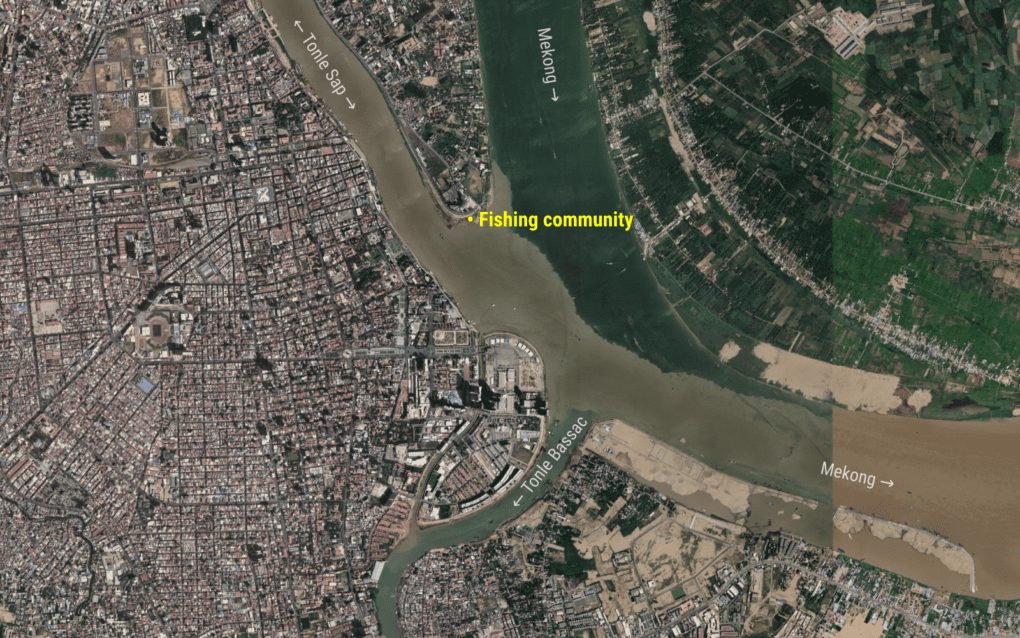 The researchers compared the total plastic outflow through those three rivers to the Mekong's inflow, and estimated that 203 tons of the plastic was being picked up in Phnom Penh each day. That is 89 grams per resident per day. A plastic water bottle weighs around 10 grams, according to industry data.
The study says this is equal to 42 percent of the total plastic waste thought to be generated in the capital, though the total municipal waste has likely increased from the available 2015 data.
The study extrapolates from sampling that was conducted using 0.5 by 1-meter nets around four sites in August and September 2019 to estimate year-round and river-wide flows. It suggests further studies in other seasons and along riverbeds, which were not sampled and could likely also be carrying a significant amount of plastic. It was carried out by researchers at the University of South Florida and Institute of Technology of Cambodia.
Eighty total samples of over 41,000 particles were rinsed, dried and sorted by hand — a "very laborious" process, Haberstroh said.
"The actual sorting through the samples scanning for microplastics occurs manually, so it is a difficult and time intense process," she said. The contents of each net took two to eight hours to sort.
The collected waste included straws, food containers, bottles, caps and "many, many small particles" that came in all colors — "some rough others smooth, dirty, with biofilm or fairly clean, hard and soft, fragments and hard stringy pieces," Haberstroh said.
"It appears that they are mostly from consumer goods but it's hard to say. We noticed a lot of soft, white pieces, likely Styrofoam which is used a lot in the city for food containers and cups."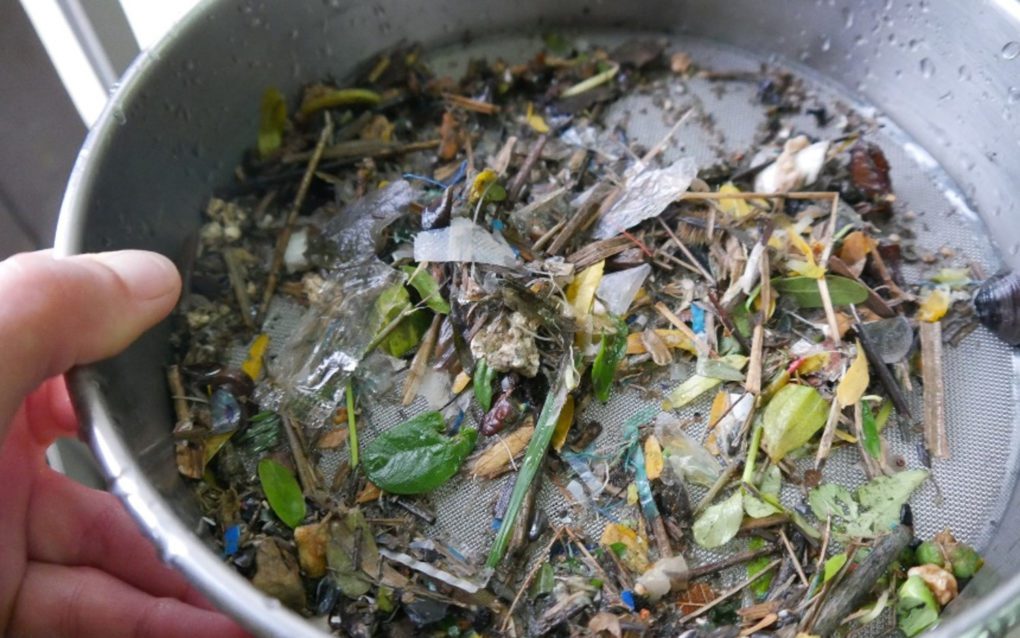 The threat of microplastics has gained prominence in recent years, including a 2019 study that estimated people consume tens of thousands of microplastic particles a year. The world's oceans, meanwhile, are expected to have more plastic than fish by 2050.
Another study of Cambodian waterways says something similar could happen to the Tonle Sap lake by 2030. The Tonle Sap produces around 500,000 tons of fish a year, and between 2000 and 2030, 500,000 total tons of plastic is projected to have entered the basin unless policy interventions are taken.
"Plastic pollution has emerged in recent decades as one of the greatest contemporary threats to global ecosystems, representing a major challenge for water quality, aquatic life and overall human wellbeing in the twenty-first century," says the study, published by Nature's Scientific Reports.
It proposes plastic bag reductions for short-term relief in the amount of trash entering the Tonle Sap, and more waste collection and recycling for longer-term relief.
It adds that based on recycled plastic prices, the amount of waste slated to enter the Tonle Sap between 2021 and 2030 in a "business-as-usual" scenario could have been worth $4.8 billion.
Alexander Finnegan, the study's lead author, said the estimates were based on waste and population trends, and noted that Haberstroh's paper was the first to use actual data collected from the three rivers to estimate the amount of plastic flowing around Phnom Penh.
Haberstroh's measurements have raised possible policy implications, notably its findings that most of the plastic in the rivers by weight is floating, Finnegan said.
"A big win / low hanging fruit would be doing something about this, i.e., the plastic isn't difficult to get at, as most seems to be floating on the surface," he said.
Environment Ministry spokesperson Neth Pheaktra has not responded to questions, though Phnom Penh governor Khuong Sreng this week announced garbage sorting into wet and dry trash. The government has previously introduced 400 riel charges for plastic bags at supermarkets.
At the Chroy Changva fishing community, Sok Li, 43, said that when the wind blows from the south, trash piles up on their peninsula. The community tries to clean it up, but the flow seems endless, he said.
"With the smell, it is very difficult for us to live," Li said. "Everyone wants to live in a clean place, but most importantly we have no place to live, so we have to endure."