Two Cambodians tested positive for Covid-19 this past weekend after they had been released from two separate quarantine centers, leaving health workers to trace more than 50 people with whom they were in contact, officials said.
Tbong Khmum Provincial Health Department director Keo Vannak said on Tuesday that a 29-year-old Cambodian man tested positive again for the virus on Saturday — 13 days after he had been discharged from Chak Angre Health Center in Phnom Penh.
Vannak said the man, who had arrived in the country from Saudia Arabia on July 10, was supposed to be self-isolating at home for another 13 days after his release, but he had direct or indirect contact with 47 people, including nine family members. His relatives' samples were taken on Saturday and they each received negative Covid-19 results on Sunday.
The man is being treated at a hospital in Tbong Khmum's Ponhea Krek district, while the 47 others have been quarantined at two schools in the province, Vannak said.
The Health Ministry reported on July 12 that a 29-year-old Cambodian man who had returned to Cambodia from Saudi Arabia via Malaysia on July 10 has tested positive for Covid-19. The ministry said in an August 2 statement that a man described in the same way had recovered and been released from Chak Angre Health Center.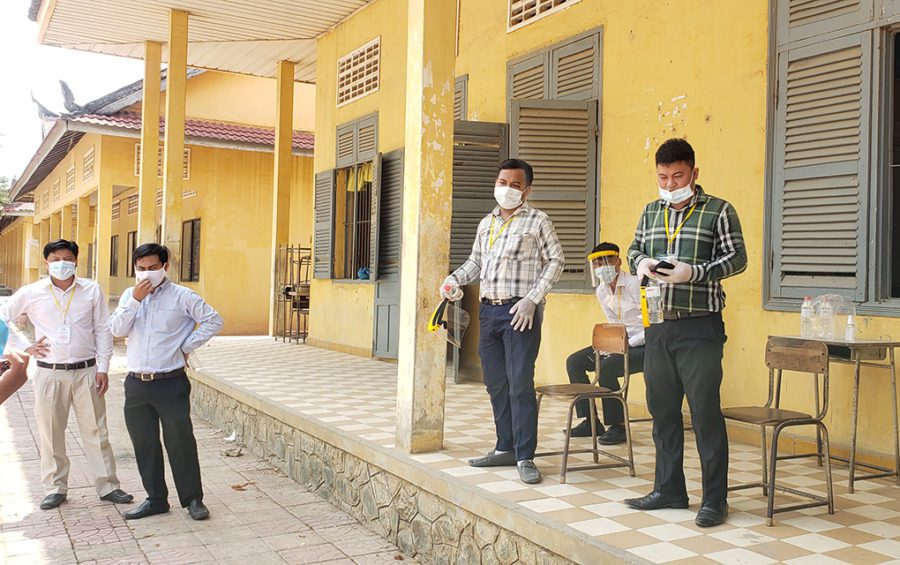 Vannak did not respond to additional questions from VOD on Tuesday.
Last month, a Cambodian man who tested negative for Covid-19 was found dead in a quarantine center in Tbong Khmum after voluntarily quarantining himself there.
The Health Ministry attributed the 21-year-old migrant worker's death to exhaustion and mixing medicines, which the man's brother had brought him to treat a cold while he was in quarantine. The deceased man had recently returned to the country from Malaysia.
Ministry spokesperson Or Vandine acknowledged that one person had tested positive again after being released from quarantine, but she said the ministry did not release a statement about the case because she thought it could cause public confusion.
"The Health Ministry had reported on a relapse case once already, but because some of our brothers and sisters used this number to add up [the cases], it surpassed the number of new cases that we found," she said in a message. "It caused confusion about the new positive cases."
Vandine added that Covid-19 patients who recover and are released from state care are required to quarantine at home for an additional 14 days and report to a health center on the 13th day for another test. She urged the public to remain vigilant about the virus.
"We don't know how Covid-19 behaves," she said.
On Monday, the Kandal Provincial Health Department said nine people were sent to a Takhmao City quarantine facility after their relative, a 27-year-old U.N. peacekeeper who returned from Mali on July 30, tested positive for Covid-19 after being discharged from quarantine.
Her nine family members tested negative, and health officials were conducting further contact tracing, Kandal health department director Kuy Bunthoeun said on Monday.
"We continue to research who is closely related to her, and continue the testing procedure based on information from her family and her clarifications," Buntheoun said.
The woman, from Sitbou commune in Saang district, was found to be positive for Covid-19 on Saturday, after being tested for the fifth time, according to a Health Ministry statement. She is being treated at Chey Chomneah hospital in Takmao City.
After she was reported as positive on Sunday, Sitbou commune chief Um Leng sent a letter to the Takhmao City governor the following day stating that residents of the commune were concerned about the potential spread of the virus.
The letter said that after the peacekeeper returned home on July 30, she traveled around the commune, prepared food for elderly residents, gave alms to monks and donated money to children.
The woman had gotten another Covid-19 test at a hospital, which came back negative, but two days later she developed a fever and runny nose and then tested positive for the virus, according to the letter.
"Currently, people are very worried because the patient has been in touch with many people," Leng said in the letter. "So, city governor, please be informed and take the next steps."
By Monday afternoon, the Kandal Provincial Health Department issued a response letter, saying that Leng's claims were inaccurate and did not correspond with information provided to the health department by the peacekeeper and her family.
Neither Bunthoeun, the health department director, nor Leng, the commune chief, could be reached on Tuesday.
The Health Ministry has reported 266 cases of Covid-19 since January, with 15 new cases reported Tuesday morning.
The ministry also said in a statement that it would temporarily ban flights from the Philippines, shortly after it announced that 13 of Tuesday's new coronavirus patients had arrived from the Philippines. The ministry said its earlier decision to suspend flights from Malaysia and Indonesia since August 1 had helped curb new coronavirus cases in Cambodia.
In a speech on Sunday, Prime Minister Hun Sen said Covid-19 was "not serious" inside Cambodia because there was no community transmission, though the virus presented challenges that the government had not faced before, including public health and safety concerns, and supply shortages. He also urged people not to discriminate against others, without specifying any group.
"We have to avoid discrimination and the stance of blaming [others], which is a bad game that leads to the breakdown of unity while the whole world is trying to work together against the pandemic," Hun Sen said.
The premier once again praised his decision to allow the Westerdam cruise ship to dock at the Sihanoukville port in February, calling it an example of the nation's humanitarian spirit.
"Cambodia is not only treating Cambodians but [Cambodia] also helps treat foreigners too," Hun Sen said.
The country has charged foreign nationals for Covid-19 tests, treatment and quarantine stays since June.
(Translated and edited from the original article on VOD Khmer)