NagaWorld union members submitted petitions to the prime minister's cabinet and National Assembly, with union leader Chhim Sithar remarking that only Hun Sen can resolve the yearlong dispute.
Around 100 workers gathered at Wat Botum park at 9 a.m. on Monday to submit two petitions, each with 674 thumbprints from both fired and employed workers.
The workers have three main points in the petition: to let the 200 laid-off workers return if they would like to, recalculate compensation for laid-off workers', and to drop charges against 15 unionists who were jailed and charged amid the strike earlier this year.
Chhim Sithar, the newly reelected leader of the Labor Rights Supported Union, told reporters it was time to appeal directly to senior leadership.
"I'm sure. If I was not, I wouldn't come to samdech," she said, referring to an honorific used by Prime Minister Hun Sen. "As we can see before coming to him, we have tried many procedures with different ministries, but there isn't any solution. So I think this is the time to ask for help from the prime minister, because it's only him who can solve this problem."
Around 100 workers delivered the petition to a makeshift office of the prime minister's cabinet at Wat Botum park before authorities stopped them — by linking their hands and blocking workers — from walking to the National Assembly.
Authorities stopped the group for about 30 minutes, as an unidentified drone flew over the park, occasionally flying in close to strikers and journalists.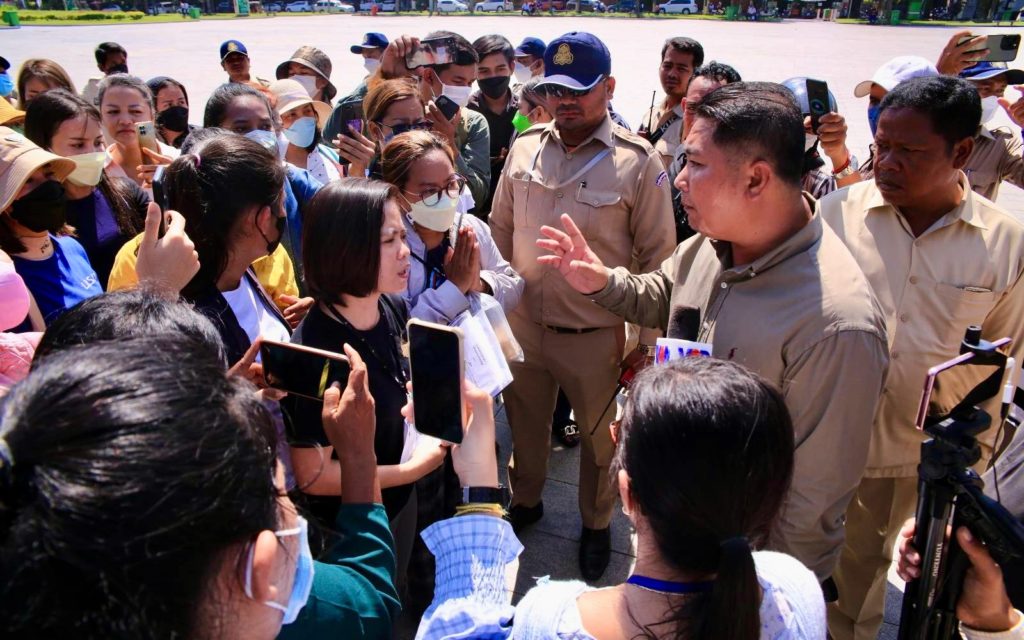 At first, police said they would only allow five representatives to go to the National Assembly, before saying they would allow a slightly larger group to proceed. But after 30 minutes of discussions, the authorities allowed all the workers to head to the National Assembly, directing traffic as they crossed Sothearos Boulevard from Wat Botum.
After submitting the second petition, Sithar told journalists that she hoped the prime minister and National Assembly president would solve the issue.
She added that unionists would wait for a response before deciding their next strategy, but it was up to strike participants if they wanted to continue their protest outside the NagaWorld complex.
Chorn Chantha, 40, who is still employed by NagaWorld, said she's been on strike in support of laid-off members since last year. She still gets calls from the company asking her to come into work, she said.
"I am hoping samdech [Hun Sen] finds the solution for us, because we have been on a peaceful strike for more than 6 months," she said. "The authorities also should stop violating us. We only have a dispute with the company."