When Phnom Penh's wholesale Doeum Kor market became a Covid-19 hotspot and was shuttered, some vendors quietly shifted to Stung Meanchey, sellers said.
A lot of the wholesale trade, meanwhile, moved to makeshift road sales along Hun Sen Boulevard, also called 60 Meter road, near the border of Phnom Penh and Kandal province, a local official said.
But by Wednesday, vegetable sales in Stung Meanchey, now declared a "red zone," was happening secretly in houses, sellers said, while a commune chief said he was cracking down on the 60 Meter wholesale trade, confiscating carts and taking "serious action" to prevent public disorder.
More than a dozen markets in Phnom Penh and Kandal's Takhmao city have been closed down due to the ongoing coronavirus surge, pushing vendors and customers elsewhere in a tense, shifting balance between the need for foodstuffs and authorities' efforts to control the outbreak.
As of Monday, at least 13 markets were closed in Phnom Penh. Daun Penh district's Kandal market, and Pur Senchey district's Century Plaza, Pochentong, Trapaing Thloeng, Toul Pongro and Ekreach 1 markets were newly shut down, joining O'Russei, Doeum Kor, Neak Meas, Phsar Chas, Boeng Trabek Plaza, Toul Sangke and the old Stung Meanchey market.
More than 400 Covid-19 cases have been linked to O'Russei and more than 200 to Doeum Kor.
Heng Raksmey, a vegetable seller at Doeum Kor, said colleagues told her to move her trade to Stung Meanchey when the market closed, and many of them did, selling on the road outside markets.
"But I don't even dare to go outside the home," Raksmey said. "I'm very afraid of the virus. [Other] sellers have gone to other markets."
Vanna, a grocery seller at Boeng Tompun market who would not give his full name, said new vendors were arriving at the market as others around the city shut down.
"They sell right in front, on the street, and the prices are very high," Vanna said.
Sopheak, a fruit seller at the shuttered Boeung Trabek Plaza, said many vendors were keeping quiet about finding new ways to sell.
"They won't tell the truth. It's hard to blame them since they need money," Sopheak said.
In Toul Kork district's Toek La'ak III commune, police chief Phat Saran said several vegetable vendors had been detained over illegal sales, though they were later released. He refused to give details.
Red Zone Black Markets
A Stung Meanchey resident, Sim An, said she was a vegetable vendor at Doeum Kor before it closed. Life inside the red zone now was getting tense, An said.
"Some people sneak out of the red zone at 3 or 4 a.m. to buy vegetables and food to sell in my area," An said. The trade must happen by 4 or 5 a.m. before patrols arrive, she said.
"This morning I also went down to check out the area's streets, so that I could sneak out to buy some vegetables," An said. She was almost out of the canned fish and noodles she had received from the state, she said.
But police were there, and warned they would beat her, she said.
"I saw them take away vendors' property — it is so scary," An said.
"We have to feed our baby too and they don't allow us to leave," she said. "We have seen the authorities record our requests [for supplies], but [we] don't know when the provisions will arrive. I have no words."
Chum Kimsan, another Stung Meanchey resident, said patrols were increasing while residents continued to try to connect with sellers in the area.
"People and vendors still go out while police keep forcing them away," Kimsan said. "When they see police, they escape or hide. They need to buy food and vegetables to support their families. We sometimes sneak out to buy food."
The Commerce Ministry has taken over all food deliveries in the red zones, while City Hall has set up a Telegram group for requests for emergency food aid. Thousands of messages have flooded the group.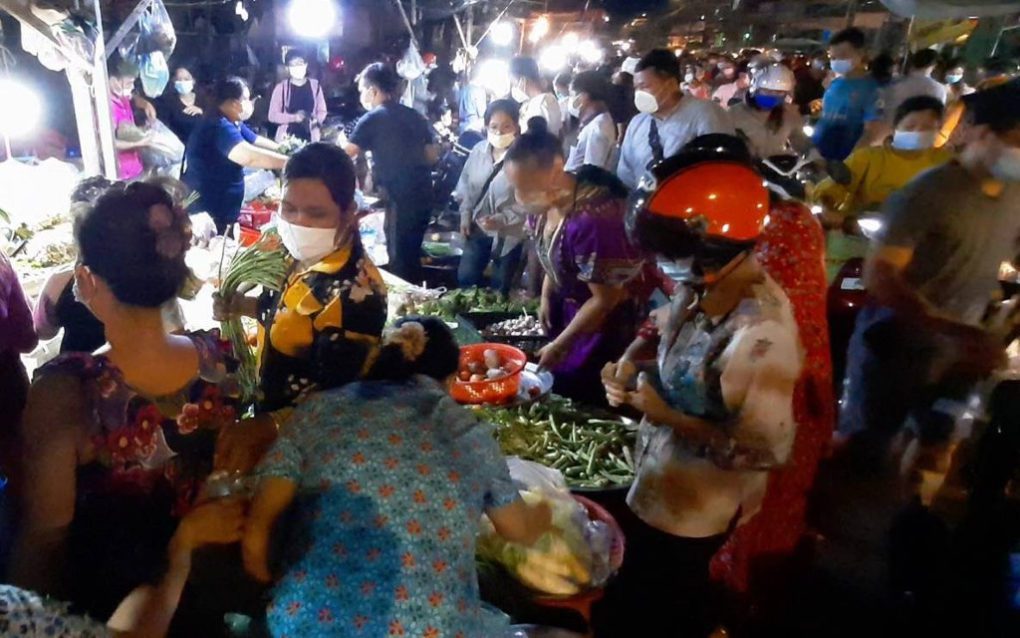 Wholesale Supplies
Seng Chunheng, commune clerk at Meanchey district's Chak Angre Krom, said that since Doeum Kor was closed, vendors had been using the roadside in the area around 60 Meter road for wholesale trading.
"The location has become a vegetable market," Chunheng said.
Commune chief Keo Savoeun, however, said on Wednesday that the trade was not welcome.
After initially denying the makeshift market's existence, Savoeun eventually said the trade was being dismantled.
"We have confiscated their carts to keep at the commune office to prevent Covid-19," he said.
"It causes public disorder so we are taking serious action," Savoeun added, and hung up.
For three days, vegetable imports at the Chrey Thom checkpoint in Kandal province was also cut off due to Covid-19 fears among Vietnamese authorities, according to Seang Chhuntry, head of the border gate.
The number of infections at Doeum Kor, where many of the traders go, had led to the suspension of vegetable imports from Sunday through Tuesday, Chhuntry said.
"They have seen the news that there are many outbreaks at the markets and they are worried that it will spread to their country," he said.
But Vietnamese authorities had agreed to reopen the trade after negotiations, he said.
"For our side, we​ also carry out safety measures. We have alcohol and disinfectant sprays when the trucks arrive. Everyone has to wear masks and follow social distancing. We have contacted them so that our sellers in Cambodia can continue distributing the vegetables at the markets. We have told them that the Covid problem is not only between Cambodia and Vietnam, it is worldwide," he said.
Takhmao City
In Takhmao, which has also been put under lockdown alongside Phnom Penh, just one market and one supermarket remain open, said Takhmao commune police chief Hor Sam Ol.
Only 10 customers were allowed in at each location at one time, Sam Ol said.
"Some people complain about the difficulty in going in and out of the market," he said. But "people have to endure due to this disease."
The two markets were still receiving supplies from growers, especially from Sa'ang district's Koh Anglong Chin commune, he said.
But he knew that some people were fulfilling their needs elsewhere, he said.
"Some people still secretly sell at houses while other vendors move around," Sam Ol said. "It is difficult since it is for necessities."