KANDAL STUNG DISTRICT, Kandal — Villagers in dispute with Phnom Penh's new, under-construction airport protested after Kandal authorities destroyed a road leading to their homes and farmland with the aid of a heavy security presence.
Residents of Kandal province's Kandal Stung district are embroiled in a dispute with the $1.5-billion airport project. While villagers have been reluctant to leave, they say authorities have offered them no more than $8 per square meter in compensation.
Villagers said on Wednesday that officials — protected by local police, military police and plain-clothed men armed with electric batons — started clearing the dirt road at midnight Tuesday and worked till 8 a.m. Wednesday morning.
They showed photographs and videos of a lone excavator carving out a ditch in the dirt road, the site teeming with security personnel. Villagers said district officials claimed that the clearing was to allow for the draining of flooded areas of the airport development.
"We were scared. There were four, five women there and we were scared they would arrest us for Covid-19 [violations]," said Srun Ratha, 53, who has 40 hectares of farmland that has been temporarily cut off.
The road runs across the southern part of the new airport development on the border of Kandal and Takeo provinces. A terminal building and air traffic control tower are visible from the site of the demolition, with trucks milling around filling in or clearing land to make way for the new airport.
A few meters from the destroyed road is a metal bridge under which water was flowing out of the airport development, aided by a water pump.
Local residents had started to fill the newly created ditch with rocks and dirt by Wednesday afternoon, allowing villagers to reach their farmland again. Motorcycles were able to precariously pass on a narrow dirt rise connecting the two severed sections of the road. People returned to their homes still upset about the gash in their road.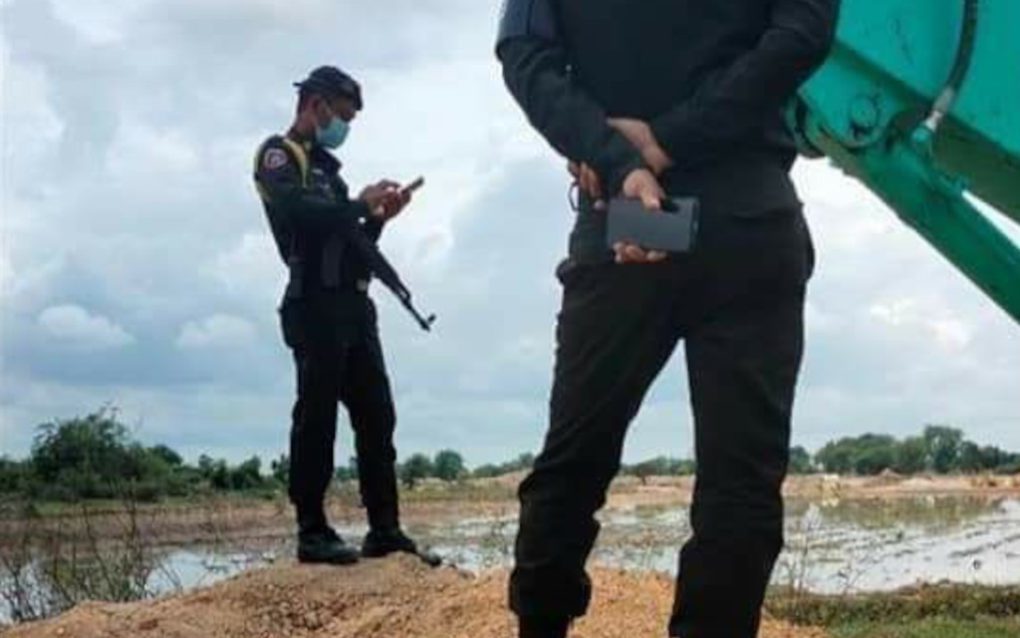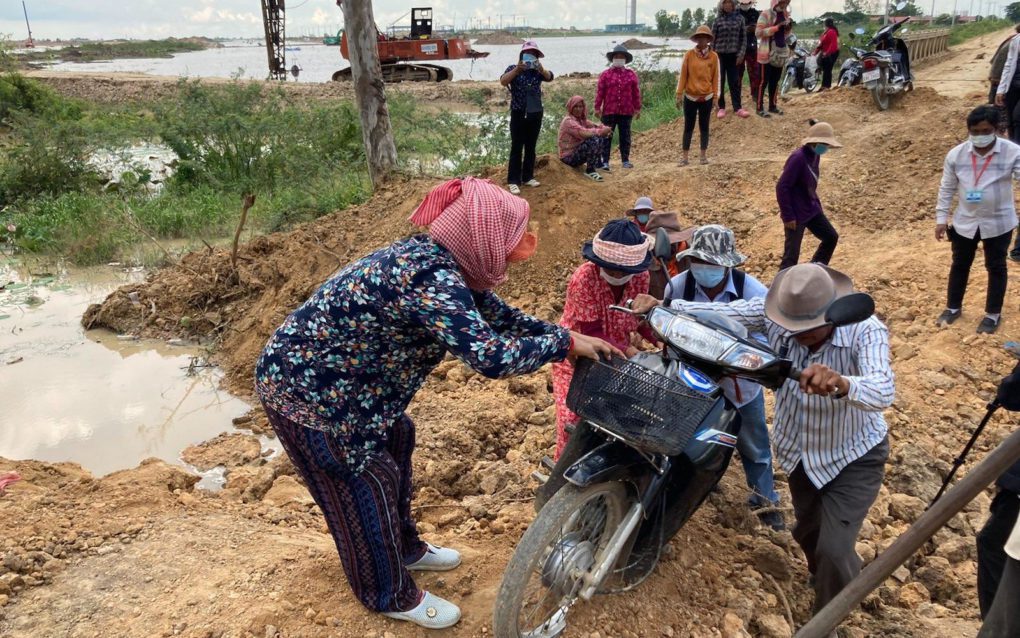 Sem Voeun watched as the excavator dug up the road early Wednesday morning. She said officials, especially security personnel, were goading villagers to burn the excavator or tires and rubbish placed at the site so that they could crack down on the people present.
"They said if you dare to do it then we can shoot you," said Voeun, whose home was cut off from the village.
Voeun said she had been asked to dismantle her home a couple of times already and that authorities had given her till Thursday to leave or "face the consequences."

"They said if they come next time with the excavator, they are not responsible [for their actions]," she added.
Kouch Savoeun, Kandal Stung's district governor, said the airport construction so far had not affected villagers' land, and negotiations were ongoing on acquiring their land, but residents of the area could not hold the airport development hostage in the meantime.
"They do not allow us to do whatever we want when they have closed the road for a few months. … For the development of the country, we cannot be their hostages forever," the district governor said. There was an alternative road available for the villagers to use, Savoeun said.
He defended the need for a large contingent of security personnel, including armed military police with assault rifles, because it was normal to provide this kind of protection to safeguard the project.
"There must be protection for the leaders when they go to check the work," he said.
The dispute has turned more acrimonious in recent months. Kandal Stung residents who disputed the compensation offered by OCIC have threatened to block the road and have cursed developers, and they say they've been met by threats. A journalist from Svay Rieng province says he was pressured for his coverage of the protests.
The provincial government has also disputed the number of affected families, saying there were only 11 holdouts who need to be compensated, but village representatives say there are around 300 families across four communes affected by the airport development. Forty of these families could not access their farmland after the road was destroyed, and around five families lived on land that was cutoff from the village, locals said.
There was a sense of frustration, anger and helplessness among villagers on Wednesday.
Ratha, who had feared arrest for Covid-19 violations, said authorities had given residents little option but to continue protesting and guarding their land, as the compensation offer was too far below market prices. A makeshift tent with photos of Prime Minister Hun Sen blocks the entrance to the road in question and is used by villagers to monitor the airport development.
"If we sell the land we would still be poor, so why should we sell our land?"