Thousands of villagers in Kampong Speu province took three people hostage for three nights after pouring tens of thousands of dollars each into a massive Ponzi scheme allegedly run by a local family, local officials said.
The scam enveloped whole villages, village chiefs, commune officials and even IDPoor recipients over just a few months, with victims selling motorbikes, cows and borrowing from banks and microfinance companies to invest in the scheme, according to the officials.
Two officials estimated the total value of the scam in the rural villages at tens of millions of dollars, though this could not be confirmed. It was run by seven individuals, several of whom are on the run, authorities said.
Por Chamroeun commune chief Hang Sambor, in Baset district, said 3,000 villagers had brought pillows and rugs to camp outside the commune hall in protest, seeking help from authorities.
Three of the perpetrators were trapped inside, with police unable to reach them due to the gathered villagers, Sambor said.
"People do not allow them to get out," he said. "The authorities have wanted to take them since the first day … but police cars cannot get in — they wanted to burn their cars."
Commune authorities first heard about the scam in June, and spoke to one of the family members, who agreed they would stop the business.
But the man's children had continued, buying luxury cars and starting construction on a new house, and people had begun to believe there were riches in the investment scheme, Sambor said.
"Once they trusted them, they started to sell their cows, or cars, or land, or borrow money from the bank," he said. "They told the bank that they were borrowing to renovate their houses or fences but actually they put the money in it."
He knew of 10 IDPoor families who had invested in the scheme, he said.
The scam was simply that investors would receive 4-18 percent in interest every 10-15 days — for example, a villager would receive $170-180 every 10 days if they gave the family $1,000, he explained.
But even when villagers came to him seeking help last week, he did not realize the extent of the damage.
"I did not expect that there were so many people," Sambor said. "I thought there were only a few people, maybe 10 to 30, so I allowed them to come to the commune hall to find a resolution. … But people kept coming, more and more, and they surrounded them."
They weren't bothering to wear masks, he said. "They were no longer scared of Covid because they had lost their money."
The three alleged scammers were still trapped inside, he said on Monday.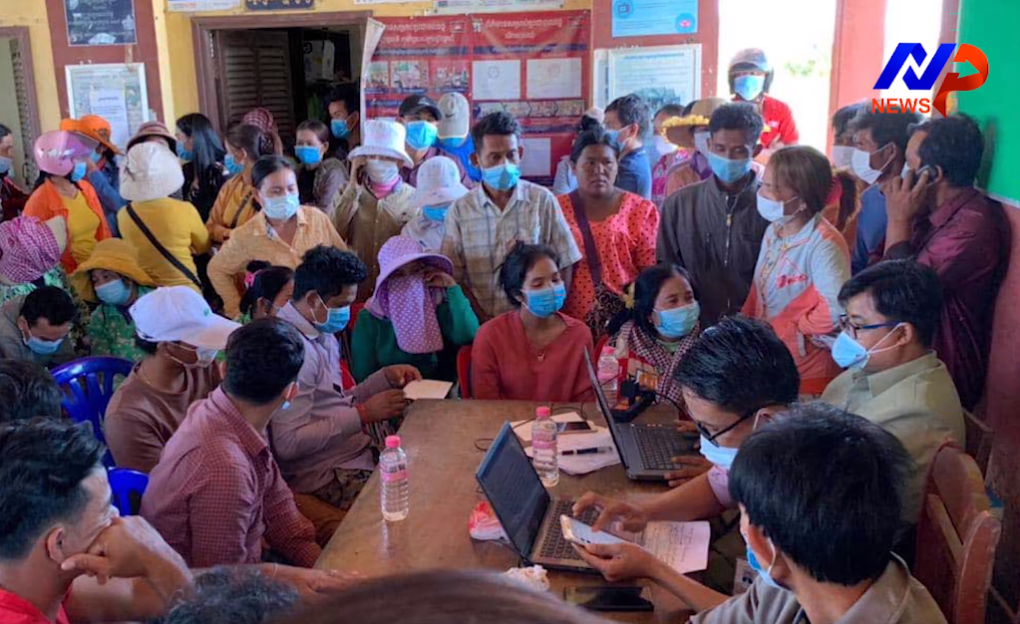 Seven out of 14 villages in his commune were hit hard. Estimating from the amounts villagers had put into the scheme, the total could be between $40 and $100 million, Sambor said.
Villager Kuoy Chhunly said his whole family had been scammed: one child put in $3,000; another, $5,000; and another, $20,000 — eventually totaling $70,000 for the family.
They first put in $1,000, and got back $250 in just a month.
"So they borrowed money from microfinance and used their savings, and they sold necklaces and bracelets," Chhunly said. "When they saw other people getting high interest rates, we also invested in it too."
Of 160 families in his village, 140 had fallen for the scam, he said.
Commune police chief Phan Sophal said that "in some villages … no single family was spared."
"One family with an IDPoor card told me that she had invested $2,000," Sophal said.
His commune was the most severely affected, but even villages around the district and even neighboring provinces were also caught up in the scheme, he said.
"It doesn't matter, big or small — officials still fell for the fraud too: all kinds of officials, commune officials and village chiefs … One village chief is heavily indebted more than $100,000," Sophal said, estimating the total invested at $40 million.
The scheme crashed when everyone came to collect their interest, and there wasn't enough money to transfer, he said.
Seven people were involved in the scam, but the main organizer had fled to Prey Veng province, he said.
Authorities were negotiating with the assembled crowd, promising them compensation: Those who had not collected their first interest rate payments yet would have 50 percent of their investment returned; those who had collected once would get 40 percent; those who got two payments 30 percent; and those who had collected three times would get nothing.
Provincial governor Vei Samnang confirmed authorities were handling the fallout from the scam, and estimated its value around $20 million.