Pa Solina, a 31-year-old resident of Phnom Penh, saw her niece use a skin-whitening cream. Solina felt the niece had "beautiful, white and glowing" skin and was convinced to also use the blue-colored cream, which she then bought from the local market.
After applying the cream for six months, Solina came to a scary realization: The cream was burning her skin and not producing the desired results.
"I stopped using it then as it damaged my skin," she said.
The six-month skincare routine had agitated her skin to the point that a doctor told her she needed four months of medication to undo the damage.
It is not uncommon to come across advertising for cosmetics while scrolling through Facebook in Cambodia. Facebook pages will bombard timelines with brightly colored images showcasing the product in question, their prices and contact details for the seller — most popular are skincare creams that promise to make you look younger, fairer or get rid of unwanted blemishes.
These products are often promoted by Cambodian women, who are the face of the product. In many cases, they will conduct livestream sessions where they use the products and suggest skincare routines. And these business owners aren't shy to peddle the wealth they have garnered — one only needs to look through the Facebook pages of Try Dana or Ean Sivmey, who are among the most prominent of a growing legion of online sellers.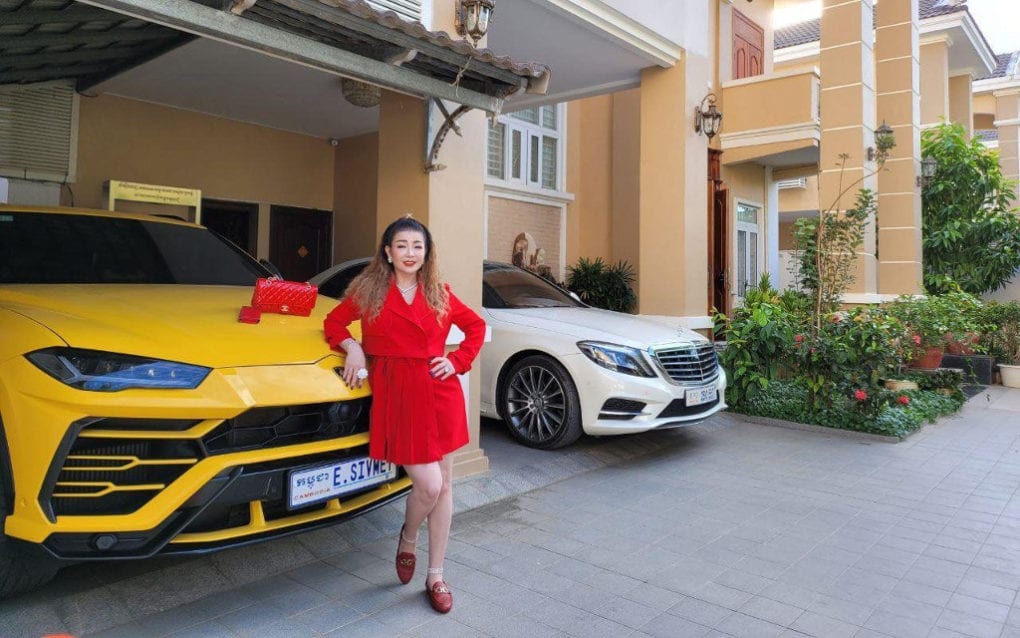 The sale of cosmetics, both homegrown brands and imported products, are a popular business model in the online marketplace. However, the Health Ministry is routinely alerting the public of the risks of using unregistered products that have not been tested for their toxicity, while medical professionals warn that the products often contain high levels of toxins.
In one warning from January, the ministry wanted consumers to stay away from products sold by P Dee Brand Cosmetics which was exporting cosmetics from Thailand. The Facebook page for P Dee follows the same template — attractive young women promising whiter skin alongside photos showing dozens of boxes filled with cream containers.
Kampong Speu's E Riya's Facebook page is similar. The online seller sells her wares on Bii Yaa Shop, again focusing on multicolored creams, though she does have other products like a serum injection and "Vitaccino" slimming pills.
She used whitening creams herself for three months and was convinced of the business potential in selling cosmetics, she said. Now, she owns her own Facebook store and sells a wide array of products.
Riya is proud of her products, especially the skin whitening products, which she sources from another seller — many cosmetic sellers concoct their own cream mixes.
"I explain to the customers how to use the products, like after they take a shower they should use the lotion. It will help remove old cells for new cells. And then white skin," she said.
Another seller, Meas Kim Theoun, sells products imported from Thailand on TikTok and Facebook. She claimed that her products are registered with the Health Ministry and are "good products."
Sales are definitely boosted when influencers reference her products, Kim Thoeun said, but again reiterated that her products are of good quality which is what attracts customers. She works to keep customer expectations in check, she added.
"I do not tell my customer what the product says, that in 3 or 5 days they can look white. Instead, I tell them it is based on their skin color and the way they take care of their skin," Kim Theoun said.
Despite Riya's and Kim Thoeun's optimistic pitch for their products, research shows that skin whitening or bleaching techniques do not work and instead cause more harm than good. Research shows that many skin bleaching products contain harmful levels of mercury and arsenic, as well as bleaching agent hydroquinone, which has been described as "the biological equivalent of paint stripper."
Hong Lyda, a local dermatologist, said these creams normally contain high levels of toxic chemicals as well as steroids, which after repeated use can deteriorate skin quality. She said steroids can make the skin thinner, lose elasticity and eventually become dry and damaged.
She said that some products can give temporary results but in the long run it could lead to other ailments like hair loss and cancer.
"Yes, they can get whiter, based on what I have seen. But once those products cannot help them, and they change to [another product], and they will decide to visit my clinic," Lyda said.
The Health Ministry's warnings advise the public to refrain from buying cosmetics from certain online sellers because they are "bad," "not safe" and, in some cases, "harmful to the user's life."
Hok Kim Cheng, the technical director general at the ministry, said officials scour social media to find products being sold and then go to the actual shop or markets where they are sold. But this was not always easy.
"Some online sellers cannot be found because they do not put their real address or they are selling from other countries," he said.
As messages and promotions flood Facebook channels — promising beauty for consumers, and riches for sellers — some are being lured into impulsive decisions following the crowd without awareness of the risks, health experts said.
Ouk Sovanphoumara, a dermatologist at Renew Skin Clinic and Laser, said he had seen many people use skin whitening creams and it is evident that their awareness about these products and the potential effects was low. They make a rash decision to use these products and then have to deal with the consequences, Sovanphoumara said.
"It is not enough to prevent all those ingredients when there is all the advertising and a health system that is not strong. I know it will take a long time to improve this."