A woman who protested the detention of her husband, who was jailed in relation to his work on a child sex trafficking documentary that officials called fiction, said Tuesday that she had fled the country and has applied for U.N. refugee status after Cambodian authorities threatened her with arrest.
Long Kimheang, 34, said she left Cambodia in early May after an Interior Ministry officer who she did not name told her in April that if she continued to demonstrate for her husband Rath Rott Mony's release she too would be locked up.
"I was told if I will not stop [protesting] to release my husband I will be arrested and sent to jail like my husband," she said in a message.
An Interior Ministry spokesman could not be reached on Tuesday, which was a public holiday.
The Phnom Penh Municipal Court sentenced Rott Mony, 48, to two years in prison in June on charges of "incitement to discriminate" for his role in the production of Russian news service RT's controversial documentary "My Mother Sold Me."
Rott Mony was also ordered to pay plaintiffs Tep Salin and Keo Malay 35 million riel (about $8,750) each as compensation. The two women and their daughters were featured in the 27-minute video, which was released online in October.
It tells the stories of Cambodian girls who were allegedly trafficked or paid for sex at the urging of poor family members or partners. Officials rejected the documentary's claims, saying that its subjects had been paid to make false statements to interviewers.
In the film, Salin, Malay and their daughters say that both girls' virginity was sold by their mothers. But later, the women told authorities that they were paid to act in the film. Rott Mony, who was arrested in December after the families were questioned by police, has denied the accusation and is appealing his sentence.
Last year, officials called the film made-up and said it damaged Cambodia's reputation. However, one young woman featured in the film told the Khmer Times in December that her story — having sold sex to survive — was true.
RT did not reply to an emailed request for comment on Tuesday but has said that it stands by its reporting.
In June, RT's press office said it was "extremely disappointed" in the court's verdict and that the news outlet "always upholds the highest standards in its documentary filmmaking."
The film originally showed all the subjects' faces, including the underage girls, and identified them by name, but was edited to conceal their identities after Rott Mony was arrested.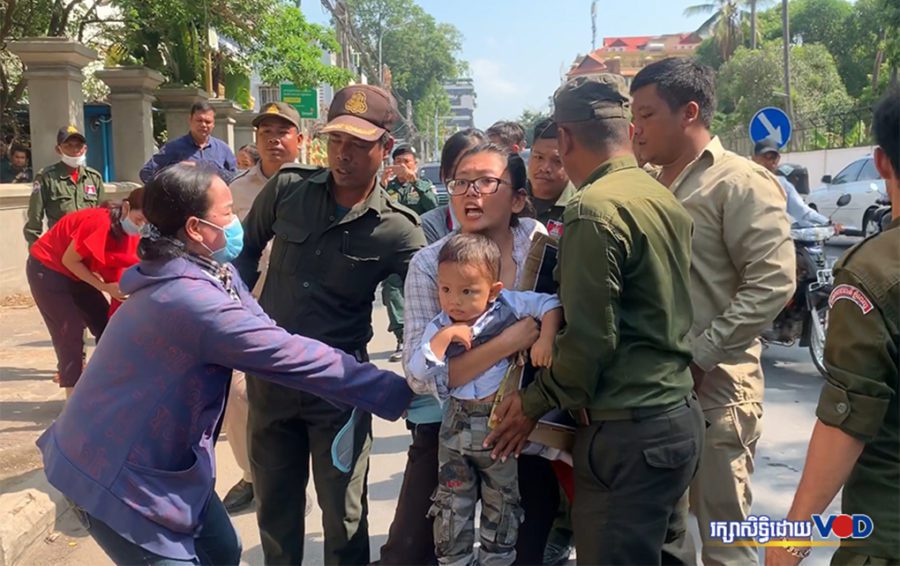 On Tuesday, Kimheang, his wife, said when an official told her in early April that she would be detained if she didn't stop protesting, she didn't believe him.
But when she went to the Russian Embassy in Phnom Penh on April 3 to publicly call for her husband's release from jail for the twelfth time, unidentified women wearing surgical masks and claiming to be authorities dragged her away from the area while she held her infant son.
Then, she said, "I noted the information I received was true and I escaped from the Russian Embassy" and went home. About a month later she was in another country with her son.
Kimheang said she was now waiting for UNHCR to review her application for refugee status, which she submitted in May.
"I am stuck here and still waiting [for] help from UNHCR," she told VOD on Tuesday.
A UNHCR spokeswoman declined to confirm or deny Kimheang's case, citing confidentiality reasons.
Kimheang repeated earlier statements that her husband was merely an interpreter and news fixer working for RT who aimed to raise awareness about the problem of sex trafficking in Cambodia.
The documentary was "evidence to alert the Cambodian government" that it was time to "take serious action on human trafficking," she said.
"It's time for the Cambodian government [to] put the national interest on their agenda and encourage their own people to respect the truth and protect those who dare [to] raise the truth to the public," she added.
In June, Cambodia fell in the U.S.'s annual ranking of how well countries are combating sex trafficking.
Sex trafficking in the country is "largely clandestine," with Cambodian and ethnic Vietnamese women and girls facing trafficking in brothels, beer gardens, massage parlors, karaoke bars and other locations, according to the U.S. State Department's Trafficking in Persons report.
Rott Mony's appeal hearing is scheduled for October 7 at 2 p.m., according to an Appeal Court letter dated September 16 and seen by VOD on Tuesday.
Kimheang said she wanted the government to apologize to her 21-month-old son because "they took his father away from him."
"I hope the Appeal Court will provide justice to my husband and release him from jail," she said.
Additional reporting by Ouch Sony