A group of 300 Phnom Penh young people frustrated with trash piling up around the Mekong river are using social media to organize cleanups, while another effort tackles trash by boat.
Hem Sopeam, 21, a third-year student at the Institute of Foreign Languages, started picking up trash around heavily polluted Mekong riverbanks by himself and posting videos to Facebook and TikTok in June.
In one recent video posted to a Facebook page called Nisset Plastic — which translates to "Plastic Student" — Sopeam shakes his head at the litter, puts on plastic gloves and stretches before crushing plastic bottles and empty food cartons into a green bag. He then stomps on the bag to make it smaller and frolics near the riverbank. "Uncle plastic goes swimming," the caption reads.
"I like picking up the trash while people are eating," he said in an interview. "I want to show an action. When people see our activities, they feel guilty."
Since June, he said, the page has helped draw about 300 people to join a Telegram group organizing the cleanups, where he leads other youth in picking up trash from 4 to 5:30 p.m. on the weekends. To find the places to clean up, Sopeam cycles around the city in search of places with heavy trash pileup.
As his "Plastic Student" page has gained traction, more and more people have reached out asking to join, he said. The Facebook page has about 18,000 followers, with one recent video reaching nearly 40,000 likes.
"First I was picking up [trash] alone," he said. "A while later, there were two more people."
"I want people to change their behavior," he added. "There's millions of [pieces of] plastic on the road. The only way is to change people's mindset by posting videos on social media."
Still, in areas where he and his team have cleaned, litter piles up again within just a few weeks, he said. The Ministry of Environment recently began sending a garbage truck to pick up the group's full trash bags.
In the Mekong itself, meanwhile, another cleanup effort has been underway since March, with trash boats collecting litter totaling 2 to 3 tons each weekday from the river and its banks.
Two people operate each boat, with a tuk-tuk waiting on the shore to cart the trash away, said Nou Sovann, executive director of the organization River Ocean Cleanup. Fourteen people total work daily to divide the trash after it's collected from the river.
People throw "a lot of things" in the iconic river, Sovann said, but it pollutes drinking water and harms the environment.
"I live in Boeng Trabek and water is very important. My mother and family are dependent on water. So, that's how I connect to the water. I have seen trash my whole life in Boeng Trabaek and there is a lot of trash there," Sovann said.
"Sometimes we don't expect it," he said. "People still pollute and [do] not change their attitude. They should clean up trash already in the river."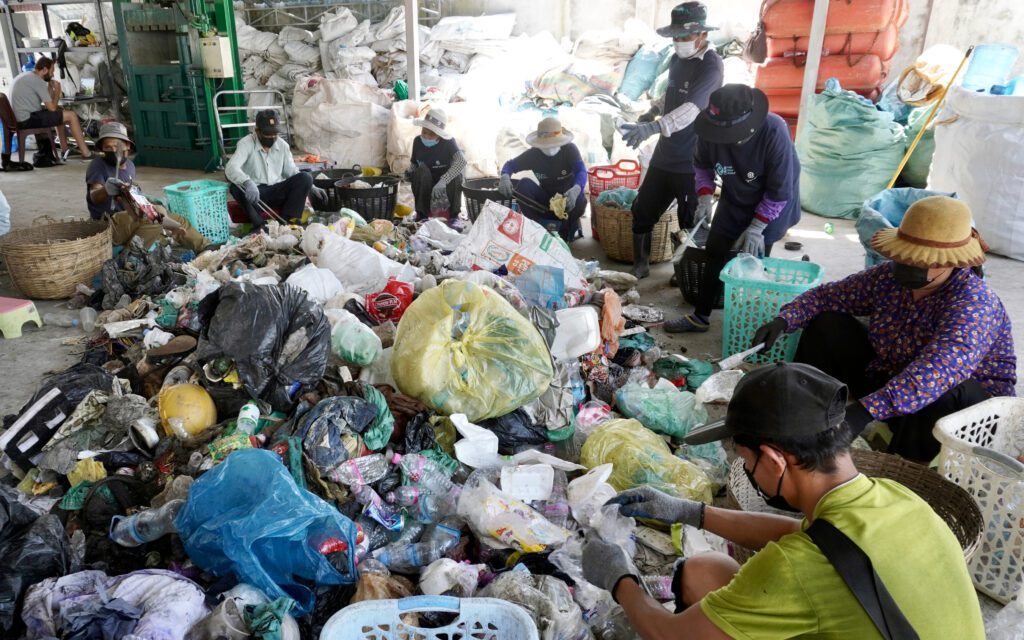 The organization works with the National Committee for Clean City Assessment and the Ministry of Environment. Their goal is to operate a total budget of about $6 million from 2022 to 2027 through private donations. Currently, Sovann is funding the NGO's operations with his money and some donations.
"This mission depends on everyone — government, private companies, Cambodian people — playing a significant role in making this river cleanup successful for the long run, toward waste-free rivers in five years," Sovann said.
In addition to the boat cleanup, the group also relies on a network of people who collect trash along the riverbank in exchange for 300 riel per kilogram.
Around 150 tons of trash are in the group's warehouse at any given time, where it is divided between recyclable and non-recyclable items and sent to Chip Mong waste management facilities, with around 5 to 10 tons leaving the warehouse each week.
He said the organization's goal is to collect 5,000 tons from the Mekong over the course of five years. There is plenty more trash under the water that people can't see, he added.
"The government is happy for us to clean this up," he said. "But what we want is to help educate local people how to do trash management properly."
"We would like to show society our responsibility from A to Z to achieve zero waste," he said.