As Cambodia touted recovering trade and GDP growth, thousands took to the streets this year over repression at work or struggles in the market.
The year marked a return to money and goods flowing quickly and unevenly, as the country faced reports of rising poverty and renewed scrutiny over potential crimes and human-rights violations in the financial sector.
Imports roughly doubled compared to mid-2020, and domestic production has expanded again from the lows of Covid-19. Pandemic restrictions were lifted for international arrivals, and a billion-dollar Chinese investment and more were announced in ports and other sectors.
But as markets fluctuated, pressure mounted on Cambodians selling their labor or produce. VOD reported on workers' disputes or union-busting among more than 20 groups this year — mostly at garment factories, but also at a Thai durian factory and a Cambodian agricultural border town. Many workers said the Covid-19 disruptions were used to erode working conditions. The garment factories supplied foreign brands such as Puma, H&M, Adidas, Lands' End and Hunkemöller.
Macroeconomic Anomalies
Cambodian imports are surging on an influx of gold — roughly $4-billion worth in the first eight months of the year, more than the import of fabrics to the country's primary garments industry, or about 20% of all imports. The World Bank says the trend is new, and so far unexplained even in discussions with the central bank. "Everybody seems to be surprised to see the increased imports," it said in December. The trade deficit and lack of transparency has led to a Moody's downgrade.
The intergovernmental Financial Action Task Force is investigating Cambodia over money laundering after it put the country on its "gray list" five years ago. The U.N. Office on Drugs and Crime has pointed to illegal logging, casinos, drug production and corruption among officials as high-risk areas. The courts have pursued money laundering charges against some suspects arrested from the many global scam and human trafficking compounds littered across the country.
Cambodia was early in removing Covid-19 restrictions for travelers, and the tourism sector is gradually recovering. But the pandemic has left deep scars: In one report, the World Bank said 460,000 Cambodians had fallen back into poverty.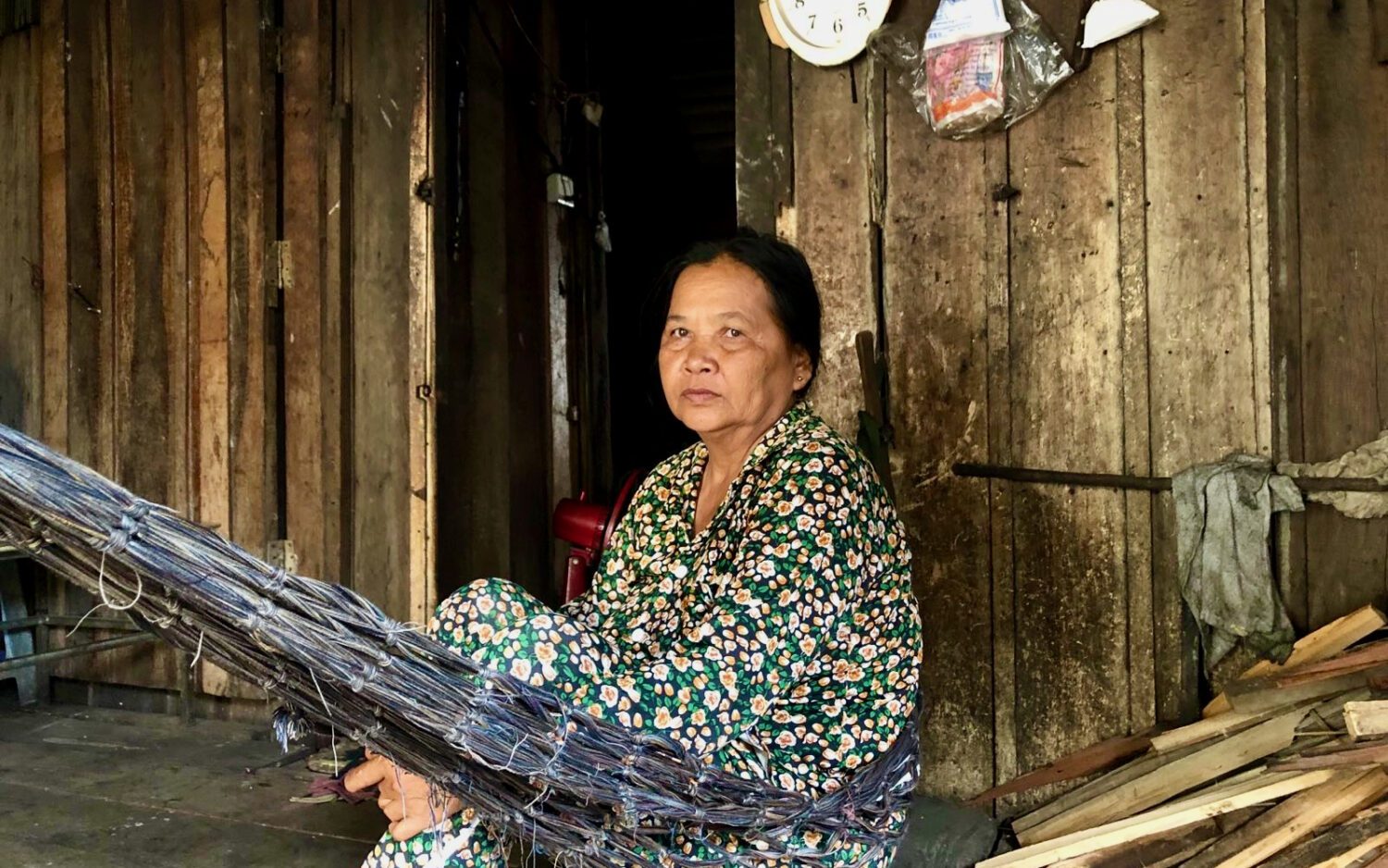 In a report this week, the World Bank said some 460,000 Cambodians had fallen back into poverty due to Covid-19. For a Phnom Penh family of four, that meant spending as little as $1.25 total on food per day.
Human Rights Concerns
Household debt continues to rise, increasingly concentrated in a slowing property sector. The World Bank warned in December: "A large literature in economics … views rapid credit expansion as a prelude to financial crises."
Deepening debt has come hand-in-hand with widening allegations of human rights violations in the microfinance sector. A Germany-commissioned study said microfinance had strayed far from its claims of poverty relief: "This vision seems increasingly to have been lost from view. In contrast, the goal of expansion, of increasing turnover as well as profits, clearly comes to the fore."
Door-to-door soliciting, aggressive marketing, more than a quarter of borrowers saying they have problems with repayment, an estimated 167,000 households forced to sell land — the report presented overindebtedness as plain fact, "not disputed even by the financial institutions involved." NGOs have continued to pursue the international funders of microfinance over human rights violations, filing a complaint with the World Bank's International Finance Corporation and saying a Dutch institutional investor ignored its own evidence of predatory lending practices for years.
Child labor and debt bondage, meanwhile, remained a concern at brick kilns and on construction sites.
'Investment'
Cambodians who are attracted to get-rich-quick schemes have run into trouble with a myriad businesses:
The state is in debt to the son-in-law of National Assembly vice president Cheam Yeap after awarding him projects without a proper bidding process in a "build first, settle later" scheme, while a flamboyant real estate entrepreneur was arrested for writing checks without sufficient funds.
Workers' Disquiet
As financial markets heated up, thousands of workers took to the streets over union-busting, deteriorating working conditions and agricultural problems.
Garment and footwear factories Cinlon International, New Mingda, Bright Flushing, Eastcrown, Canteran, SYHJ, Can Sports Shoe, Qi Ming Xin, Roo Hsing, Hung Wah, Y&W, Hong Sen, Sepia Garment, Hi-Tech Apparel and ML Intimate have seen union-busting, strikes or protests of hundreds or thousands of workers, while a labor rights group spoke of at least five other factories facing union registration problems.
Construction workers and market vendors have also protested lack of pay or fee changes, while hundreds of Battambang farmers stood up against authorities after officers seized two overweight grain trucks buying their produce.
The year's most prominent labor dispute has been at Phnom Penh's monopoly casino NagaWorld, which fired 1,100 union members, including top leaders; took nine workers to court over alleged breaking and entering; and saw police, city and health authorities block protests outside its premises with official orders, city buses and repeated violence.