For 10 days since the violent arrest of NagaWorld union leader Chhim Sithar, casino workers have continued to arrive at National Assembly Rd. at 2 p.m. daily. Police quickly put up barricades, cordoning them off on a stretch of street in front of Royal Group's Soho Mall.
NagaWorld has held its cards close to its chest during the nearly monthlong strike, except for releasing a statement three weeks ago calling the strike illegal based on a ruling by the Phnom Penh Municipal Court.
But now active employees of NagaWorld are getting phone calls from the casino asking them to leave the strike and return to work. Audio recordings of the calls heard by VOD reporters have casino management calling it the "last call."
More than a dozen striking workers told VOD on Thursday that the casino behemoth had contacted the workers or sent the message via their supervisors or human resources. These calls went out Wednesday from around 10 a.m. till the workers resumed the strike at 2 p.m. Reporters also saw a group chat full of messages from workers saying they had also received the call.
"The company asked if I have a plan to go back to work. And I said 'Yes, we have a plan but not until you solve the problem for us. Reinstate 365 workers and release the union [leaders],'" said Oung Seang Y, a worker who still works as a dealer for the casino and has for the past decade.
Seang Y said the workers have been clear about their demands — the company should reinstate the more than 200 workers who want to get back to work, calculate fair compensation packages for those who want to leave and, now the primary demand, release eight jailed unionists.
The Phnom Penh Municipal Court issued an arrest warrant for nine union members and leaders. Six of them were arrested in a late night sweep on New Year's Eve, whereas Sithar, who had been in hiding, was detained as she returned to the strike site on January 4. Two other union members turned themselves in hours before Sithar, but one has been released on court supervision.
Seang Y said the strike had attracted workers from the casino, claiming attendance was around 900 a day. VOD reporters have seen around 500 to 600 strikers for the last 10 days, still a higher number than the 365 workers who have been demanding reinstatement or fair compensation packages.
Pe Sreynor works as a floor dealer at the casino. She was surprised to receive a call from her supervisor Wednesday morning relaying the same message that she must return to work.
"I don't understand why he called me. But he asked me to come back to work and that this was the last call. I rejected it because I am committed to getting all the solutions first," she said.
Sreynor, Seang Y and at least a dozen other protesters said all striking workers who still actively work for the casino had received a call asking them to return to work.
NagaWorld declined to comment on the strike or calls to workers.
As the strike nears the one-month mark, strikers have added a social media campaign to boost advocacy for their demands and to increase visibility.
Terminated and active casino employees have been posting photos of their NagaWorld ID cards with messages explaining why they joined the strike and reiterating their demands.
"I'm still hired by Naga. I decided to step out from the company to demand our employees back to work and release union leaders," Kuy Marike posted. Many used the hashtags #NagaWorld, #LRSUnion and #HumanRightsKH.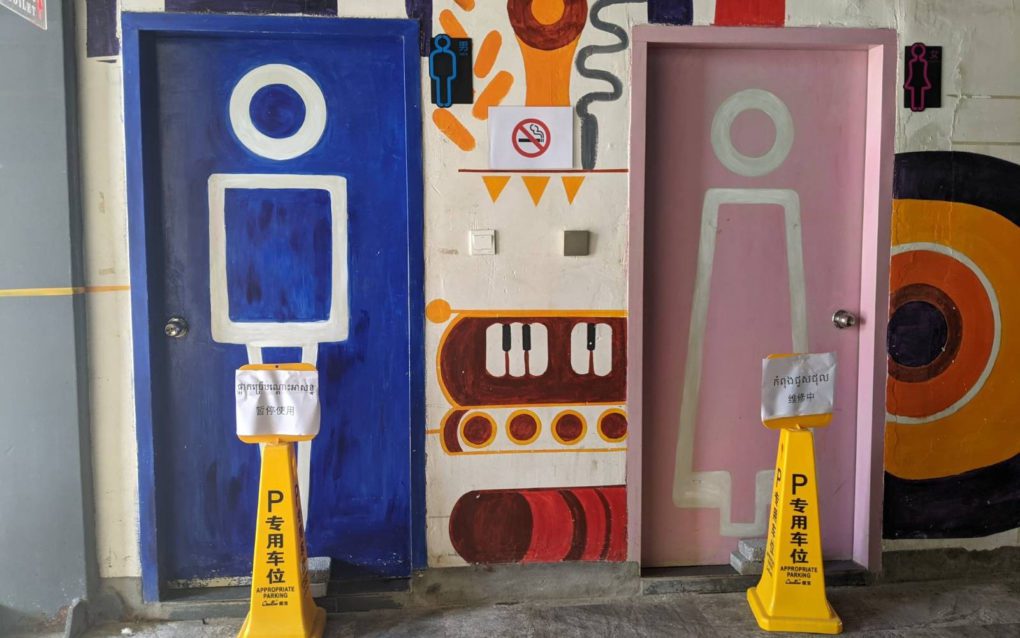 Local rights groups have also joined the social media advocacy push by using posters calling for the release of the jailed union members, and have criticized Soho Mall for barring strikers from using its toilets. The protesters are also collecting petitions to submit to foreign embassies, and earlier this week held a press conference outside the Labor Ministry.
Chhim Ninuon was one of the more than 1,300 workers laid off by NagaWorld last year. While a large majority accepted compensation packages provided by the company, Ninuon was a holdout. Without any earnings since last May, she had to move back to Kampong Cham to live with her family.
On hearing about the strike. Ninuon came back to Phnom Penh, admitting that she needed assistance from her colleagues to find affordable housing in the city. Other colleagues suggested that she stay away from the strike and accept the compensation being offered by NagaWorld. She was unmoved and has publicly posted on Facebook as part of the union's social media campaign.
Ninuon said she is determined to prolong the strike no matter the repercussions. Despite her resilience, the casino worker still finds it hard to reconcile the events of the last month.
"Also, they dissolved the union leadership. I'm hurt. And why did they fire so many people and union members?" she said.
For the last week, the protesters have been joined by a handful of Labor Ministry officials who have used loudspeakers and recorded audio clips to urge them to send their "representative" to continue negotiations on termination packages. The announcements have made no mention of reinstatements — a major demand of the strikers. The announcement is usually met with chants of "you arrested our representatives" from the workers.