While waiting for a health screening certification document last week, garment worker Si Sophy sipped iced tea and chatted with friends from the Grand Textiles factory in Phnom Penh's Choam Chao commune.
The 23-year-old said she accepted her employer's decision not to pay her for 14 days while she stays home from work because she had taken leave over the canceled Khmer New Year holiday without asking. The worker was told by health staff at the end of the checkup to self-isolate in her dorm, but if ordered to go to one of the capital's Covid-19 worker quarantine centers, Sophy said she would refuse out of fear she would get sick while staying in one of the designated schoolrooms.
"Even if we turned in the forms [requesting leave], we knew the manager would not accept them, so we just sneaked out to our hometowns," Sophy said on Monday. "But if they quarantine us in the school, we would rather quit and wait for the situation [in the garment industry] to recover."
During the Khmer New Year festival, from April 13 to 16, restrictions on travel between provinces were in place to limit the spread of Covid-19. But tens of thousands of workers still missed work during this period, with some apparently going to the provinces despite the travel ban. When they returned to Phnom Penh, workers who missed any work days during the holiday were ordered to stay home and isolate themselves for 14 days, starting on April 20.
Some who were told to self-isolate said they were comfortable taking a two-week break from factory lines, even without pay, because they still had freedom to move around at home. But others said they fear getting sick if they are forced to isolate en masse, and also worry their jobs may not be available when they return to work.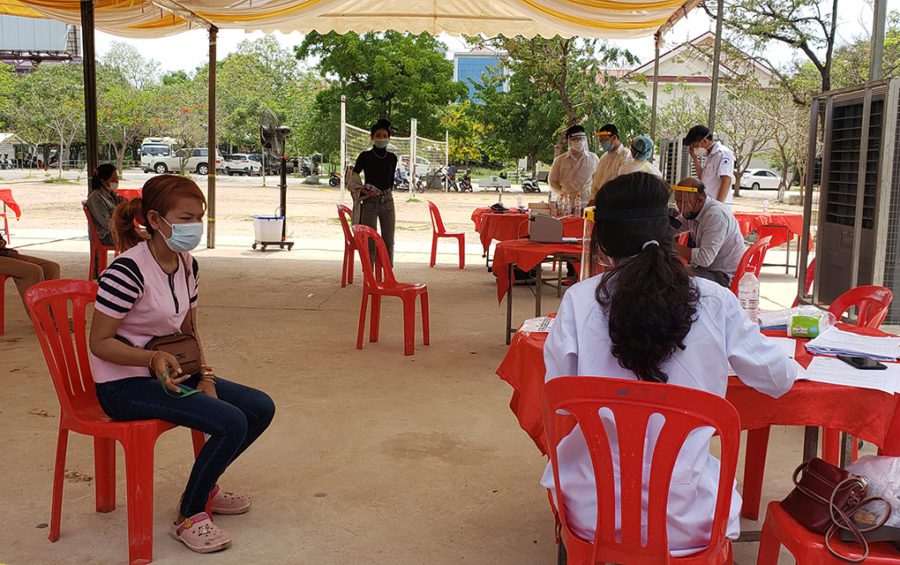 According to a Labor Ministry directive on April 17, all workers who had not shown up to work during the Khmer New Year public holidays, which were officially canceled, would be required to self-isolate. If they had requested time off and it was approved, the workers would get seven-days worth of their pay during the 14-day isolation period. Otherwise, their mandatory additional time off would be unpaid.
As of Friday, the Labor Ministry said more than 5,000 workers had received health checkups, of an estimated 30,000 workers nationwide who missed work while the travel restrictions were in place.
Some 222 workers were quarantined at designated schools over five days of screenings last week, and 125 among them were tested for Covid-19. All tested negative, and health workers allowed 202 of the 222 quarantined workers to return to their homes for self-isolation, according to a ministry statement.
The Health Ministry has not reported a new case of Covid-19 for two weeks, leaving the total number of confirmed infections at 122 since January.
Health clinics and quarantine sites were set up throughout Phnom Penh to evaluate workers' health for Covid-19 symptoms, but screened workers were left to isolate on their own — sometimes with family or friends — in rented rooms.
Queuing in the Sun
Under striped event tents set up in Vattanac Industrial Park in the outskirts of Phnom Penh, a hospital staffer who would not give her name told VOD on Monday that they tested about 100 workers that morning, but only one person, whose temperature read 38 degrees Celsisus, was sent to quarantine at Choam Chao commune's Chumpouvoan High School. The masked and shielded medical staff took workers' pulses and temperatures with digital thermometers, but they did not administer Covid-19 nasal or throat swabs at the site.
As the noon sun blistered overhead, dozens of workers, who said they arrived at the school at around 8 or 9 a.m., were still waiting for documents certifying that they must self-isolate for two weeks to give to their factory managers.
Kha Kunthea said she worried that her job would be terminated after she returns from the quarantine period because of rumors circulating as workers waited under the tents. While the 37-year-old worker traveled to Tbong Khmum province on April 8 to take care of her paralyzed husband, the human resources officer at King Fashion Garment in Choam Chao called her several times asking her to return to work before the travel ban went into effect on April 10, but she decided to stay home with her family.
"The HR [officer] never confirmed with me," she said, referring to her request to remain at home during the travel freeze. "Now there are some people saying that some factories are firing people for taking days off."
VOD was unable to verify the rumors described by Kunthea and other workers.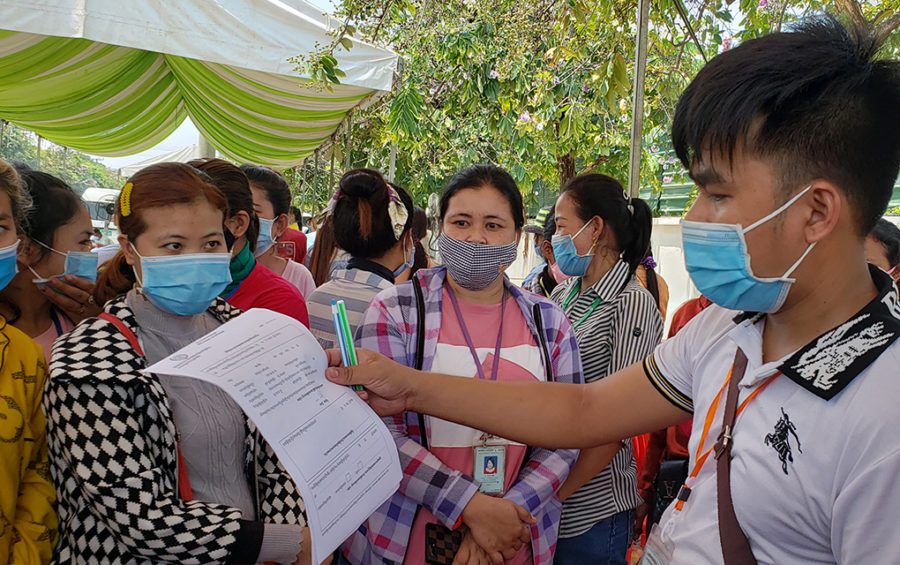 On Wednesday, workers at various Choam Chao garment factories who were ordered to self-isolate at home said they were complying with the government's orders, though they still took trips outside their rooms into public areas.
Un Yim, a worker at Eclat Highter International Garment factory in Phnom Penh, said she and her adult daughter have to limit their expenses during their two weeks in isolation, noting that she is trying to stretch out the time between trips to the market. But Yim said she can't hide her agitation as she spends most hours in a single room with her daughter, cooking, sleeping and staring at her smartphone.
"We're used to working so it's been very boring," she said through a chuckle.
Uncertain Job Future
Amid the efforts to prevent outbreaks inside garment factories, company owners are increasingly cutting workers' hours or suspending operations to handle global declines in garment purchases. Among Cambodia's two biggest export destinations, the U.S. saw retail sales decline 8.7 percent in March and a majority of members of an E.U. textile industry group predicted a 50 percent drop in sales and production.
The market slowdowns drove 110 Cambodian factories to request suspensions of operations as of early April, impacting more than 96,000 workers.
Garment Manufacturers Association in Cambodia secretary-general Ken Loo said that there is no way to guess when the industry could turn around, suggesting that continued suspensions were expected.
"The outlook now going forward is bleak. Many factories this week have started to apply for suspension," Loo said last week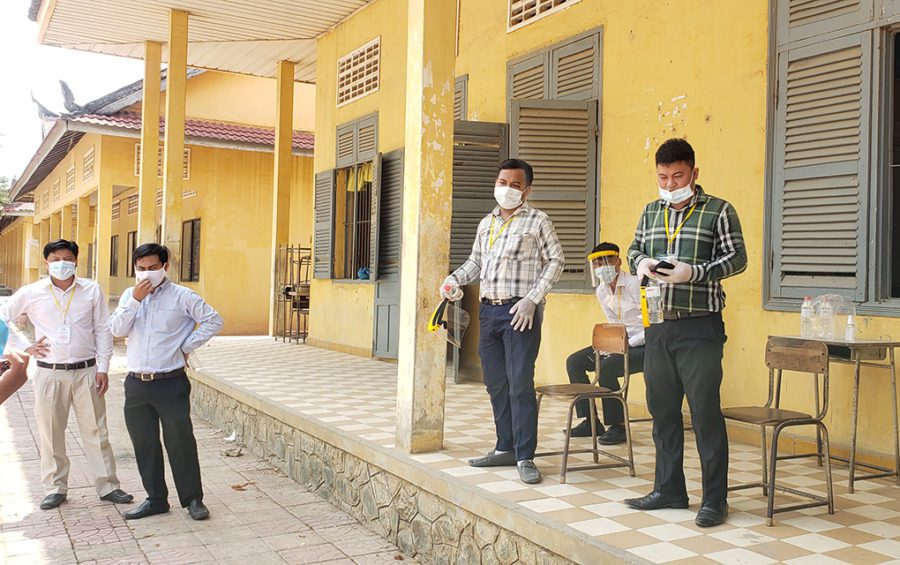 On Wednesday, An Kim Seng, 40, said she noticed signs that work was slowing at the Suntex garment factory before she was ordered to self-isolate. As a newer employee with less than a year at the factory, she was capped at eight hours of work per day last month, removing her opportunity to earn overtime pay.
Then, she said she requested leave to go to the doctor during the New Year holiday, but the factory gave her more time off than she asked for.
"I asked for three days off and they gave me half a month," she said.
As she cross-stitched an image of an apsara dancer outside her rented room on Wednesday morning, when she would usually be working, Kim Seng said she was worried about being able to pay her monthly rent fee of $45.
"If we fail to pay, [landlords] will also fine us," she said. "They don't care if you have money or not."
Contacted again on Friday, Kim Seng said her fears about being able to pay her rent had intensified. She was suspended from work indefinitely without compensation.
Note: This report was produced with support from the Rosa Luxemburg Foundation under the financial support of the German Federal Ministry for Economic Cooperation and Development.