BATHEAY DISTRICT, Kampong Cham province—With a half hectare of land in Batheay district's Troap commune, 55-year-old farmer Hing Heng can usually grow rice for his family and raise about 4,000 ducks to sell their eggs for profit.
But the farmer, while wandering his property barefoot and shirtless in the June heat, said the ponds and lakes that sustain his rice crop and ducks have completely evaporated.
Last year, Heng could collect just five bags of rice, half of what he produced in 2018. Halfway through this year, he had not harvested any rice.
There was no water for drinking, farming, cooking or for animals, Heng told VOD. "The ponds have no water. They are dried up. This has never happened before," he said.
Farmers in Kampong Cham's Batheay district say they are struggling to care for their crops after two years of intense drought and sparse rain, which is pushing more people to abandon their fields for factory work or jobs in the service industry.
Over in Tomnup commune, Him Rom said she had to buy rice for her family to eat last year because their crop was damaged due to drought.
In 2018, the 51-year-old farmer could harvest 20 bags of rice from her one hectare plot of land, but last year her land absorbed the $6,000 she spent on seeds and ploughing and yielded almost no rice in return. She has yet to plant rice seed this year because the rainfall has not been sufficient, she said.
As of April, Rom said she now has to buy water too, spending an additional 1,200 riel ($0.30) per day to buy 1,000 liters of water.
"We use water from the pond to cook, bathe and drink," Rom said. "In previous years, it never dried up but this year, it's dry. This year, there is not much water and rice [farming] became fruitless."
Farmers have also started buying water from each others' wells, said Luy Leng, a 59-year-old farmer. Some Batheay district residents who ran out of water for rice farming have purchased ponds from their neighbors for anywhere between 400,000 to 1 million riel ($100 to $250), depending on the pond's size.
"When we farm rice, we rely on water, so when there is no water, it will affect [us]," Leng said. "We just do this because [we were] expecting to have some water, and we received a small yield."
Despite the farmers' concerns, Kampong Cham provincial agriculture director Sim Thavirak said he had not received any complaints about drought from the province's farmers.
"Two or three months earlier this year, it seems [like drought was] no problem. We seem not to have seen reports that farmers lack water," said Thavirak, though he said that Batheay and Prey Chhor districts are always hit hard by unfavorable weather conditions.
Still, Thavirak said droughts were generally painful in the province, adding that 380 hectares of rice was damaged last year due to insufficient rain.
In March, the European Commission's Global Drought Observatory noted that the Mekong region was experiencing relatively parched conditions throughout the dry season and was still recovering from low rainfall levels last year. Western and central Cambodia face higher risk for agriculture-impacting droughts, and areas that are "not strategically equipped with reservoirs and irrigation systems" are also vulnerable, according to the report.
In order to cope with droughts, Thavirak said his department has taught farmers climate-adaptive agricultural techniques to allow them to harvest through the driest months.
"We taught them to grow some kinds of crops, and for rice, we instructed them about seeds that can survive without water for up to a month," the provincial agriculture director said. "We advised them to grow multiple crops like rice, vegetables and [raise] livestock, so we do not just focus on one kind [of output]. If [drought] affects one crop, it will still be okay."
When asked whether the agriculture department was looking into developing irrigation systems, Thavirak claimed this was the responsibility of the Water Resources Ministry, and said he could not answer questions about what to do to restore farmers' drying ponds and canals.
Water Resources Ministry spokesman Chan Yutha could not be reached for comment.
On Wednesday, Prime Minister Hun Sen said the government was planning to increase funding for irrigation systems in the countryside to more than $100 million during the pandemic-driven economic crisis, but the premier did not provide details on how the funding would be distributed.
"$100 million will be provided to our people to build small canals to get water to water [their crops]," Hun Sen said. "They can dig a pond…and that benefit will improve the infrastructure development in rural areas, and our people can also have money in their pockets."
Finance Ministry spokesman Meas Sok Sensan said the initiative, announced along with a $25 million-per-month stimulus package aimed to help some of the nation's poorest families, was an increase from the annual $30 million irrigation budget. The funding would go to district and commune officials to distribute in their jurisdiction, used both to increase farming activity and create work digging the canals for those returning to the provinces after losing their jobs.
"We are helping by making workers who lost their jobs return to farming work, and they will be able to farm three times per year with this new irrigation system," Sok Sensan said. "We give them money to build irrigation systems."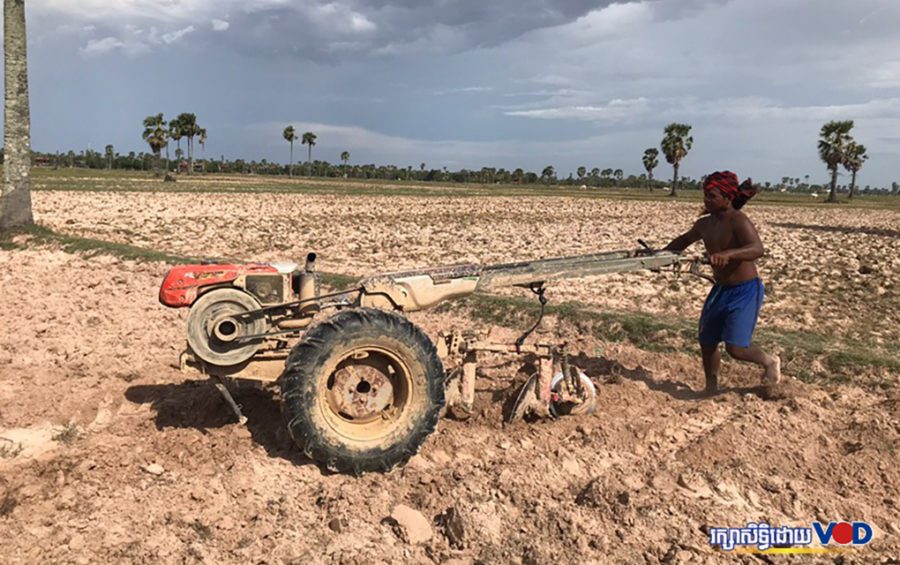 Saem Souy, deputy chief of Phnom Touch village in Troap commune, said he has seen more farmers give up their fields and turn to factories and other means of employment.
"When they cannot farm, they have to go find employment," Souy said. "When there is drought, the rice dies, [and farmers] lose money and seeds, so they can only go seek employment and this is an important point."
However, Thavirak, the agriculture official, said farmers were capable of adapting to jobs outside of agriculture when they could no longer rely on nature.
"We have a lot more sectors, like the service sector and industrial sector," Thavirak said. "Are they willing to sleep until they die? We need to consider [the possibilities]. It is not that they don't know how to live. For instance, with agriculture, if they cannot do it, they can go work at a factory, become a motor-taxi driver, can't they?"
"Climate change is like that: If it affects one thing, they can adapt," he added
As a last-ditch effort, Heng, the duck farmer, said he dug a well on his property to keep his family and birds thriving. After spending $5 to buy three days worth of water, he decided to take the plunge and take out a $400 microfinance loan, requiring $75 payments per month.
"I am worried about being late for rice farming. Now, there is still no water while it is still the rainy season," Heng said, adding that the lack of water was making his life more difficult than the coronavirus pandemic.
"We are living here and relying on the sky. We don't have a canal," he said. "If there is no rain, we will buy rice to eat and we will struggle. We will look for a job. I think that [the drought] is worse than Covid-19."
Additional reporting by Mech Dara and Khan Leakhena
(Translated and edited from the original articles on VOD Khmer)