Thmar Pouk commune, Banteay Meanchey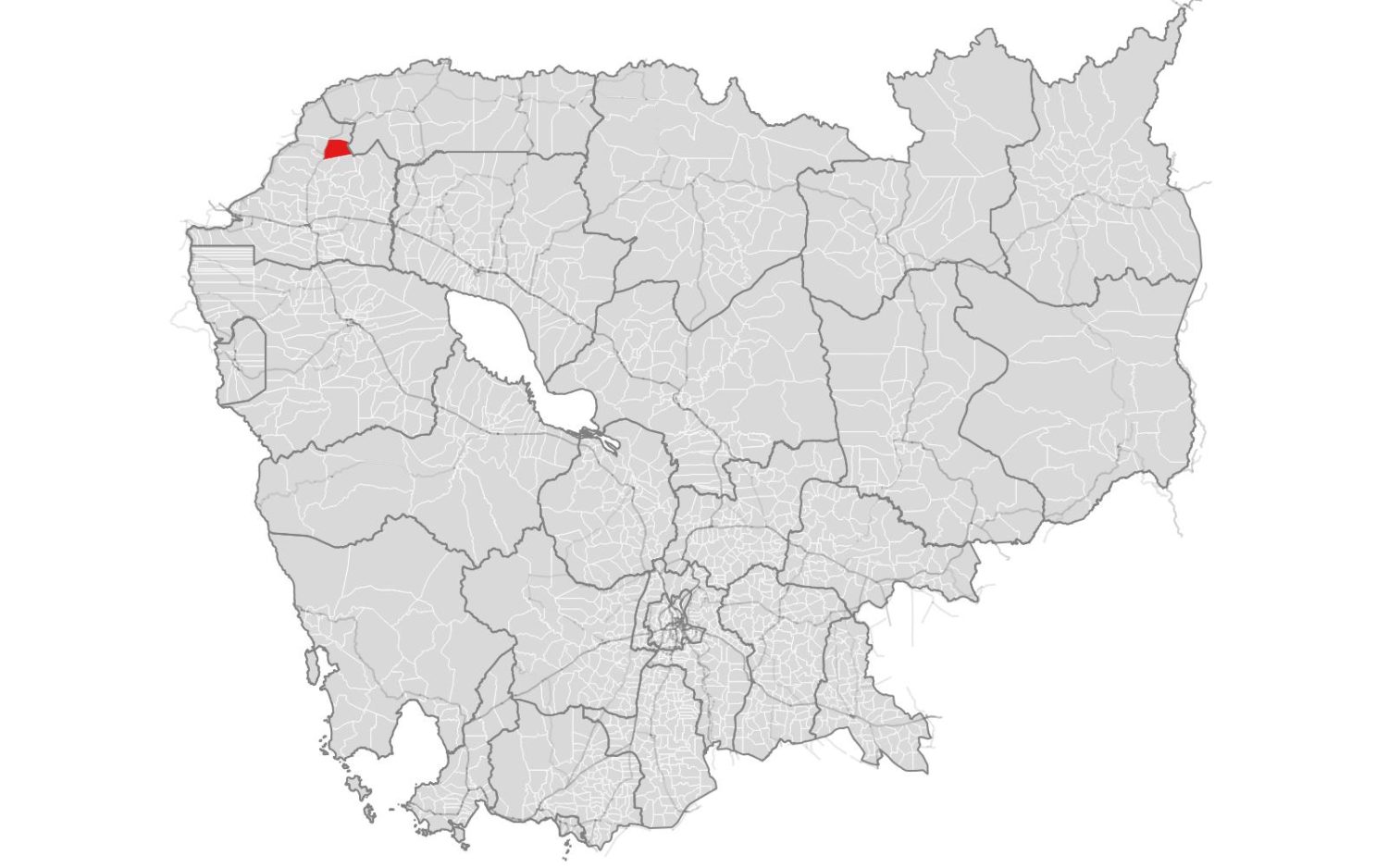 Da Chhean has the dubious distinction among his cohort. For nearly five years, Chhean has been the only non-CPP commune chief, working as council head in Banteay Meanchey's Thmar Pouk commune. It was awkward the first time he attended a provincial meeting with other chiefs.
"First time, it felt unusual when I was at a meeting with them in Banteay Meanchey," he said, a wry smile across his face.
But he got over the awkwardness very quickly.
"I did not feel lonely because the other commune chiefs were friendly," he said.
At the 2017 election, the CPP emerged as the frontrunner with close to 1,000 chief positions, followed by the CNRP with 489 wins. The Khmer National United Party — headed by former Funcinpec general Nhek Bun Chhay — was the only other party to have a chief position. Da Chhean was that chief.
But with the dissolution of the CNRP in November 2017, all their commune chief positions were transferred to the CPP, leaving Chhean alone among 1,645 ruling party chiefs. The seat in Thmar Pouk has leaned Funcinpec and then KNUP largely because of the popularity of Bun Chhay, who was born in nearby Svay Chek commune and fought against ruling party forces from the commune.
Da Chhean started out supporting the Sam Rainsy Party, but after failing to win a candidate position in the 2007 commune election, he moved to the royalist Funcinpec where he was elected to the commune council. In 2012, he took the seat from the CPP and became commune chief.
When Bun Chhay had a falling out with late Prince Norodom Ranariddh, who was the president of Funcinpec, the general formed his own royalist party, causing a fracture in the prince's party. Chhean, who said he admires Bun Chhay, followed Bun Chhay and in a surprise upset won the seat on a KNUP ticket.
After having his rise to commune chief, Chhean, 52, this week said he was retiring from politics. It was time to focus on his family and three children and that meant he had to spend more time at their plantation to earn more money.
"If I get older, then I cannot work or do farming for the betterment of my family," he said, sounding content with his time as commune chief.
He has had little to do with the KNUP's campaign this year, staying away from candidate selection or policy decisions. And Chhean is very honest about the party's prospects in the stronghold.
"It will be 50-50 if people will vote for him. I am worried that he cannot win," he said. "I also regret this for Nhek Bun Chhay."
This candor is rare among party faithful. But it quickly becomes evident why the outgoing chief was discounting his party's chances at Sunday's election.
Not far from the commune hall, in Svay village, Teum Nhan sits with four KNUP colleagues. It is the commune chief hopeful, candidate ranks two, three and four, and a reserve candidate. All five are reluctant to talk about Chhean's departure from the party, looking at each other seemingly for cues on how to steer the conversation away from the commune chief.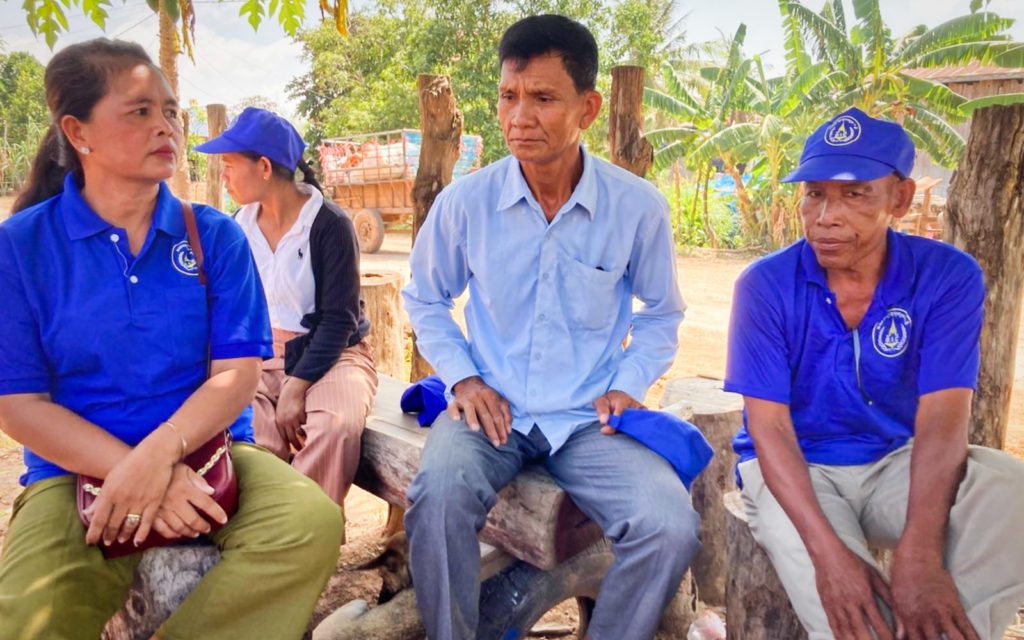 After sidestepping questions about Chhean, the reserve candidate, Lat Sambath, reveals the reason for their behavior. Last week, Chhean was seen helping the ruling CPP train voters on how to pick the party on the ballot.
Second-ranked candidate, Kong Beek, said Chhean was a lost cause.
"He said he wants to rest, he did not want to join other parties due to … health problems. He just showed support to the CPP recently," she said.
Sambath pulled out his phone to show reporters a CPP letter with Chhean's name on it.
"Banteay Meanchey provincial party committee issued a decision to appoint a new deputy chairman of the working group of the Cambodian People's Party in Thmar Pouk district, Mr. Da Chhean will be the deputy head," the letter reads from May 25.
The candidates are quick to brush off Chhean's defection.
Nhan said they have been getting a good response from the electorate and are not worried about Sunday's outcome. Asked if party president Nhek Bun Chhay will rally in the commune, Nhan said that was not going to happen this time.
Touch Sren, the third-ranked candidate, quickly interjects that voters were looking at the candidates and not necessarily the party.
"I have studied more. I can work better in the commune," he said in English. "We can make documents because three of us can read and write Khmer."
"People will stay with the KNUP. They like the party, not the individual," he said.

The defection has had little effect on party supporters, who were nonplussed with the development.
Kheang Sophal, 65, said he was not sure why Chhean made his decision but was confident the KNUP would remain dominant in the seat.
"I do not think it will affect the party. If he leaves, people will not believe in him anymore," Sophal said.
Another party supporter, Phey Sokhom, 35, said it was Chhean's choice to leave the party but was unsure about how it would impact people's votes on Sunday.
"I cannot read people. It depends on people. We all think differently," she said.
The development has reached party president Bun Chhay, who too was ambivalent over the defection.
"For me, a new candidate can still win in this commune … so I think there will be the same votes," he said in a short interview.
Reporters called Chhean to ask about his switching to the CPP, and the commune chief was not as talkative as before. He did not address statements made in the earlier interview about wanting to focus on work and earn more money for this family.
He said his brother was a member of the CPP and that he was only "temporarily" helping the ruling party during the election and would be back at his farm after the election.
"If I cannot help my brother, who should I help?"