Covid-19 patients in Cambodia have been treated with hydroxychloroquine, a health official said, even though medical researchers last year dismissed the drug as a treatment for Covid-19, and the WHO this week said it should not be used to prevent or treat coronavirus.
And patients at the Phnom Penh Quarantine Center, where a Covid-19-positive man died on Thursday, questioned the level of care at the facility, with one patient staying near the dead man's bed recalling his seemingly ill health before his death.
The director of one of four Phnom Penh health facilities being used as quarantine centers for Covid-19 patients on Friday said his hospital was currently treating dozens of patients who had received hydroxychloroquine because it "helps to quickly recover."
But the U.S. National Institutes of Health (NIH) in November released a peer-reviewed study which concluded that "the drug provides no clinical benefit to hospitalized [Covid-19] patients."
In addition, a World Health Organization expert panel said in a study released on Tuesday that almost all people would not consider hydroxychloroquine "worthwhile," as it showed little to no effect in preventing death or hospitalizations, or treating Covid-19, and "probably increases the risk of adverse effects."
Hydroxychloroquine, along with the similar drug, chloroquine, is typically used to treat malaria, lupus and rheumatoid arthritis, and is associated with heart rhythm problems. The drug gained public attention last year when former U.S. President Donald Trump touted it as a potential "game-changer" in the fight against the coronavirus pandemic.
But the U.S.'s NIH does not recommend hydroxychloroquine among its Covid-19 treatment guidelines.
In its new study, published in the BMJ British medical journal and based on six trials and 6,059 participants, the WHO panel also said it "considers that this drug is no longer a research priority and that resources should rather be oriented to evaluate other more promising drugs to prevent Covid-19."
'Entirely Preventable'
On Thursday, a Chinese resident of Cambodia died in the Phnom Penh Quarantine Center — Cambodia's first-known Covid-19-positive patient to die — after being admitted on Monday.
The Health Ministry said 33-year-old Lai BinXiang died of a heart attack as a result of drug abuse, with a toxicology report showing amphetamines in his urine, and not from Covid-19. The ministry also said Lai had not shown symptoms of Covid-19, contradicting claims from two other patients quarantined in the same facility who spoke with VOD on Friday.
They alleged that the man's death may have been prevented, had he received timely care for an apparent fever. But the facility lacked enough on-call medical staff, a common language among patients and staff, and clarity about the distributed medications and their Covid-19 test results, they said.
VOD was not able to confirm whether Lai had taken hydroxychloroquine in the days before he died.
One patient, a fellow Chinese national, claimed Lai's death was "entirely preventable" and he "did not receive treatment in time."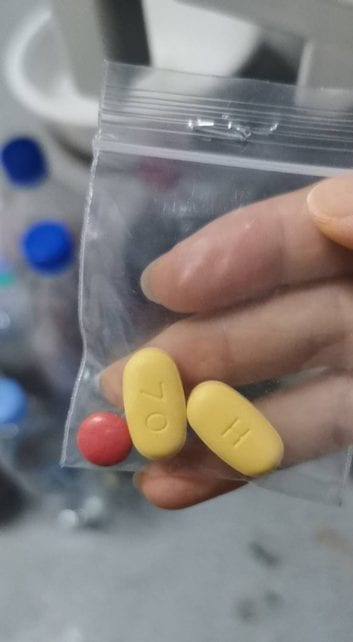 The two patients who spoke with VOD also expressed doubt over Health Ministry statements that Lai's death was the result of drug abuse, and said their three-pill treatment regimen had changed over the course of this week.
The distributed dosage of the medicines, which VOD was unable to identify, have included two yellow pills, one or two white pills and a red pill, according to the two patients. From Tuesday to Thursday, two yellow pills, one white pill and a red pill were given out. But by Friday, the day after Lai's death, patients said they were no longer given the white pill.
Li Ailan, WHO representative to Cambodia, said in an emailed statement on Saturday that the global health body was "aware of the death of the patient in quarantine" and extended sympathies to the deceased's family.
"WHO provides ongoing advice and guidance on case management [to Cambodia's Health Ministry], which includes advice on clinical care," Li said.
Li did not answer specific questions about Cambodia's use of hydroxychloroquine to treat Covid-19 patients, and whether Lai was treated with the drug before his death.
"The Ministry of Health can provide more details about the treatment for this specific patient," Li said.
The ministry's spokesperson, Or Vandine, said on Friday that Lai had shown no symptoms of Covid-19.
"When it was time to go check, and when [we] came to check, there were no [Covid-19] symptoms," she told VOD.
Vandine did not respond to questions sent on Saturday morning about the nation's Covid-19 treatment regimen.
'It Helps Get Rid of the Virus'
When Covid-19 patients arrive at the National Center for Tuberculosis and Leprosy Control, they are all treated with hydroxychloroquine, said Huot Chan Yuda, the center's director.
Chan Yuda said on Friday that 51 patients were receiving Covid-19 treatment at the center, and three people were discharged on Thursday.
"We provide antiviral medicines to them and ask them to exercise, eat healthy food and sleep well, and tell them how to take care of their health," he said.
Chan Yuda said the center provides patients with vitamins and medicine like hydroxychloroquine to help speed up their recovery.
"When we give them [this], it helps get rid of the virus and [allows] recovery," he said.
"When [a Covid-19 patient] comes to get treatment at the hospital, yes, [we give the hydroxychloroquine] because it helps to quickly recover," he added.
According to Health Ministry reports compiled by VOD, 63 Covid-19 patients have been sent to the National Center for Tuberculosis and Leprosy Control from December through Saturday following their positive tests, with 31 of them already discharged. VOD has not determined whether others may have been transferred there.
Inside the Phnom Penh Quarantine Center
The Phnom Penh Quarantine Center where Lai died, comprising four large warehouse-style buildings, has been reported to cost some $790,000, accommodate about 500 people and stretch over a hectare of land in Prek Pnov district in the northern outskirts of Phnom Penh.
One Covid-19 patient, who said she is in quarantine in the same building where Lai died, told VOD on Friday that the man had appeared ill since she met him earlier this week, but neither he nor other patients were given proper medical attention by the facility's staff.
Wei*, who requested her real name not be used due to privacy concerns, said she has been in quarantine for a week, after she and her husband tested positive for the virus. By Thursday, after several days at the center, her husband developed a cough, fever and shortness of breath and was taken to the Khmer-Soviet Hospital by an ambulance, she said.
From her bed, Wei could see just the corner of Lai's bed. He had told her this week that he had a fever for four days, and couldn't eat anything. He also asked her to bring him meals. She had given him a big bottle of water.
"When I first saw BinBin [a nickname for Lai], he seemed to be in pretty severe condition, sitting on the bed, coughing," Wei recalled in a message.
During the night, before Lai died, she said she could hear someone moaning. On Thursday morning, she woke up at 9 a.m. to see a few medical staff wearing personal protective equipment surrounding Lai's bed.
"I thought they were giving him treatment, but after the medical staff left, the young man in the bed across [from Lai] told me he already died," Wei said.
She said she didn't want to believe it, but other patients told her Lai was gone. She couldn't bring herself to look at his body.
"Later, other people filmed some videos, and I saw [on the videos] he was lying on his bed, mouth foaming, stomach bloated," she said.
Lai's body was left in the building for seven to eight hours before it was removed, according to Wei.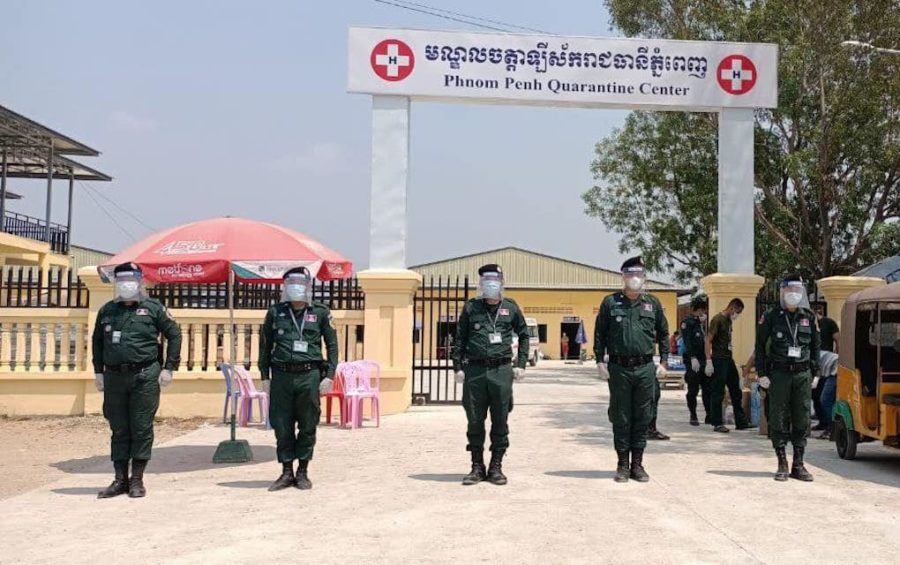 Asked about the official cause of death from drug abuse, Wei replied, "Maybe they need to hide something."
She said she didn't think illicit drugs could be brought into the quarantine center, since patients could not even have outside medicines delivered.
She, and other patients who spoke with VOD, also said they did not know what medication they were being given by staff, who patients said were evasive when they asked about testing results and when they would be allowed to leave quarantine.
According to Wei, people in the center "who know about the medicines say it's for treating [Covid-19]."
But, she added, there was no medical equipment, facilities or emergency care inside.
"I heard others say that there was something wrong with [Lai] around 4 or 5 a.m. If he were in a hospital, with ways to rescue him, there's no way he would have died," Wei said.
Another Chinese patient in the Phnom Penh Quarantine Center, who gave his name as Hu, also doubted Lai's death was related to drug abuse.
"I will not believe it," Hu said, claiming it was "definitely a rumor."
Hu said he has been quarantined since late February when his Koh Pich building was locked down due to the "February 20" community cluster.
He alleged illicit drugs could not have gotten into the quarantine center because everything delivered, including food, needs to be checked. But he added that staff did not check patients' luggage when they first arrived.
"How did the drugs get in? How is it possible? Why would he be taking drugs if he was sick?" Hu said.
'No Room for Doing Drugs'
Vandine, of the Health Ministry, said officials did not know Lai had used illicit drugs before his quarantine.
"When he took the [Covid-19] test and it showed positive, we placed him in treatment like other patients. We do not as a rule check everyone for drugs. Because he does not tell us and he doesn't show any symptoms that he had a drug addiction."
Symptoms of amphetamine withdrawal may include fatigue, anxiety, insomnia, increased appetite and vivid or unpleasant dreams. Amphetamines can appear in urine testing up to five days after last use, or up to a week after repeated use.
The Health Ministry said Lai's death was caused by serious withdrawal symptoms, not Covid-19. Vandine said after he died, the man's urine was tested.
"When he has no drugs, he is in withdrawal," she added. "There are guards at the [quarantine] center so there is no room for him to do drugs."
Death related to amphetamine toxicity is uncommon but a 2020 study from the UCLA-Kern Medical Center says "the risk of death is higher when a patient uses amphetamines while using or overdosing on other drugs."
Meas Vyrith, secretary-general of the National Authority for Combating Drugs, said health risks depend on the level of drug use and how they are taken, but he maintained that it was unlikely that drug withdrawal symptoms would be fatal.
"A drug addict who has not used will not die because there are no drug substances inside [their body]. How could they die?" Vyrith said.
"If the drugs go inside the body, it will cause death, but when drugs go out of the body, they will not die."
Cambodia has reported 461 active Covid-19 cases as of Saturday, with 95 in Sihanoukville and 332 in Phnom Penh. Some 70 percent of new infections in the last two weeks amid the community cluster have been Chinese patients like Wei and Hu.
On Friday, Hu said he was "almost at a breaking point" due to the living conditions in the quarantine center, which lacked hot water, air-conditioning and temperature checks. But he was most frustrated by the fact that he has not been provided results of his Covid-19 tests since he's been quarantined.
"The thing I don't understand the most, and what I hate the most, is that I haven't seen a document certifying my positive [test result] from the day I left home until today."
Note: A freelance journalist who co-reported this article requested their real name not be used due to fear of reprisals.