Chab Yem, 74, says she hasn't seen her son since authorities arrested and defrocked him more than a year ago. She lives in Siem Reap province, and Koeut Saray is now in Phnom Penh's Prey Sar Prison.
Yem says she is getting older, and is unable to walk. "I've only spoken to him on the phone three times to ask about his well-being."
"He said he is OK, fine and do not worry about him. And he asked me to put this out of my mind, do not worry about him," Yem says. "He asked me to take care and not miss him. I felt pity for him when I heard those words, and I am also happy to have talked with my son."
Saray is the youngest of six siblings in his family. He has been a monk since he was 13 years old. After becoming a monk in Siem Reap province, he went on to study in Battambang until his arrest in August 2020, after 20 years in the monkhood.
"I feel upset and resentful that my son was arrested for no reason. I regret how they defrocked my son, because I think my son did nothing wrong. And when they came to arrest him, it seemed so unjust," Yem says.
Saray was among five members of the Khmer Thavarak activist group, alongside Tha Lavy, Eng Malai, Chhoeun Daravy and Hun Vannak, as well as two members of the Khmer Student Intelligent League Association, Mean Prum Mony and Muong Sopheak, who were arrested by authorities for participating in protests for the release of Rong Chhun, a unionist sentenced for incitement over comments alleging Vietnam was taking Cambodian land.
After their arrest, the seven activists were also charged with incitement to disturb social security, and have been held in Prey Sar for more than a year. During their trial, the activists remained defiant. At the final hearing, Saray asked that he be allowed to serve the sentences of two of his colleagues if they were found guilty, as they were struggling in prison. The verdict in the case is due on September 28.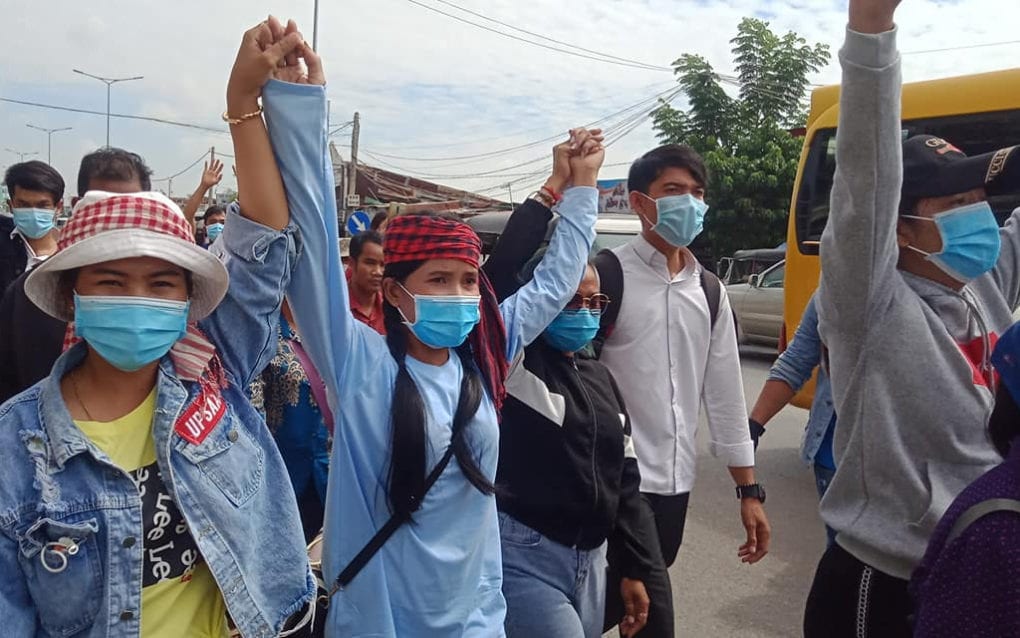 Defense lawyer Sam Chamroeun says he and his clients will await the result before discussing next steps. "After listening, we will discuss together whether they accept it or not," he says. "We will look at the results first. The important thing is the actual results, then we will decide accordingly what to do."
Am Sam Ath, deputy director of human rights group Licadho, says the detention of the seven activists — as well as other environmentalists who have also been put in jail — trampled on freedoms.
"The arrest and detention of the activists were violations of the basic freedoms of the people, especially the freedoms to gather, assemble and express [themselves]. And the detention was seen to be more about political motivations rather than law enforcement," Sam Ath says.
Justice Ministry spokesman Chin Malin has rejected such claims. He has told VOD in the past that the arrests were made under correct legal procedures.
"If we think that the activists that we [detained] have not committed any crime, find the basic evidence or legal arguments to exculpate them. If we look at civil society, in the past, apart from issuing statements, holding campaigns, making accusations, [they've offered] no legal basis at all for exculpation," Malin has said.
"And this practice has no effect or legal effect in helping the accused. It can be politically beneficial to accuse and criticize the government under a political agenda. But legally, it does not help the activists with anything."
A number of civil society groups have since last month been conducting a social media campaign in support of the Khmer Thavrak and other detained activists, saying the imprisonment of nonviolent protesters is a violation of freedoms guaranteed under the Constitution. The campaign says the protesters acted for the benefit of the nation as a whole.
International human rights and other groups, including the International Federation for Human Rights, Civicus, International Commission of Jurists, Amnesty International and Human Rights Watch, have criticized the arrests of Khmer Thavrak activists, as well as Mother Nature environmentalists and others.
Yem, the 74-year-old widow, says she has asked her oldest daughter to travel in her place to Phnom Penh to make sure Saray has enough food and money in prison.
Saray had never done anything to cause worries for their family, even before becoming a monk, she says.
"My son always does good deeds, never makes me upset. Even if he did not have money to study, he never asked me for money. He was willing to go without money and never caused any problems, even comforting his mother not to worry about him," Yem says.
She says she hopes Saray will be released next week. It is hard to think of him except as a monk, she says.
"I was happy that my son became a monk for many years. I am sad that he was defrocked," she says. "I used to see my son in red monks' robes. Frankly, I feel very regretful but I don't know what to do."
"I miss him, and sometimes I sleep with tears."