Khet Leanghy first began tagging along to Funcinpec party speeches and events with his family as a 12-year-old growing up in Kampong Cham.
By the time he was a teenager, his steady presence had attracted the attention of party leaders and allowed him to meet the late party president Prince Norodom Ranariddh.
Now 28, the former farmer is running for commune chief of Kampong Reap in Koh Sotin district, where his bid is one of several in upcoming local elections that the royalist Funcinpec party hopes will attract newer, younger voters amid years of leadership struggles and an aging supporter base.
The party has fielded 9,952 candidates across 680 communes, the third-most, though trailing the Cambodian People's Party and the Candlelight Party by a wide margin.
"Only the young generation can be candidates, with the older people still backing them up," Leanghy said. Older Funcinpec leaders had told him: "For the future of Kampong Reap, there's only you that can help Funcinpec."
Funcinpec's heyday dates back to 1993, when the party — which emerged out of late king Norodom Sihanouk's resistance movement more than a decade earlier — won the most votes in the general election. But it did not get a majority, and was forced to share co-prime ministership with Hun Sen. Tensions led to armed clashes between the parties in 1997, and in the years that followed, Funcinpec lost ground in opposition to the rising Sam Rainsy Party.
Funcinpec didn't win any seats in the 2013 election but was briefly handed 40-odd National Assembly seats between 2017 and 2018 — following the court-ordered dissolution of the Cambodia National Rescue Party until the next national election, which the CPP swept. Those decades also saw a splintering of the party and tumultuous leadership changes, and Funcinpec quickly falling into irrelevance.
Last fall, when Ranariddh died, the presidency was passed to his son, the French-educated Norodom Chakravuth.
Explaining that history to people — and convincing them to support the party — has been a challenge, Funcinpec's commune chief candidate in Takhmao city's Prek Hou, Sok Reaksmey, said on a recent morning. Clad in a canary yellow shirt, the 38-year-old traveled from house to house handing out flyers in a tuk-tuk adorned with two speakers.
Alongside Leanghy, Reaksmey was one of two candidates party spokesperson Nhoeun Raden named as Funcinpec's "new generation" even though they're both lifelong supporters and Reaksmey previously ran for a commune seat. Raden did not respond to a further request for comment.
"No one knows his son," Reaksmey said, meaning Chakravuth. "So we have difficulties on that. … I try to explain to them that after the king, his son continues his legacy and will protect the Funcinpec party."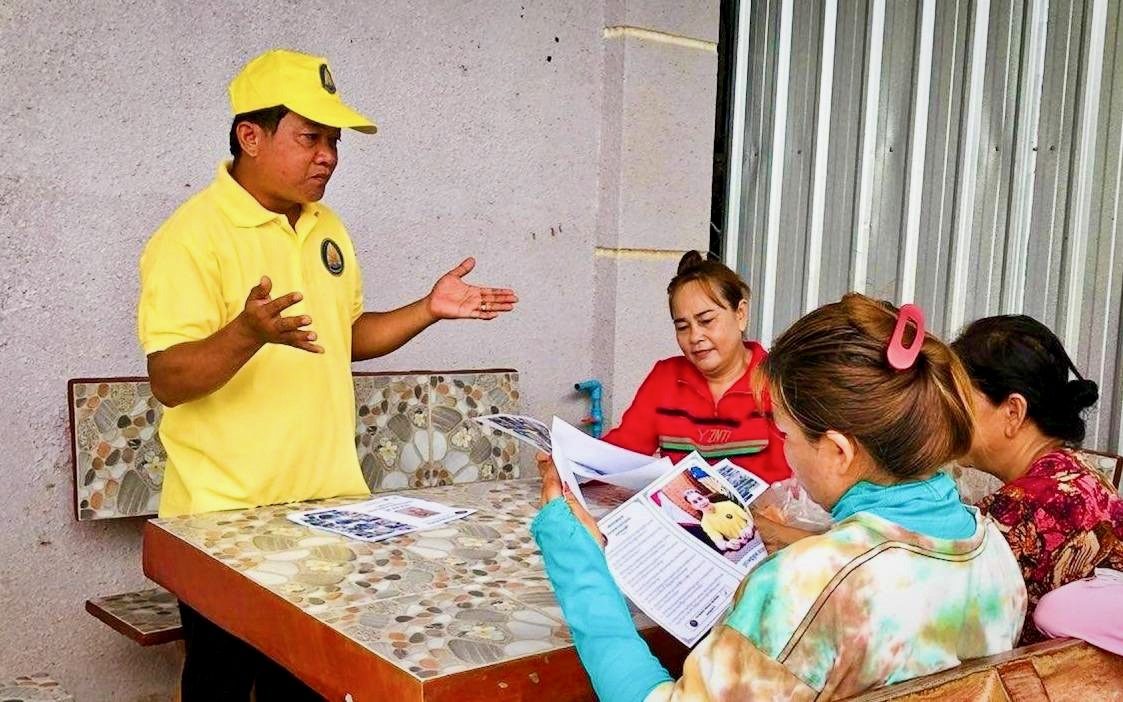 "Most of Prek Hou commune knows Funcinpec just from me," he added.
Reaksmey followed his family's example and joined Funcinpec when he was just 13, volunteering setting up tables and chairs at speeches before joining the party's youth wing.
He ran for commune chief for the first time in 2017, only getting about 400 votes in the commune of about 10,000, and has stuck with the party out of his deep respect for the royal family.
After the CNRPs dissolution, he was given the deputy commune chief seat anyway and quickly focused on improving the commune's winding dirt roads off National Road 2. Once the Covid-19 pandemic hit, Reaksmey canvassed the area checking on families and handing out rice, soy and fish sauce to jobless families, posting his activities to two different Facebook accounts.
That effort seems to have paid off: As he trekked from house to house on the campaign trail, a handful of young supporters tailed him with stacks of fliers. Two said that they became fans of Reaksmey after following his Covid-19 charity on Facebook.
Chhom Vid, a 28-year-old construction worker, said he admired Reaksmey's visits to families so much that he wouldn't consider other opposition parties such as Candlelight.
"I don't want to join them even 1%, because I only love this party, even though [Candlelight] has increased their supporters more and more," Vid said.
Yous Savann, sitting outside a friend's home as she accepted a pamphlet from Reaksmey, added that the Funcinpec politician had fixed the street outside the house and visited villagers when family members passed away.
"It's from the heart," Savann said. "He's been active not only during the election campaign, but for many years already."
Residents drew a distinction, however, between their support for Reaksmey versus Funcinpec as a party. A man who declined to give his name said that he would vote for Reaksmey but that nationally, people have been disappointed by Funcinpec too many times and no longer know what the leadership stands for.
"They need to change the leadership at the top, and change their allegiance to a person that has enough achievements to develop the nation," he added.
Down the road, near a small row of houses where he chatted with friends, 25-year-old Mech Bun Chheum said that it was the first time he had seen the yellow Funcinpec tuk-tuk canvassing as compared to near-constant CPP presence since the campaign period began.
The current Prek Ho commune chief declined to comment or provide contact details for the CPP candidate.
Chheum's friends back home in his Battambang province are voting for various parties, he said, but Funcinpec isn't among them. His dad was a supporter decades ago.
"I've heard Funcinpec was popular before," he said. "Now it's gone quiet."
The candidates acknowledged that they have ground to make up, including garnering supporters who are genuinely new to the party absent a family history of support and regaining the trust of prior supporters who became disillusioned during decades of turmoil.
In Kampong Reap, Leanghy said he has placed his confidence in Chakravuth's new leadership and that young supporters should do the same.
"It's different, but it's good," he said. "Now we have new blood."