8:15 p.m.: At Least 18 Activists Released Over Course of Day
Six Mother Nature activists, two members of Khmer Thavrak, six Chinese Embassy protesters, two activists from the opposition CNRP, Khmer Win Party president Suong Sophorn and unionist Rong Chhun were released from Prey Sar Prison on Friday.
The 18 political prisoners freed on Friday add to eight others released over the previous week.
That leaves around 60 political prisoners estimated to still be in jail, mostly from the outlawed opposition CNRP.
Most — if not all ­— of the prisoners released over the past week have probation or bail conditions that will continue to apply for some years, but said they intended to continue their activism.
Mother Nature's Thun Ratha said he wanted to keep fighting for the environment.
"We will still continue to protect the natural resources — natural resources are our life," Ratha said.
"They detained us unjustly but our conscience and spirit always told us that what we had done was just … and what we had done was legal, and what they are doing is trying to silence our freedoms and rights. But we cannot let them do it."
Another Mother Nature member, Ly Chandaravuth, said authorities' actions against youth activists was "ugly."
"This is an ugly thing to charge a 21-year-old for treason, when I only worked to protect our environment," Chandaravuth said. "They can detain us but they cannot detain our spirit."
Long Kunthea, another of the group's environmentalists, said her release did not mean justice was served.
"I still insist that the court drop the charges against us, because we have suffered an injustice."
Still, she was glad to be out, she added. "I am so excited and don't know what to say, since I'm seeing my family, and my brother and sister, since I've been jailed for a long time."
7:50 p.m.: Injustice Continues Despite Release, Rights Group Says
Am Sam Ath, spokesperson for rights group Licadho, said international pressure had contributed to the activists' release.
"There has been sharp criticism from the international community and other countries, especially Australia and the U.S. embassy and other embassies. Recently, the Australian foreign minister came, and the U.N. human rights council made additional criticism," Sam Ath said. "They acted as a pack to cool down the political tensions and human rights situation."
However, the activists would still be restricted due to conditions for probation and bail, he said.
"The injustice is that they have been arrested, charged and imprisoned," Sam Ath said. "They did nothing wrong. They just exercised their freedoms, rights and duties in protecting natural resources, human rights and social activism, especially the freedoms and rights to assemble and to express their views."
He added that the six Mother Nature activists had been released on bail by the Phnom Penh Municipal Court.
7:20 p.m.: Mother Nature Activists Released
Mother Nature activists Sun Ratha, Phuon Keoreaksmey and Long Kunthea have been released from Prey Sar Prison's Correctional Center 2, while male members, Thun Ratha, Yim Leanghy, and Ly Chandaravuth, were also released from Correctional Center 1.
"I will continue to do social activism, based on what I love," Kunthea said, laughing in joy.
At least five women arrested for a protest outside the Chinese Embassy were also released. "Do not be afraid to struggle, to continue," one of the women said. "I cannot accept having been imprisoned for one year."
CNRP activist Ton Nimol, arrested for two cases involving protests, has also been released.
Nimol was arrested on Paris Peace Agreements Day last year in October amid protests outside the Chinese Embassy. He was also charged for incitement over earlier protests in support of jailed unionist Rong Chhun.
Relatives of other activists arrested after protesting last year outside the Chinese Embassy are also present after the activists were handed reduced sentences in the Appeal Court earlier in the day. A judge said in court that six of the activists should be released today.
Supporters have also posted pictures of CNRP activist Sar Kanika being released this afternoon.
5:20 p.m.: Justice Ministry: Activists' Release Is Normal Procedure
Chin Malin, spokesperson of the Justice Ministry, said the activists were not being released because they were activists.
"It is not about receiving pressure or not — this is the court process that the court generally implements, and this is not only for these activists. The court has not focused on whether they are activists or not," Malin said. "The Ministry of Justice introduced a campaign to speed up the frozen cases at the court and reduce crowding in the prisons — this is the principle the ministry has encouraged."
Malin added a warning to the recently released activists that they would be sent right back to jail if they broke the law.
"During the probation, if they do activism that violates or breaches some of the bans that the courts have imposed, they will face the law and [we] could bring them back to implement their terms in prison, if they continue to commit crimes and do not change their behavior."
The World Justice Project lists Cambodia 138 out of 139 countries in its 2021 rule of law index. Rights groups allege that Cambodian courts are notoriously corrupt and prone to political interference.
4:35 p.m.: Rong Chhun, Suong Sophorn Released
Unionist Rong Chhun emerged from Prey Sar Prison Friday afternoon, his head wrapped in a Cambodian flag.
He was greeted by dozens of supporters, other activists and journalists.
Chhun, president of the Cambodian Confederation of Unions, was arrested on July 31 last year over comments about the Vietnamese border and became a cause celebre for opposition and nationalist activists. Protests in support of Chhun led to the arrest of a raft of supporters, who have also been facing release from prison this week.
"My stand will not be pulled back," Chhun spoke outside prison. "I will continue my social work."
He grabbed a megaphone and continued with a speech to the gathering.
"I'm waiting for our men," he said, referring to other releases expected today.
Khmer Win Party president Suong Sophorn was also released from prison Friday afternoon. He was arrested for protesting the arrest of Chhun last year and given a 20 month sentence. Earlier today, the Appeal Court dropped his sentence to 14 months and 27 days, paving the way for his release.
"The court is just a political tool for the ruling party," Sophorn said outside Prey Sar Prison.
4:35 p.m.: Chhoeun Daravy Released
Khmer Thavrak activist Chhoeun Daravy, the last of the group's members in jail, was released from Prey Sar Prison this afternoon.
"I am very excited. I will continue to resist as I have seen the injustice," she said outside the prison. "Thank you brothers and sisters."
Four other members of Khmer Thavrak have already been released: Tha Lavy and Koeut Saray last Friday, Eng Malai on Monday, Hun Vannak earlier today.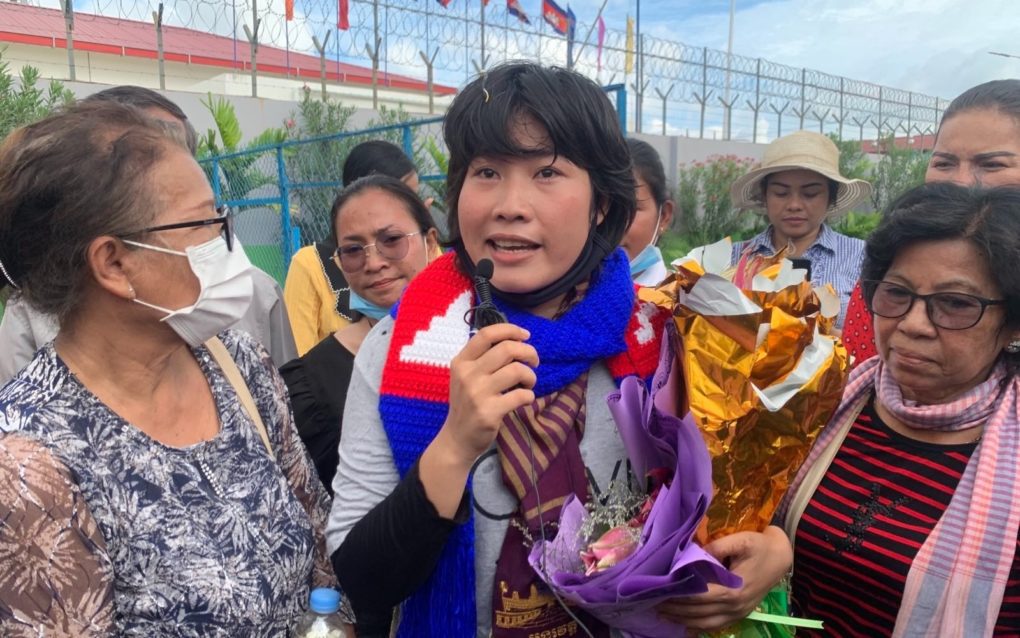 Daravy said she struggled mentally in prison. "I thought that I would not have a life, because living [there] was suffering."
She was moved by widespread drug problems and corruption in the justice system, she said.
"We are sick, we need to shout aloud, and we cannot be less than an animal — we are a democratic country, people have rights to express their views, so the arrests violate the law and I cannot accept it, and it kills the Cambodian spirit itself," she said, adding, like the others released before her, that she would not stop her activism.
"I will do more advocacy than before."
4:15 p.m.: Six More Activists Set to Be Released Today
Six more activists are set to be released today after an Appeal Court judge cut down their sentences during a quick hearing Friday afternoon.
Only one defendant was initially present, and the other five women arrived late, so presiding judge Plang Samnang proceeded with the hearing by asking the prosecutor to simply give her closing statement.
As the prosecutor spoke, the defense lawyer, Sam Sokong, entered. Sokong was also asked to skip straight to his closing statement, without any testimonies.
The judges then retired to discuss their decision. It took less than 10 minutes to decide. The five women entered while they were discussing.
Judge Samnang reduced the sentences of Lim San and Yoy Sreymom from 18 months to 12 months and 17 days; Pai Ren and Sann Srey Neath from 12 months to 10 months and 13 days; Hong An from 18 months to 10 months and 13 days.
Ton Nimol, who already had his sentence for one of two convictions shortened, also had his incitement term reduced from 18 months to nine months and 27 days.
They are all under probation for three years, which requires reporting changes of address and other obligations.
Samnang ordered the six not to associate with those who instigated their crimes. "The Appeal Court has decided to trim your sentences, so you all will be released today. If you are not satisfied with this decision, you can appeal."
The defendants in the case were sentenced on August 2 for incitement in relation to a protest last year in front of the Chinese Embassy to commemorate Paris Peace Agreements Day. A seventh defendant, Sat Pha, was also convicted but has already been released.
Two other defendants are at large, former CNRP lawmaker Ho Vann, 73, and San Seihak, 32, who were handed 20-month sentences as instigators.
At least 10 political prisoners have already been released over the past week, though dozens remain in jail.