CHUMKIRI DISTRICT, Kampot — On January 3, a family gathers tables and chairs in the corner of a pavilion and holds a memorial for two relatives who died in a building collapse exactly a year ago.
Among the gathered family members is Lae Sinuon, 28, who was herself trapped for almost two days in the rubble.
"I fainted," Sinuon says. "When I woke up, I realized that I was trapped inside. When I woke up, I was trapped. There was nothing that could be pushed."
She was rescued from the rubble around 7 p.m. on January 5, 2020 and rushed to hospital. Both her arms were broken, and she was bleeding from three cuts to her head that remain finger-length scars a year later.
Twenty-three people were injured in the collapse, at a construction site for a seven-story building in Kep province. Thirty-six others died, including six children. A year on, the trauma and the effects of her injuries linger, but Sinuon is returning to work in construction despite opposition from others in the family.
Sinuon started work carrying cement and cleaning at the Kep building site just six days before the collapse. She remembers she was on the building's third floor with a colleague, but cannot recall the moment of the collapse.
She learned later that her colleague had died.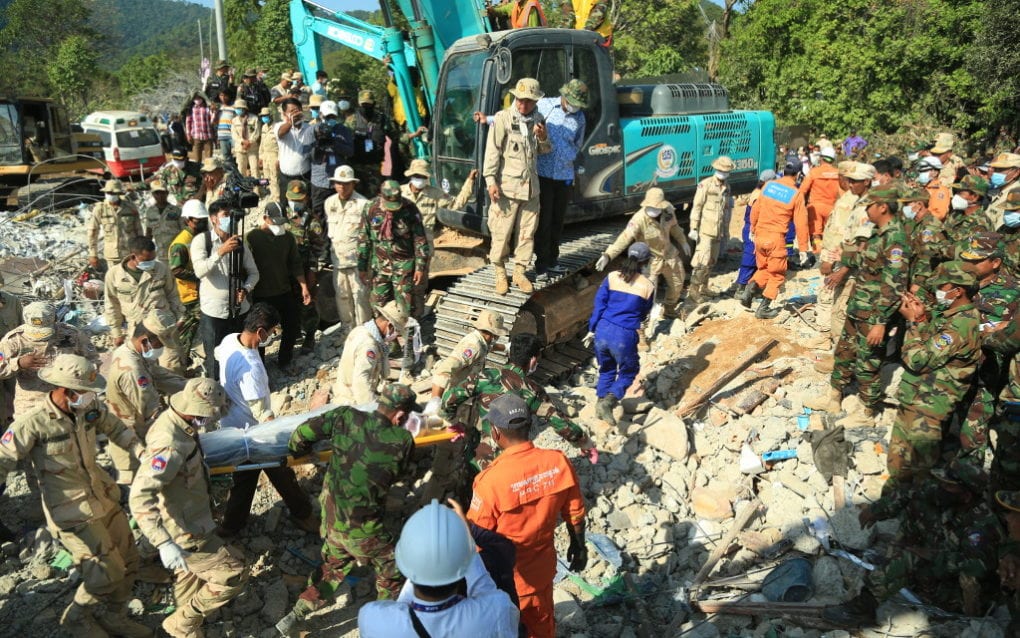 Sinuon says her injuries still cause her problems. She suffers from headaches, while her back and hips hurt when lifting.
"Sometimes my head is numb. When I eat something, I feel numb. Like eating beef. I feel numb," she says.
Sinuon's older sister Lae Na, and Na's 16-year-old daughter were killed in the collapse that day.
Na's other daughter, Min Sokny, 20, covers her face recalling the day. She was in Kampot with other relatives, and they rushed 50 km to Kep on motorbikes when they heard about the incident.
"I didn't think it was the building they were at, but in my heart I wanted to go and see," Sokny says. "I prayed while on the road that my mother and my sister were not hurt."
On the one-year anniversary on Sunday, the family held a Buddhist ceremony.
Sorn Saren, 35, Na and Sinuon's sister-in-law, says the past year has felt like a series of Buddhist ceremonies.
"I miss you so much. I'm sorry. I'm sorry," Saren says.
She says she doesn't want Sinuon working in construction again, though she knows there's little other work available.
"I'm afraid of something like this happening again," Saren says. "It will be dangerous again for my brothers and sisters."
Sokny, who lost her mother and sister, says she also feels uncomfortable about relatives now working in construction.
"I don't want my family to go because I'm scared," she says.
But Sinuon returned to work on a Sihanoukville construction site late last year. After rainy season was over, there was no farmwork, and she has no other skills, she says.
She says she doesn't go to upper floors, and she is also not able to carry as much.
"I told them I was injured, so they kept it small," Sinuon says. "I do light work."