UPDATED 7:07 p.m. — More than 700 out of 5,000 workers at a Phnom Penh garment factory have been tested after a single Covid-19 case was found among employees, but work continues in eight of nine buildings and crowds keep packing the factory grounds during breaks.
A laundry woman at Dangkao district's Y&W Garment factory tested positive a week ago following a visit by her son, who works as a driver in Sihanoukville, said administrative manager Thy Bunthon.
She works outside the buildings and was only at the Chinese-owned factory for a day between having contact with her son and testing positive, Bunthon said.
"She didn't have very much contact with workers inside the building. She was always staying outside. That was lucky," he said.
Some 716 workers in one of nine buildings had been tested and all were found to be negative for Covid-19, he added.
"Because our factory is big and has more than 5,000 workers, when the case emerged, we felt that it was a problem that we had to stop as soon as possible. Because as you already know, they sit together, eat together. So we have to be very strict," Bunthon said.
Late on Wednesday morning, the factory's gates opened up and hundreds of workers in masks streamed out of the buildings in a crowd. Many went to food vendors set up around the premises to buy their lunch.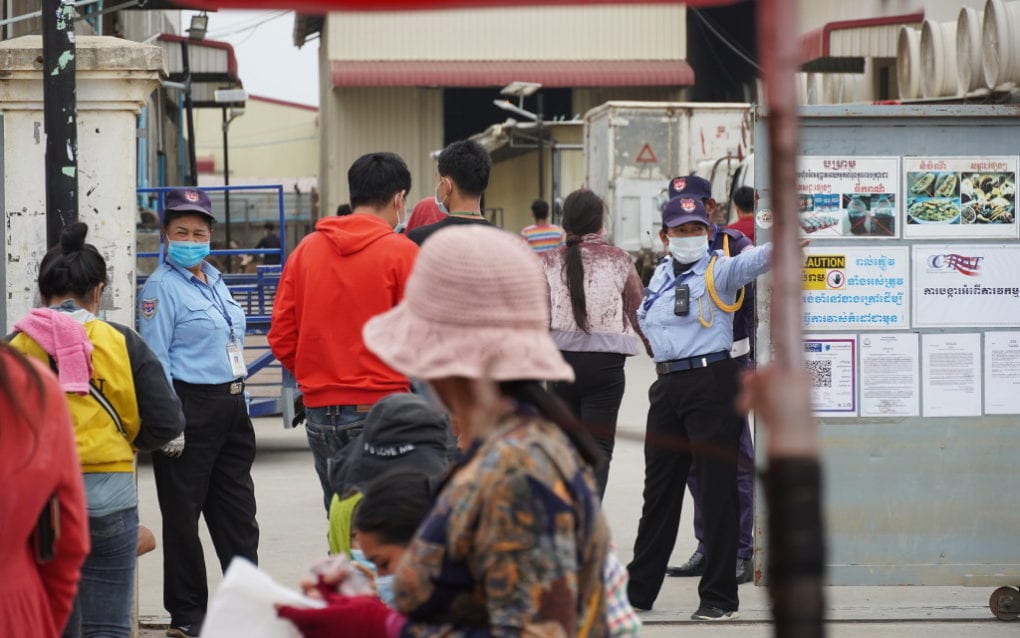 By phone, some workers, who produce children's clothes for export, said they were working in fear.
Heng Srey said everyone was scared as they continued coming into work despite the Covid-19 case. Workers considered not working, but the company pushed them, she said.
Though there have been no subsequent cases, the factory hasn't been disinfected, and people simply can't keep a safe distance from one another, Srey said.
"In short, we're still afraid, but we still have to continue working as they still force us to. They don't care whether we get infected. They care only about their work."
The factory should take a couple days off to disinfect the facilities. Masks, temperature checks and washing hands weren't enough to feel safe, she said, especially considering the crowded quarters in which they ate together.
"We protect ourselves. There's no way they will protect us in every way. They instruct us to wear a mask, check temperatures and spray alcohol just to prevent the criticism that they're doing nothing. If there's transmission, we can't stop it doing this," Srey said.
But she had no choice, she said. She was poor, uneducated and had no farmland.
"The life of the poor depends on the factories. If we don't do it, we would only get nothing," Srey said.
Bunthon, the factory manager, said on Wednesday that one building, where the 716 workers who were tested work, would be disinfected.
Another worker, who worked at the same building as the Covid-19 patient, said the factory allowed her to stay home for nine days.
The employee, who declined to give her name, said she was afraid of going back to work because workers at other buildings might also have had contact with the woman who tested positive, and they had not been tested.
"When I go back to work, I may resign. I don't dare to work there any longer," the worker said.
Chhun Sreypich also said she was afraid, as workers in the factory sat about 1 meter from one another.
"I'm worried," Sreypich said, though she added that she was relieved that there had been no further cases among the workers tested.
Meng Sreyra said she had initially been afraid but was assuaged when the factory told her there was no further spread.
"I always wear a mask, clean hands, and spray alcohol all the time," Sreyra said.
Cambodian Labor Confederation president Ath Thorn said factory workers were at risk because they could not maintain a safe distance from one another.
"It's very challenging because they commute together, stay together, eat together, go in and out of the factory together, work together, and there is no social distancing," Thorn said. "We've seen that in the past, it's been strict about wearing masks [and] cleaning hands, but keeping a safe distance has been unfeasible, so we are really worried."
Labor Ministry spokesperson Heng Sour declined to answer questions, saying health measures were the Health Ministry's responsibility. Health Ministry spokesperson Or Vandine did not respond to questions.
As of Friday, Cambodia had 442 active Covid-19 cases, a sharp rise since the emergence of the "February 20" cluster. NagaWorld, the capital's sole licensed casino, this week announced it would "volunteer" to close after several employees tested positive for Covid-19 and thousands of workers boycotted work.
Updated at 7:07 p.m. with an additional statement from Y&W Garment factory's administrative manager about a building being disinfected.