Standing amid mounds of decomposing organic waste, Sean Bopha and Chak John seem attuned to the smell. Masked men, women and children file past — all lugging sacks of trash through the Battambang landfill site.
Some 6 km from Battambang's city center, the dumpsite is part of a grassroots composting effort, a nonprofit working to address glaring holes in Cambodia's waste management.
"We compost for many reasons," John says. "To reduce the methane buildup, to extend the lifespan of the landfill and to stop the landfill from catching fire."
Bopha and John's Cambodian Education and Waste Management Organization, or Comped, is among a handful of groups tackling the country's pile of waste management problems: plastics pollution, methane buildup, contaminated groundwater, disease, skewed incentives.
From organized volunteer cleanups to commercialized plastics recycling, community efforts dotted across Cambodia seek solutions to the 4 million tons of waste produced annually, which is filling up volatile dumpsites and soiling the natural environment.
Left to Rot
For 20 years, Comped has focused on organic waste, by far the most common form of waste nationwide. Seventy percent of Battambang's waste is organic, Bopha says, but first it needs to be separated out.
Comped works with three local markets in Battambang, but sorting must be done by hand by five workers after collection; getting market cleaners to separate their trash at source has not been possible, Bopha says.
Once separated, composting piles 2 meters high steadily decompose over the course of months, depending on the weather, and are sold to local farmers and Phnom Penh botanists for $0.12-0.50 per kg. It isn't exactly a lucrative business, but before Comped began its composting program, all the organic waste was simply dumped in landfill.
"When organic waste mixes with hazardous waste, it decomposes and contaminates the groundwater — many rural communities here rely on the groundwater for cooking, bathing and drinking, so it's a serious health problem," John says.
He also warns that, when left to rot on the streets or in the landfill, organic waste attracts flies, which can then spread diseases — a problem he said is keenly felt by communities who live nearby the landfill. Every year, Cambodia's landfills also burn due to the excess gases produced by the decomposition of organic waste, he adds.
Discarded Opportunities
About 23 km away, in Khma Koul district, Nirat Khaengkhan and Neang Chanthara are tackling waste from another direction after founding Battambang Plastics Products (BPP) in 2017.
"Firstly, BPP is a business," explains Nirat, who moved from Thailand to Cambodia after working in plastic recycling and seeing a gaping hole in the market here. "Bottles aren't that cost-effective, but plastic bags are good — the environmental issues they cause is also a factor. But back in Thailand, there are huge factories processing plastics in a semi-sustainable way, so when we see plastic litter all over Cambodia, it's sad, it's ugly, but to me, it looks like someone has just left money lying about in the streets."
"We know that, with the right machines and processes, all of that plastic waste can be turned into good money," he adds.
BPP is currently going through around 50 tons of plastic every month, for which they pay 300 riels — roughly $0.07 — per kg. The dirty plastic is then machine-washed, dried out in an industrial-sized rotating cage, categorized by color then melted and cut up into plastic pellets roughly 2 cm in diameter.
BPP initially sold the pellets to Thai carrier-bag manufacturers, but the logistics, customs and taxes on exports were paring down their already thin profit margins.
"That's why we invested in the machine needed to make the bags. We got it secondhand as it's a very expensive piece of kit. We have to send it back to Thailand every time it breaks down. Nobody here can fix it," Chanthara says.
BPP sells between 2 to 2.5 tons a month, and assiduously seeks out new sources of waste. The company has been in talks with supermarkets, hospitals and even Coca-Cola, but part of the problem is that only certain types of plastics can be recycled. Low-density polyethylene cannot be recycled, as it basically evaporates when you melt it down, so the struggle has been convincing retailers to switch to higher-density plastics that can be recycled more effectively, Chanthara says.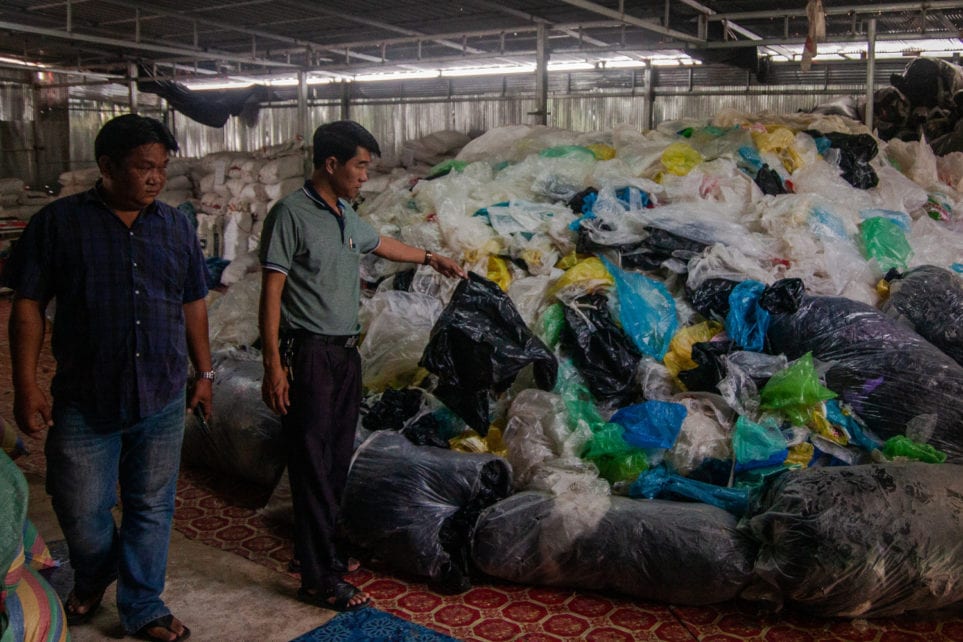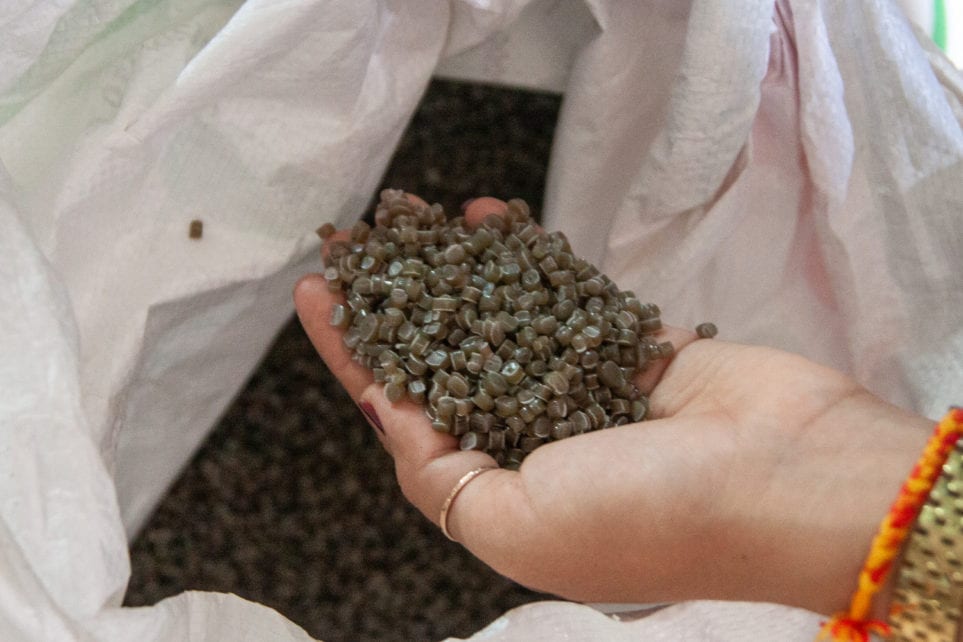 Picking Up the Pieces
Meanwhile in Phnom Penh, festering problems of waste management had become both visible and pungent amid rapid urbanization by around 2016. Jica, the Japanese international development agency, at the time showcased solutions to waste management in Cambodia. The event ended with a 1-minute cleanup of an area besieged by trash, recalls Grace Smith, co-founder of Go Green Cambodia.
"Oh gosh — we need to be doing a lot more than just a 1-minute clean-up and posting a photo online," Smith remembers thinking at the time, and it inspired her to organize her own clean-up event. "So mid-March, we put out a Facebook event thinking that maybe 50 friends maximum might come. Turns out 150 people showed up."
"When it was all over, people were all asking, when's the next one?"
A year later, Go Green's 2017 World Clean-up Day saw some 32,000 people volunteer at events across 24 provinces in Cambodia.
"We funded and sponsored the clean-up equipment and dispatched the bags and tongs, as well as coordinated with local waste collection companies to come and collect the waste on selected days," Smith says.
It was at this point that the government stepped in. Apparently fearing that Smith's army of litter-pickers may constitute some sort of political rally, Phnom Penh City Hall threatened to shut down Go Green's events. But the dialogue instead ended in a partnership.
Working with the city, Go Green has expanded to work on a smartphone app to let people report areas in need of a clean-up and on developing an environmental education curriculum.
Volunteer clean-ups aren't enough, she says. Long-term change from the top to improve waste management is needed.
"There's a lot of goodwill on behalf of the government and they're working very hard," Smith says. "But because it's been 40 years of crazy, nonsensical lack of management and very individualistic, city-by-city management … that takes a long time."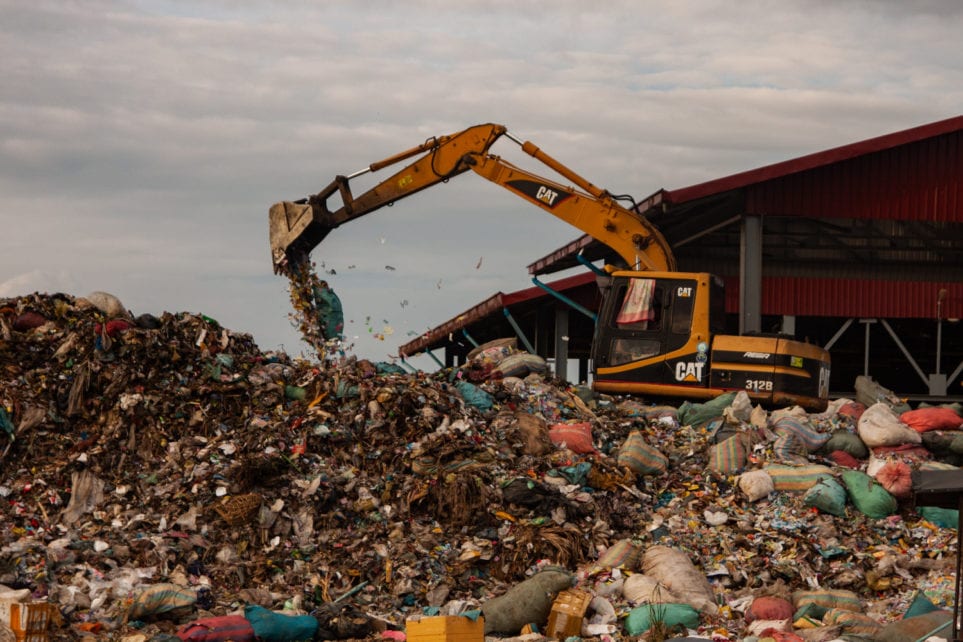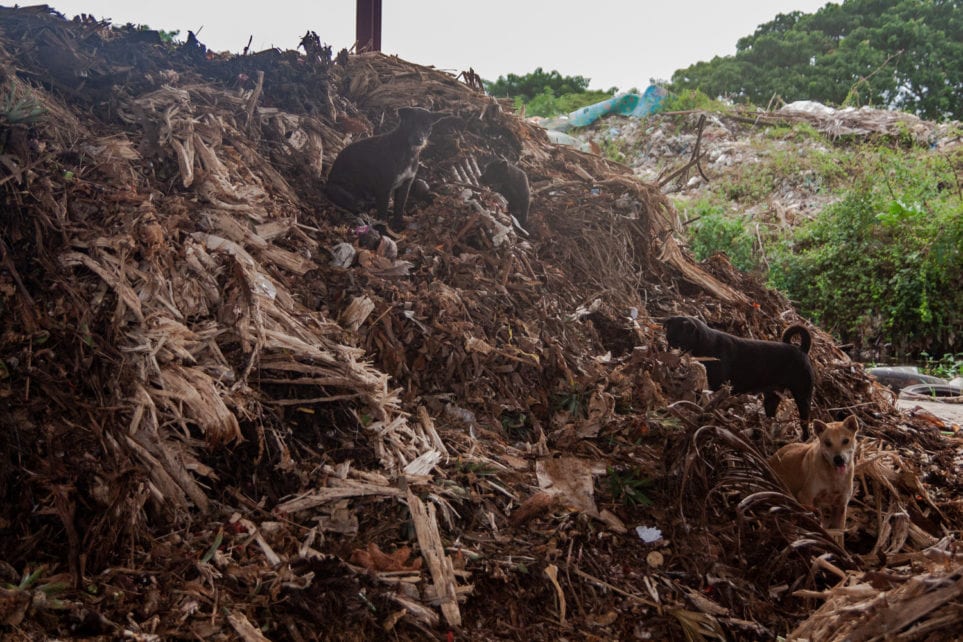 Building a Bridge
Environment Ministry spokesperson Neth Pheaktra says Cambodia is currently generating almost 4 millions tons of garbage annually — more than 10,000 tons per day. Phnom Penh is responsible for as much as 3,000 tons of that volume each day, with 68 percent of it organic and 20 percent plastic, he says.
"The Ministry of Environment has delegated to the provincial and municipal administrations in managing all this waste, while the Ministry of Environment only provides techniques and policies for these issues," Pheaktra says.
But for some, the lack of central coordination is part of the problem. Every province and municipality is left to fend for itself with meager funding provided by the Finance Ministry: just $2.25 million was available for 25 cities in 2016.
Jerome Fakhry, country officer for the Global Green Growth Institute, a Korea-headquartered intergovernmental organization, says rivers, waterways and the air are suffering from the government's unwillingness to tackle the problem of waste.
Fakhry points to the $10-20 fees per ton that Vietnamese and Thai landfills charge their waste collection companies and questions why the government isn't seeking to leverage the growing volume of waste as a potential industry.
"Waste can create business, but most of Cambodia's waste is currently going through the informal sector to Vietnam and Thailand to be recycled," Fakhry says. "So obviously if the waste can be collected and recycled, then there is value to it. So why not recycle some of it in Cambodia so you can create businesses, create jobs and generate revenue within Cambodia?"
Fakhry praises the community-led initiatives that have been launched to tackle the problem of waste, but warns that the problem is too complex and overlapping for any one group to solve with goodwill and innovation alone.
"From my point of view for Cambodia, I feel there's a need for large-scale processing of waste," Fakhry says. "Everything that we've talked about has its place, but in the short-term if you want to make a dent in the level of waste and pollution, then you need large-scale waste processing facilities, especially in Phnom Penh, otherwise, all the other solutions will be too slow-going to make a difference in the near to medium term."
Nick Beresford, the UNDP's country representative for Cambodia, says the many moving parts of waste management make it incredibly difficult to solve in the short-term.
One option is realigning incentives, he says. Cintri currently pays just $0.75 per ton of waste dropped off at Dangkor, Phnom Penh's landfill. By raising these fees, there would be a financial deterrent against simply dumping unsorted waste into a landfill and more money would be provided to the municipal authorities to better deal with waste.
"It's a little like the analogy of building a bridge over a river," Beresford says. "You build one part of the bridge, but you still can't cross the river and it's trying to get coherent parts of the value chain to work simultaneously to make a breakthrough — that is actually quite complex."