Small pockets of support for striking NagaWorld workers are emerging: at the Angkor Beer factory in Sihanoukville, Coca-Cola factory in Phnom Penh, and 27 Caltex gas stations, and among unionists in Malaysia.
Calling labor rights violations a "social disease," the supporters said they were taking small actions to show their backing — posting photos on social media, bringing bottles of water to rallies and filing a letter to the Cambodian Embassy in Kuala Lumpur.
It has been 40 days since workers at Phnom Penh's monopoly casino NagaWorld began near-daily rallies in the capital protesting the termination — and, later, jailings — of unionists. Some 1,300 workers were laid off last year amid Covid-19, 1,100 of whom were union members, according to labor advocates. Nine top NagaWorld union activists have been arrested amid the ongoing protests, which a court has deemed illegal.
Yoeun Reth, union president for Phnom Penh Chevron workers, said members at 27 Caltex gas stations in the capital had joined a social media campaign calling for the release of the jailed NagaWorld unionists.
His workers had also brought water to the NagaWorld rallies, though authorities have stopped them from continuing to do so. They were also prevented from joining the protests after checking their IDs, Reth said.
Covid-19 was part of the justification given to them, he said.
Their support stemmed from the fact that problems faced by workers were not exclusive to NagaWorld, but common across workplaces, he said. "This is a social disease and it spreads into our system and needs to be treated," Reth said.
Caltex gas station workers are familiar with protesting against an employer. The workers protested in 2014 asking the petrochemical giant to increase their minimum wages at the time.
Khem Mao, union leader at the Angkor Beer factory in Sihanoukville, said a small handful of his 160 members had also posted social media pictures in support of the NagaWorld strike "as we are [also] employees and victims."
"I don't know if in the future my relative is going to work there and might become a victim like them, so I should do something to support them," Mao said. "It's sad. Look at the NagaWorld Company, with two skyscrapers on land by the water. But they are hurting their own children. I cannot find a word to describe this feeling. We are not just working in one sector, we are working in the same system."
His union also faced pressure to be dismantled in 2016, but conditions had improved since ownership changed to Danish brewer Carlsberg, he said.
"The arrest of union members is so terrible," Mao added.
Ke Chanrithy, union president at Coca-Cola factory Cambodia Beverage, said he had met with members about the NagaWorld situation on Friday, and a few had joined the daily rallies over the weekend. They also posted photos online with placards.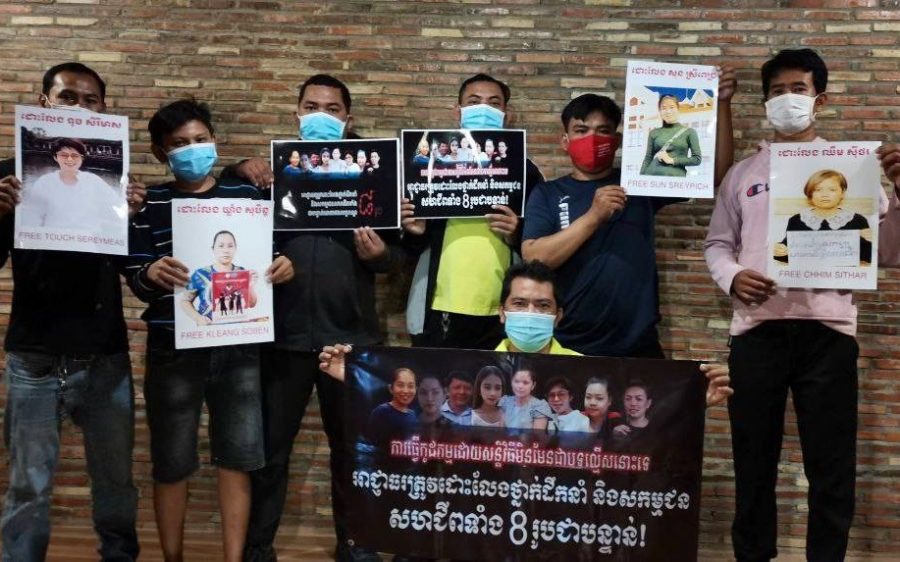 "We asked them to join their campaign after we introduced ourselves. So that protest allowed us to join," he said.
Workers should be demanding their labor rights, he said. "We plan to go there again after we have a meeting with local unions."
In Malaysia, the home of NagaCorp owner Chen Lip Keong, Labor Law Reform Coalition co-chair Gopal Kishanam said unionists visited the Cambodian Embassy last week to submit a letter in support of the NagaWorld workers.
At the time, officials would not take the letter, Kishanam said.
"We support their struggle and we stand for them and act. This is the workers' right and a human right," he said, anticipating more global support if the strike continued.
NagaWorld union activist Meach Sreyaun said she approached the daily rallies like a professional responsibility.
"This is the same as going to work," she said.
The number of daily protesters stayed roughly the same, though weekends had lower attendance as members needed to take care of family obligations, Sreyaun said. The workers felt less alone seeing other workers backing them, she added.
"Their support is motivation in our struggle to keep going," Sreyaun said.
NagaCorp issued a statement this week via government-aligned news outlet Fresh News denying it had targeted unionists in its mass layoffs, saying union membership had only dropped from 47 to 42 percent over the past year.
Interior Minister Sar Kheng this week urged all parties to be patient and not turn their backs on each other, without mentioning the arrests of unionists.
NagaWorld workers have said that jailed union leaders should be released and lead negotiations.
Premji Jikla, Southeast Asia officer for IUF, an international union federation for food workers, said the NagaWorld workers had displayed strength in their peaceful labor actions.
"We have observed that people from the outside, and including authorities, are surprised by the union's strong commitment."
Ou Tepphallin, president of the Cambodian Food and Service Workers' Federation, said that, for now, workers around the country were refraining from joining the NagaWorld rallies in large numbers "in order to prevent something from happening." Their support was limited to social media, she said.
"We stand in unity with our brothers and sisters who are standing in front of Naga even if we cannot show up there together."