Prime Minister Hun Sen said he met with Australian Foreign Minister Marise Payne in Phnom Penh on Monday, where Australia reiterated its support for Cambodia's chairing of Asean and said 1 million doses of Covid-19 vaccines would be delivered before year end.
Hun Sen met with Payne at Phnom Penh's Peace Palace as part of her two-day visit to the country. The Australian diplomat also met with Foreign Minister Prak Sokhonn on Monday afternoon and visited a women's emergency shelter with Women's Affairs Minister Ing Kantha Phavi.
While the Cambodian Foreign Ministry was yet to publish an official statement on the meetings, Hun Sen posted on his Facebook page that Australia would come through on its pledge to donate 2.3 million vaccines by starting with 1 million doses before the end of the year.
At the launch of a vaccination drive of 5-year-old children last week, Hun Sen complained that Australia had pledged Covid-19 vaccines for Cambodia but had failed to follow through on delivering them.
"We are expecting Australia's 2.3 million doses with the cooling system that is not [yet] clear to us by now," he said. "I needed something clear. A promise is taking a long time."
Cambodia has one of the highest vaccination rates in the world, with around 87 percent of the general population having received at least one dose of a Covid-19 vaccine.
He added that Australia had supported Cambodia's turn to chair Asean, which was formalized in a handing-over ceremony last week.
Despite the cordial tone in his Facebook post, Hun Sen said earlier in the day that there was speculation the Australian foreign minister would pressure Cambodia during the visit but that he would not allow that.
"For Hun Sen, the one who wants to come to pressure Hun Sen, please do not come because this is the right to give a visa or not — this is the right of Cambodia," he said at the inauguration of a new Land Management Ministry building in Phnom Penh.
Requests for comment to the Australian Embassy received only an auto-generated response.
Australia has in the past year delivered Covid-19 aid and materials, more than 3 million doses of Covid-19 vaccines and worked with Cambodia on demining, agriculture development and health care. An Australian naval ship docked at Preah Sihanouk's Sihanoukville last week and delivered hundreds of kilograms of Covid-19 materials.
The ambassador, Pablo Kang, has met with former CNRP president Kem Sokha and raised concerns about the delays in the treason trial.

Minister Payne also met Sokha at his residence on Monday, according to a post on the former CNRP president's Facebook page. The post said Payne had spoken about Australia closely monitoring the democratic and human rights situation in Cambodia.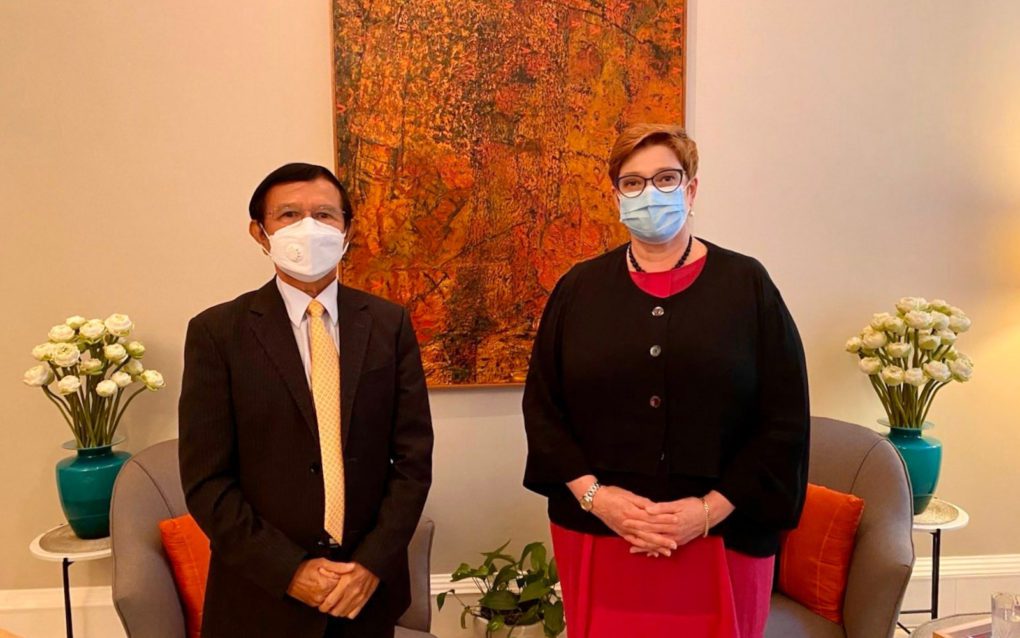 Phil Robertson, Asia deputy director for Human Rights Watch, said the Australian foreign minister should press Phnom Penh on the persecution of opposition CNRP members and environmental activists, adding there were now more than 90 political prisoners, according to the organization's records.
He said Australia should also adopt laws like the United States' Magnitsky Act to sanction senior members of the CPP with business links to Australia. Robertson added that Australia needs to be transparent about its involvement in helping to establish a national human rights institution in Cambodia.
"Australian discussions with the government should be totally transparent, with clear and consistent messaging on what advice, if any, is being provided to the government on this issue," he said.
Local NGOs and rights groups have been critical of Cambodia's recent push to establish a national human rights commission because of what they say is a non-conducive political and human rights environment in the country.
Cambodia's stint at the helm of Asean may have gotten off to a shaky start after the Ministry of Foriegn Affairs' spokesperson Koy Kuong told VOA on November 5 that they would seek to change the current special Asean envoy to Myanmar.
Earlier last week, Malaysian Foreign Minister Saifuddin Abdullah said that Asean should keep the same envoy, Erywan Yusof, who is the second Foreign Minister of Brunei.
"If you ask me, I would prefer we stick to the same envoy. After all, Erywan is the special envoy of the ASEAN chair," Saifuddin told reporters in Putrajaya.
"For the sake of continuity, let him remain [as envoy]."
The announcement to select a new envoy to Myanmar was indicative of Cambodia's opposition to Asean's critical view of the new military junta, which took over the country in February, said Paul Chambers, who is a visiting fellow with ISEAS-Yusof Ishak Institute in Singapore.
He said that the decision could result in a "ruffling of feathers" among Asean states.
"I honestly doubt that Cambodia really wants to find a peaceful solution to the problem in Myanmar; instead it wants to improve relations with Myanmar by working to appoint a new envoy who will be less assertive in demanding reforms from the military regime there," he said in an email.
The military junta in Myanmar had refused Yusof entry into the country for a meeting with Aung San Suu Kyi. This led to other Asean countries barring junta leader Min Aung Hlaing a seat at an Asean summit last week.
Additional reporting by Mech Dara
Updated on November 9, 2021, to reflect the number of vaccines being given by Australia.