TAKHMAO CITY, Kandal Province — When Sour Socheat settles in for the night under a tent in Takhmao City, she knows she will not sleep.
On the three or four nights per week that she guards the entrance of the shuttered factory where she used to work, Socheat says she and the other unemployed garment workers on watch are disturbed by animals, drug users and gangsters.
"Every night, we cannot sleep," she said. "We need to play [games] and sit together until early morning. Sometimes big trucks drive very fast, shaking the ground, frightening us a lot, and when it is raining, we cannot sleep here and so we go to ask a neighbor's permission to stay under their canvas for one or two nights."
But her biggest concern is not a lack of sleep.
Socheat, 37, lost her job last month trimming excess cloth off completed pieces on the assembly line at the now-closed Dignity Knitter factory. She is most concerned that the factory's owner will remove and sell factory equipment without compensating her and more than 1,000 other fired workers for their unpaid wages.
"We do not trust the company," Socheat said. "It is very difficult for us, but we will still sleep [outside] and guard this factory until [our demands] are addressed."
She is among about 100 former employees who have been taking turns camping in front of the factory since mid-January. They aim to ensure the owner does not sell garment-making equipment left inside and disappear with the money without paying workers what arbiters say they are owed by the end of May.
The workers have reason to be on guard. Located in Takhmao City's Sitbou commune, Dignity Knitter and its sister factory Eco Base — which supplied to international brands including U.K. retailers Debenhams and John Lewis — started shorting workers of their wages in December and later fired more than 1,000 employees in total.
Nationwide, more than 100,000 garment workers have been suspended due to declining international orders and consumer demand amid the Covid-19 economic downturn, or about 1 in 8 workers in the garment sector.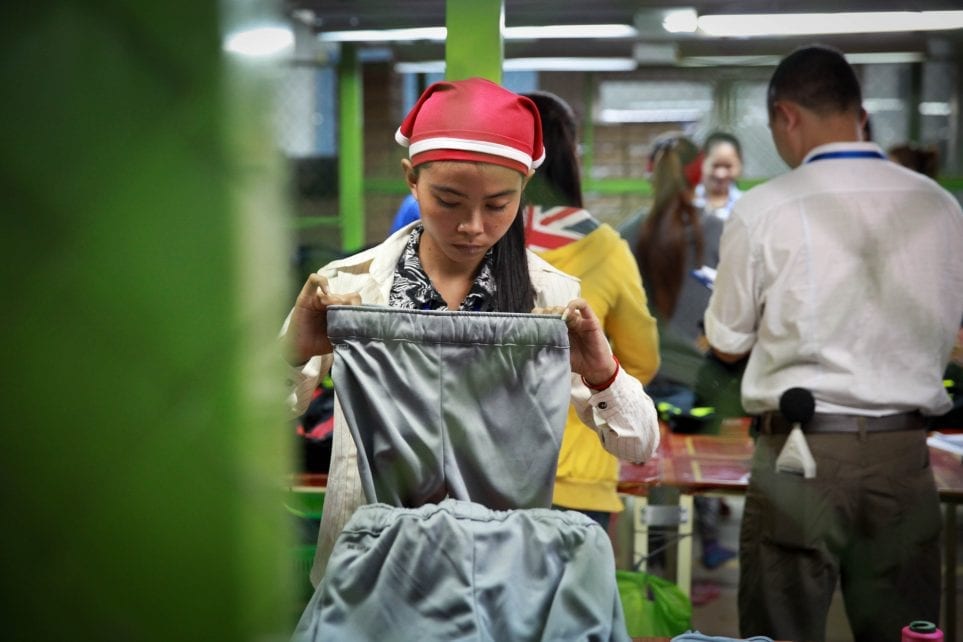 Cheuk Bunsan, who once ironed clothes for Dignity Knitter after they were pieced together, told VOD in early May that workers at that time were still waiting for wages from December, January and February, and they had reason to believe the factory owner would try to avoid compensating them.
"During January, February and March, the factory tried to take stuff out such as machines and other goods. So, we who are waiting for payments for December, January and February need to stay and guard in front of the factory in order to make them pay us," he said.
Ou Ratana, a Labor Ministry official in charge of labor disputes and resolutions, said earlier this month that the factory and employees had agreed to a settlement in which workers would be paid owed wages for December and February, as well as compensated for being fired without sufficient notice and for unused vacation time.
Workers told VOD they were paid their January wages.
The Dignity Knitter factory closed on April 7, but workers and the factory agreed in an Arbitration Council hearing that workers would forfeit wages for March and April, Ratana said.
Bunsan, an activist for the factories' chapter of the Coalition of Cambodian Apparel Workers Democratic Union (CCADWU), said workers would receive between $1,200 and $1,400 each under the settlement, though he and other former employees said they still had not seen this payment, so the 100 workers continue to guard the factory.
Dignity Knitter Limited's owner did not reply to multiple emailed requests for comment.
Sout Sineat, a 32-year-old former employee, said conditions while on watch were uncomfortable because they had to ask sympathetic neighbors to use their toilets and electricity, but most neighbors were generous.
Each night they keep guard, Sineat said they start pitching their tents — a tarp suspended by posts over a wooden platform — at about 6:30 p.m. and eat a simple meal of instant noodles and salad bought from a market across from the factory.
In late April, Sineat said she stopped two men from entering the factory at night who she believes intended to take electronic parts off some of the factory's machines. The worker said she was determined to prevent the company from taking equipment unless the removal is through a compensation arrangement with the Labor Ministry.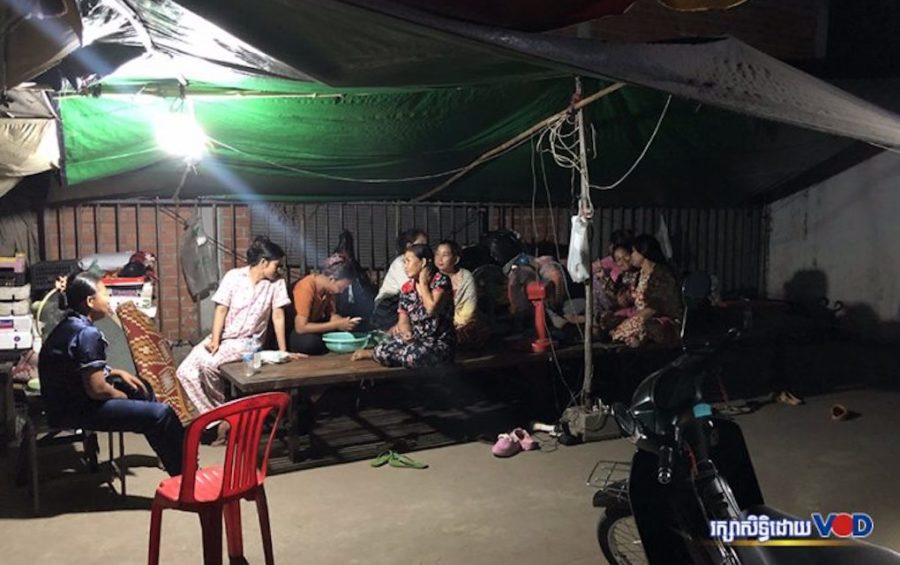 Another Dignity Knitter employee, Sao Sarun, said in early May that she had a rented room near the factory, but she chose to stay outside through recent rainstorms because she did not want to lose the compensation owed to her after spending 14 years working on the company's assembly lines.
"[We] do not know when they will pay us, so we need to do this," she said. "There are animals and others coming to disturb us, but we need to be patient. If we are not patient, we would have nothing."
Meanwhile, Sineat said the fired workers are taking on new debts to maintain a presence outside the factory and compel the owner to pay.
"Now, debts are going around," she said. "[Workers are] borrowing from one person to pay another person and so debts are rising. [I] request [the government] to start considering this matter because factory workers are in big trouble."
Kong Atith, CCADWU's president, said that as the demonstration vigil continues, workers' health and safety face higher risks, especially during the Covid-19 pandemic.
"It creates a bad image that this problem has not been solved, so it would affect the face of the government and our country if the problem is ongoing for a long time," Atith said.
Ratana, from the Labor Ministry, said the factory had agreed to pay wages and other benefits to the more than 1,000 workers on May 30, which he described as a positive sign.
Seang Yout, conflict resolution officer at CCADWU, told VOD in late April that the company would have to spend at least $1.5 million to compensate the 1,000 workers. While most worked at Dignity Knitter, about 200 are from the Eco Base factory, according to the unionist Bunsan.
Back in February, Debenhams, the U.K. retailer that purchased clothes from Dignity Knitter, wrote a response to international watchdog Business & Human Rights Resource Centre about the factory's unpaid wages, saying it was monitoring Arbitration Council outcomes between workers and the factory, and that its supplier code of conduct requires that "wages and benefits paid … meet a minimum national legal standards or industry benchmark standards, whichever is higher."
Socheat, who used to put the finishing touches on Dignity Knitter's clothes, said she would not stop guarding the factory until the agreed compensation was in her and her peers' hands.
Both Eco Base and Dignity Knitter had failed to pay workers' wages in the past, so even as the May 30 payout deadline approaches, Socheat said she would continue to spend nights outside her former workplace.
"Previously, [the factory] did not respect agreements [with workers] many times. Not one time," she said.
"If the factory pays us … as promised, then when we get the money, we would go back home," she added.
(Translated and edited from the original article on VOD Khmer)
Note: This report was produced with support from the Rosa Luxemburg Foundation under the financial support of the German Federal Ministry for Economic Cooperation and Development.