Fishing communities in Kampot and Kep provinces are under threat as a coastal tourism project linked to the wife of a government minister is reportedly moving forward, the Cambodian Center for Human Rights said.
In a report issued this month, the NGO said it had found many local concerns while conducting a survey among five fishing communities slated to be affected by the Omni Kampot Development.
The report noted that one of Omni's directors is Khem Rany, who is the wife of a high-ranking government official. Her husband has been reported to be Kao Kim Hourn, minister delegate attached to the prime minister. The Commerce Ministry continues to list Rany as a director, though officials previously told the Phnom Penh Post that she had stepped down from the Omni project.
The Omni development has been quiet since 2019, when its representatives informed local residents about the project. However, CCHR program coordinator Vann Sophat said this week the NGO had spoken to consultancy Creative Green Design mid-last year and was told its final impact assessment of the project had been completed.
Sophat said the consultancy informed CCHR that developers were coordinating with provincial authorities to begin work on the project.
"Until that moment, we hadn't seen any more activities from the company, but we received the information from the representative from the consultancy company," Sophat said. "So that's why the people in five communities in both Kep and Kampot are worried about the impacts."
Creative Green Design director Tous Saphoeun declined to comment.
An architectural map of unknown origin previously seen by reporters put the development — which would be built on landfill in the sea — at nearly 4,000 hectares.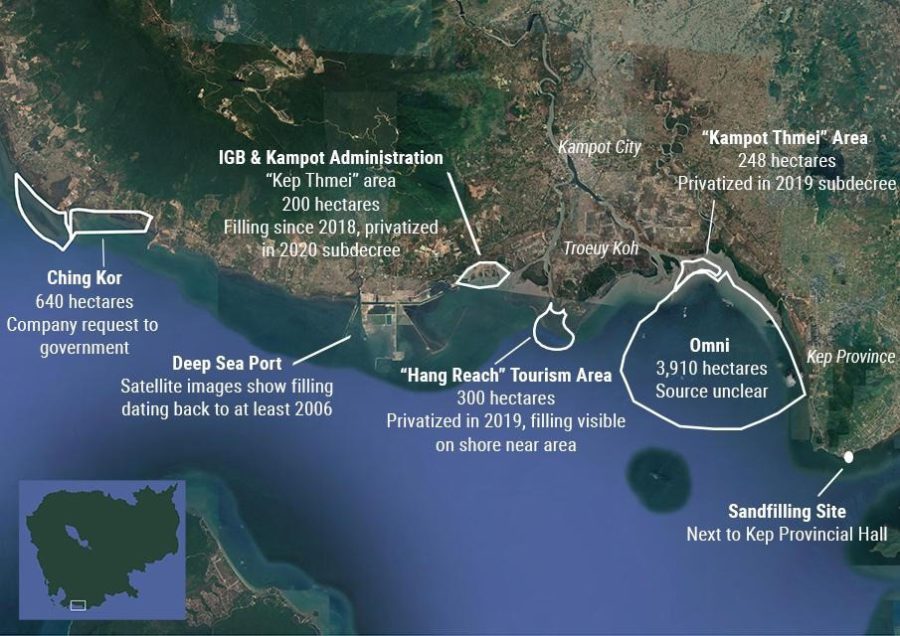 Sophat said he had seen parts of a presentation based on preliminary findings of the environmental and social impact assessment. These showed that 47% of the fishing grounds of Kampot's Trapeang Sangke community would be affected by the development, as would 78% of the area for Kep's Phum Thmei community. The impacts on the other three nearby communities would fall somewhere in between those levels, he said.
Sen Nos, deputy head of the Trapeang Sangke fishing community, said local residents had opposed the development, as it would seriously diminish fishers' livelihoods.
"There would be huge impacts, especially jobs. Fishermen with low education only know how to fish to feed their children," Nos said. "But whether we win or not, if the government wants to develop it, then it would be decided that way. If the Omni company develops it, the people will be the most affected."
The Trapeang Lpov Prek Treng fisheries community is not one of the five under immediate threat of disruption from Omni's development, but deputy chief Tith Rin said his community, further west in Kampot, was also in line to lose out from a separate sea-filling project, Ching Kor.
"When they develop, they pour soil into it, affecting marine resources such as corals, seagrass, mangrove forests, biodiversity of all kinds," Rin said.
Kampot provincial governor Mao Thonin hung up on a reporter. Toek Chhou district governor Nak Sovannary and Kep provincial governor Som Pith did not pick up. Omni could not be reached through a phone number listed with the Commerce Ministry.
Fishing communities were introduced in 2005, giving "Khmer citizens" the right to jointly establish fishing areas where they live to improve their management. Such communities can be canceled if the government deems "another purpose provides higher public and social benefit" to the country. CCHR says the destruction of community fisheries without adequate consent or consultation would amount to breaches of several international rights.