Several Phnom Penh communes say they have recorded a rise in non-Covid-19 deaths this year, while a clinic and hospital say their patient numbers are down significantly as people choose self-treatment amid pandemic fears.
Six communes around the capital provided figures for the number of residents who have died this year compared to the previous year, though some other communes declined to disclose the statistics. One commune, Dangkao, broke down the deaths for the first half of each of 2019, 2020 and 2021, as well as by pagoda where the bodies were cremated. The other communes provided full-year deaths for 2020 as well as deaths in 2021, either through the end of June or July 21.
In every commune that provided figures, deaths in 2021 are projected to surpass, or have already surpassed, the number of deaths in 2020 even excluding Covid-19 deaths, though the increase is minimal for some.
Choam Chao I commune chief Kong Vong said his office was struggling to keep up with the paperwork due to the increase in deaths this year. "It hasn't been smooth like 2020," Vong said. "The deaths have increased."
The commune had issued certificates for 34 deaths as of July 21, but there were another 11 to 12 that had yet to be processed, he said.
Trapaing Krasaing commune, in Pur Senchey district, only had around seven deaths in 2020, according to commune chief Horn Ratha. But the commune has seen 13 deaths already so far this year — six from Covid-19 and seven from other causes, Ratha said.
In Dangkao commune, Sambor Meas and Thou Dong Chamkar Dong pagodas have cremated 33 and 20 residents, respectively, in the first half of this year, said commune chief Soeun Serey. In the first half of 2020, the numbers were only 14 and five.
Including residents cremated at four pagodas in the area, at their homes using mobile furnaces or after being sent to other provinces, the commune recorded 96 non-Covid deaths in the first half of the year, up from 33 last year and 35 in 2019, according to Serey's figures.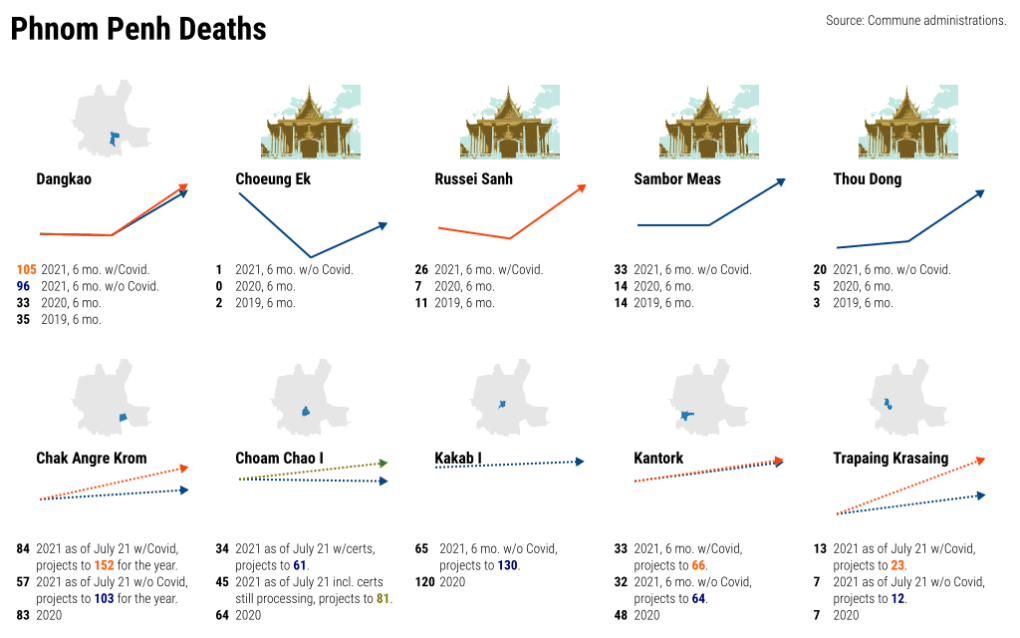 Doctors say they are concerned that fewer people are coming to get treatment at hospitals and clinics, possibly due to fears of contracting Covid-19.
Sok Phal, a doctor at the Chamkar Doung Health Center, said the number of patients coming into the hospital was down 70 to 80 percent this year.
"There has been a huge decrease," Phal said. Patients were putting off hospital visits until their conditions turned critical. "They come when they are critical, and every time they come, it's very difficult to give treatment," he said.
"It's not only my place, but everywhere is like this," Phal said. "They are scared of Covid-19."
Patients were choosing to self-medicate rather than see a doctor, he said. "They treat themselves. … This is called self-treatment. This is not good."
At the Ny private clinic in Stung Meanchey, patient numbers were down 60 to 70 percent since April, said the clinic's lead doctor, who would only give his name as Ny.
"Mostly, people only come to buy the medicine, and after they buy them they leave very quickly," he said. Patients could be afraid of contracting Covid-19 during their doctor visits, he said. "We are afraid of them, they are afraid of you."
Even some people in serious health conditions were refusing treatment, Ny added. "Now, when they are in a critical condition, they just come to buy medicine. … We ask them to get treatment but they do not agree, and they just want medicine."
City Hall governor Khuong Sreng immediately hung up on a reporter. Municipal councilor Pa Socheatvong, a former governor, said the city was compiling a report about deaths this year, but it was not ready to share immediately with journalists. Interior Ministry spokesperson Khieu Sopheak did not answer questions.
At pagodas, extra precautions are being taken. Nuth Vanny, a monk at Chroy Changva's Wat Chas, said corpses and the deceased's family members are all tested for Covid-19 before cremations and ceremonies.
"This year there seems to be many people who come to cremate, because there are many aging people who have died," Vanny observed. "In the past, the pagoda used to cremate one a day, one or two. We have never experienced six or seven bodies in a day like it is now. Last year it took a while to see one or two bodies in a whole month."
Vanny nevertheless thought the rise in cremations was "just a coincidence."
Soeung Heng, chief monk at Dangkao's Thou Dong Chamkar Dong pagoda, said it was hard to estimate from his vantage point whether there had been an increase in deaths, but this year was the first time the pagoda was cremating bodies in two furnaces at the same time. However, "we cannot make a conclusion," Heng said.