Yap Sokry leaped into a large pond with 20 to 40 villagers in pursuit, according to several accounts. Four of them found a rowboat and chased as he swam.
After about 30 minutes of shouting and chaos, Sokry's head was smashed open. He bled onto a dirt path onto which he had been dragged.
The Cham fisherman was killed on Wednesday after being caught stealing bananas from a plantation in Kandal province — that much is consistent between the accounts of family, villagers and authorities, but many details are unclear.
Two days later, only hesitant second-hand tales pervade Kampong Pring village, in Takhmao city's Setbo commune.
While the small local group of impoverished Cham fishers calls for justice, the court is examining the killing as a case of self-defense.
A village chief says police questioned four people over the incident. Lak Mengthy, director of the provincial police's minor crimes bureau, says one of them was arrested.
Provincial court spokesperson Tin Socheatra said on Monday that the arrested suspect had been released. "[Deputy prosecutor] Sun Yeuth decided to allow the person to go home temporarily after his arrest because she will review his actions as legal self-defense," Socheatra said.
The Chase
Sokry had been threatened in the past for stealing bananas, says his cousin, Ya Smathel, sitting on a small wooden boat. "One day," villagers had warned him, according to Smathel.
The Cham community there lives from shore to shore — from one side of the river, where they moor at the bottom of a steep bank, under stilted houses that discharge sewage onto them, and from where they carry fish up to the market; to the other side, where they eat and sleep on their boats at the foot of a banana plantation whose owners have made it clear they want them gone.
On Wednesday, Sokry spent the morning on a hammock under one of the houses and crossed over to the banana plantation around noon, Smathel says. He returned with two big stalks of stolen bananas and walked up a staircase to the market street.
According to Smathel, who was not himself at the scene, "authorities" began to chase after him. Sokry ran about 100 meters inland from the market, where he dropped the two big stalks of bananas and kept going.
He ran around the compound of the Goldfame Star garment factory, whose white walls are topped with barbed wire, and into a forested path. The path leads to a large pond.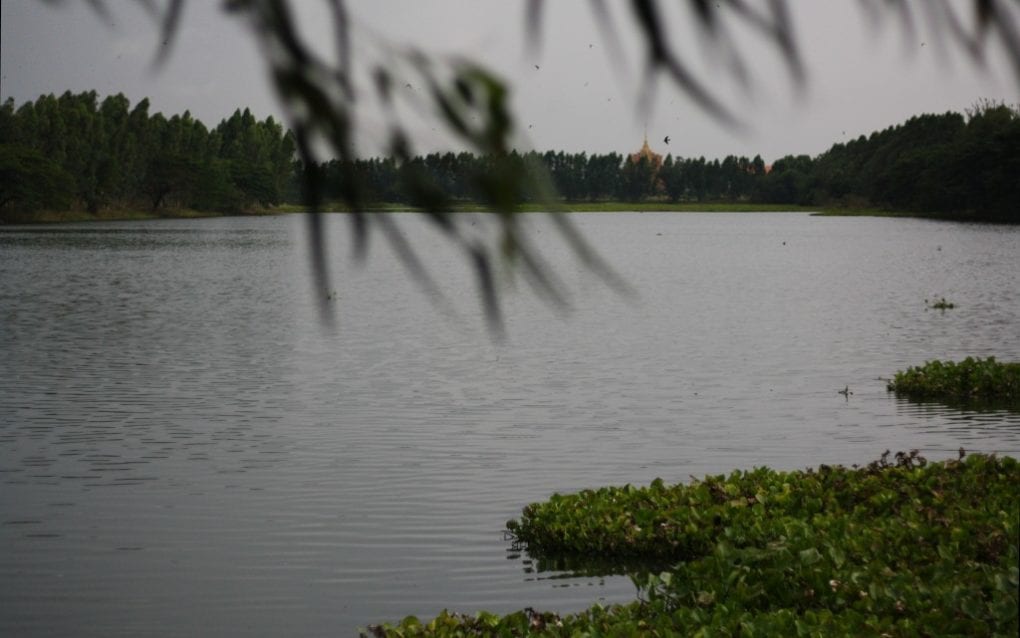 Late Friday afternoon, the area is quiet save for thunder in the distance and leaves rustling in the rising wind. A blue rowboat has been left in one corner.
A villager approaches, speaking nervously, saying no one has come this way since Sokry's death.
He points out a dark stain in the soil. Sokry lay there dead, he says. He also shows a dark stain on the side of the rowboat, saying that it is also blood.
The man, who says he is 20 but won't give his name, says he was herding cows nearby and heard shouting: "Drop the knife!" He hesitates to give further details.
Sokry ran back and forth for about 30 minutes. When he was dead, villagers scattered, he says, and police arrived later.
At the closest house, residents say there were many people on motorbikes and a lot of shouting, but say they don't know anything more.
Kampong Pring village chief Chan Sithon says he has pieced together what happened from villagers' accounts.
He says Sokry was chased from the banana plantation, since he was a known thief. Sokry had stolen bananas, longans, jackfruit, chickens and ducks, the village chief says. Since his death, nearly 40 villagers have signed complaints against him for theft, he says.
He fled with a knife in his hand, and jumped into the pond with it, Sithon says. Four people — village guards and plantation staff — followed him on the rowboat but Sokry attacked them, grabbing the oars and climbing onto the boat, he says.
Once on board, "he attacked the village guards and he jumped off to escape, and the people on land threw a hard object, causing him to fall into the water," Sithon says. "If they didn't help the guards, he would have killed the guard, but the people on the ground helped."
Sokry died from the impact of the thrown object, Sithon says.
"We do not know the face of the person who threw it because it was very crowded, and how could we identify them? There were 30 to 40 people," he says.
Sithon adds that Sokry had long been a problem in the village.
"They did not know what to do with him, but they endured and tolerated him for many years and did not want [to attack him] because they were afraid he would take revenge," he says.
Commune police chief Pok Vicheat and commune chief Oum Leng declined to comment.
'We Live in Fear'
Sokry's cousin Smathel, however, says Sokry's head was sliced cleanly open like a coconut. One side of his body was beaten black, he says.
Sokry's mother, Sos Mas, says her son was 32, single and friendly. She keeps scooping water out of the bottom of the leaky boat and doesn't say much.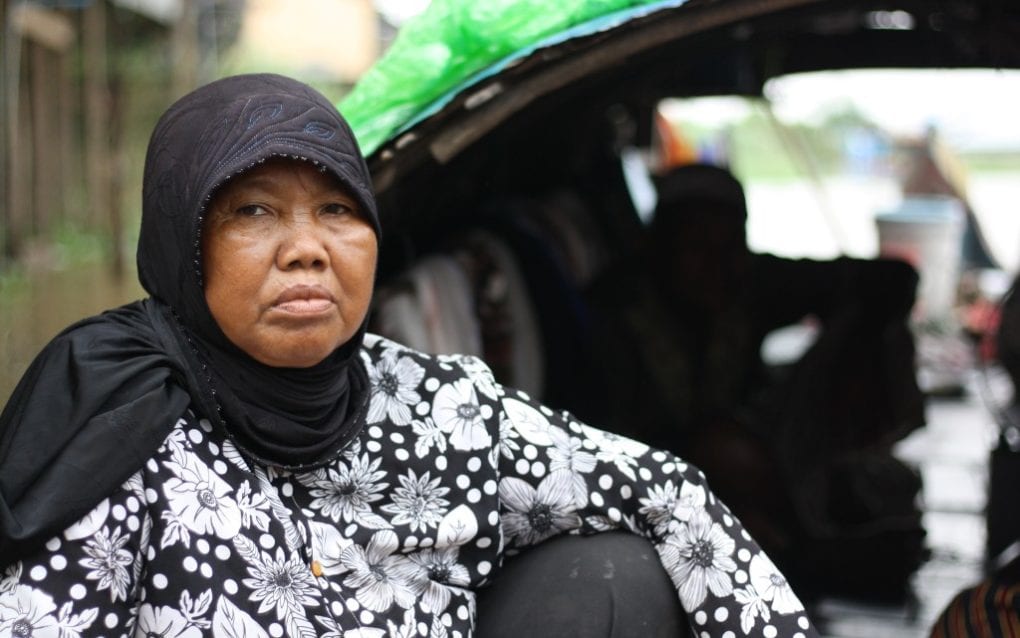 Naked children clamber around the stilts of riverside houses as about half a dozen boats are moored at the shore. Dozens of relatives cut the heads off small fish and carry away buckets of the day's catch.
Another cousin, Math Sary, 34, comes onto Mas' boat and sits down in Smathel's place.
"I don't dare to talk because I'm afraid I will end up in jail," says Sary, who is wearing a Muslim skull cap, and proceeds to talk.
He got a call during prayers around 3 p.m. that Sokry was killed, he says. By the time he got to the pond, there was only police, he says.
Hearing some people were arrested, he went to the provincial police headquarters.
He says officers told him, "You're almost the same as the person who was beaten up," and told him to file a complaint if he wanted action. It made him think police were putting the blame for the killing on the villagers, he says.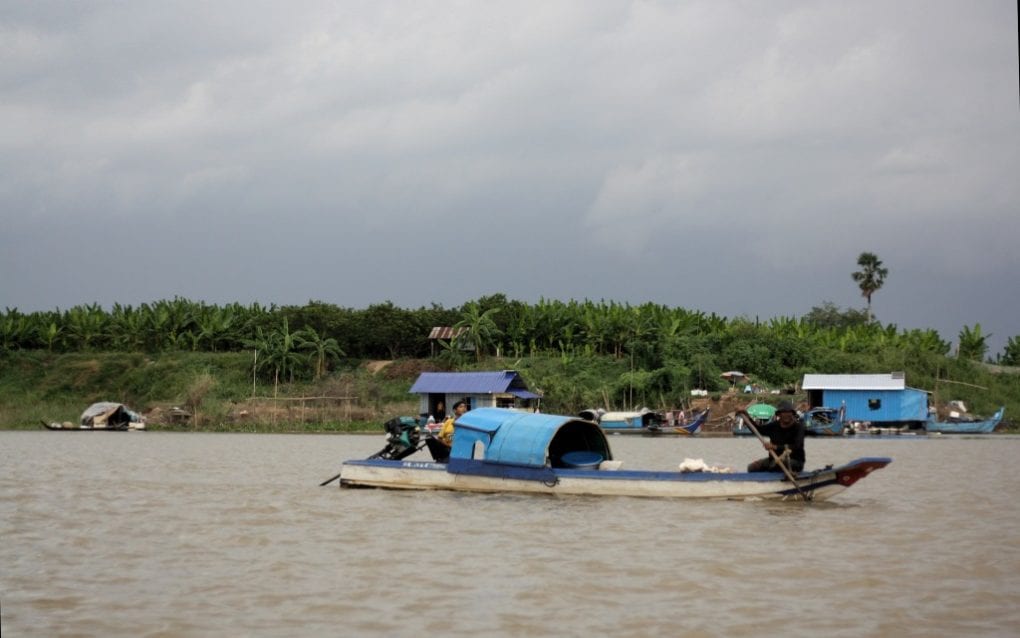 Sary complains that his community faces persecution. They want to take this away from us, he says, referring to the small sliver of sewage-dripping shore barely wide enough for a trash-choked staircase. "The owner of the plantation doesn't want us to moor our boats there either," he says about the far bank.
"They're killing our bloodline like animals," Sary continues. "If they can't find the perpetrator, they could kill one of us next time. We live in fear."
"We want justice," Sary says. He adds that he saw two large stalks of bananas at the provincial police headquarters.