A pipe installed under a Phnom Penh pagoda burst on Tuesday while moving dredged sand from barges on the Tonle Bassac river to landfill on Choeng Ek lake, with a pagoda representative saying City Hall had pushed for the pipe to pass through their grounds despite their reluctance.
Around 10 a.m. on Tuesday, the pipe "exploded" and flooded the dining hall at Wat Chak Angre Krom, in Meanchey district, said Hor Yeav, the head of the pagoda's management committee.
The 30-cm-wide pipe was one of six that had been in operation for nearly two years, Yeav said. They piped sand from the Tonle Bassac about 30 meters to National Road 2, where the sand is then moved to landfill on Choeng Ek, he said.
He said the pagoda had previously refused requests from companies to put any pipes under the pagoda's grounds, "because we were afraid there would be impacts."
"But the latest company, it had a notice from the municipal governor. He requested it for the purpose of an urban development project," Yeav said. The committee reluctantly agreed, but demanded compensation in case of problems, he said.
Now they wanted it moved, Yeav said.
"The pipes are underground — we can't see them from the ground — so we are afraid they will break again," Yeav said.
City Hall spokesperson Met Measpheakdey said he had heard about the exploded pipe and was looking into it. But he didn't know which company was involved, or why the decision had been made to put the pipe under the pagoda.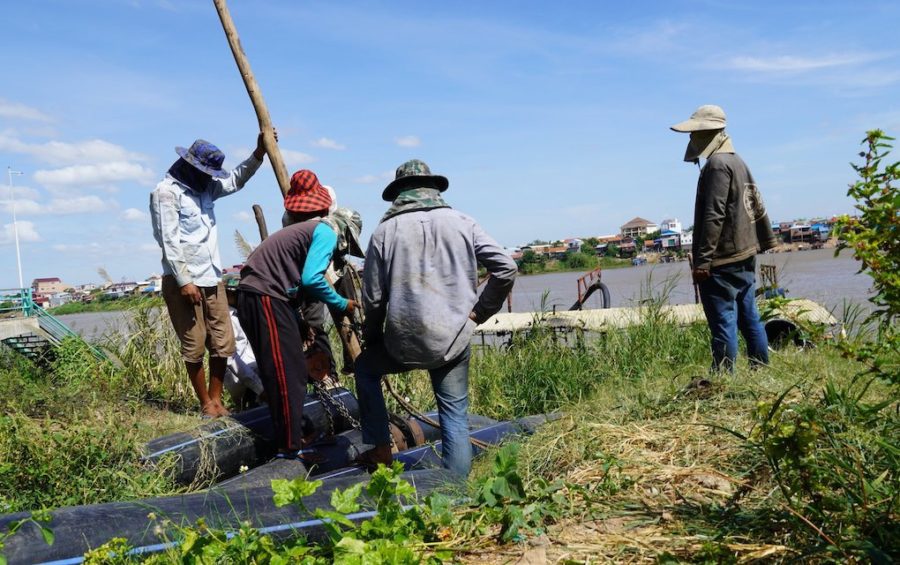 Meanchey district deputy governor Dy Rathkhemarun also said he didn't know the company involved, and suggested that a reporter look for a manager named "brother Try."
Nevertheless, Rathkhemarun said he had told the company to prevent the incident from happening again.
"I have confirmed with the company to conduct a review to study and prevent a second pipe explosion," he said, adding that old pipes and structures may need to be replaced with those of higher quality. "In short, [we] won't allow it to happen a second time, and if there is a second time, we will close down the operation permanently."
He said he did not know the company's business or from where the sand was being dredged.
Almost all of Phnom Penh's lakes have been filled up, mostly to make way for development projects. The southern Choeng Ek and Boeng Tompun lakes are being filled for a massive ING satellite city development project.
Urban development NGO Sahmakum Teang Tnaut says in a report that the lakes are "essential" for sewage treatment and flood protection.