Residents in Phnom Penh's flooded Dangkao district say they are running out of options as food prices rise and bills arrive and the incomes of thousands in the community have been disrupted after floodwaters halted production at the neighborhood's main employer.
Two weeks of flooding across the country has killed at least 34 people and inundated more than 320,000 hectares of farmland. In the capital, parts of the southern Dangkao district have been more than knee-deep in floodwaters for a week near the Prek Tnaut stream.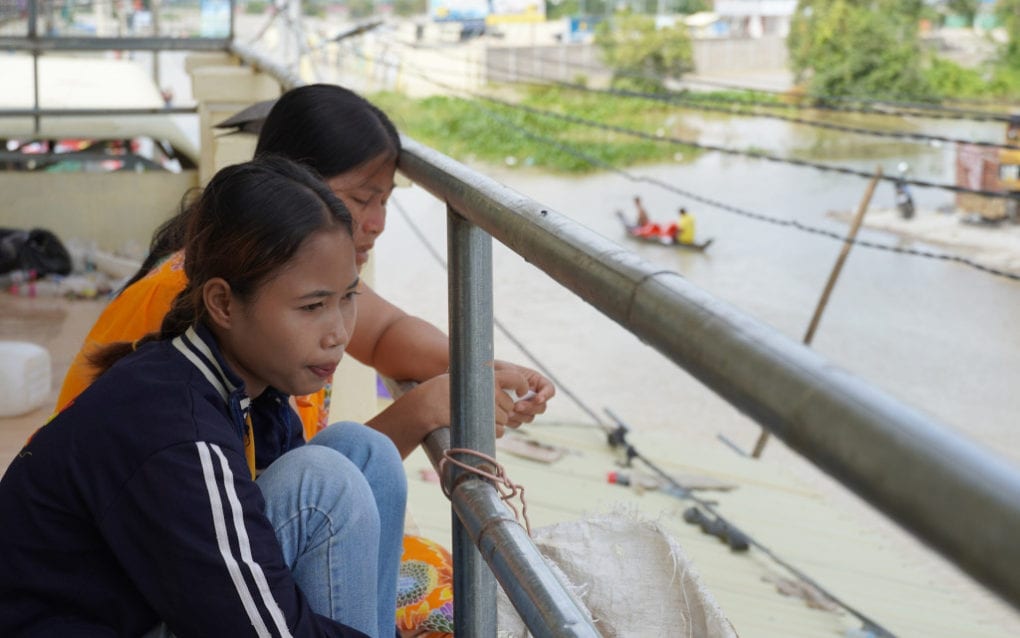 Ven Eyhong, 23, said some of his recent meals were a bag of instant noodles shared with his wife.
"I'm out of ideas. My money is running out as food prices jump. It's increased so much during the flooding. We don't know. Where can we get something to buy food? We don't know," Eyhong said.
Both he and his wife work at the Y&W Garment factory, which employs about 5,000 workers and has been flooded since October 14. The area has no meals for $0.50 anymore; rice and pork goes for $1.50, Eyhong said.
He was also $300 in debt to a microfinance lender — he borrowed money for supplies when he moved in with his wife — and his $45 a month rent would soon be due, he said.
His relatives, in Prey Veng province, were poor and couldn't help, Eyhong said.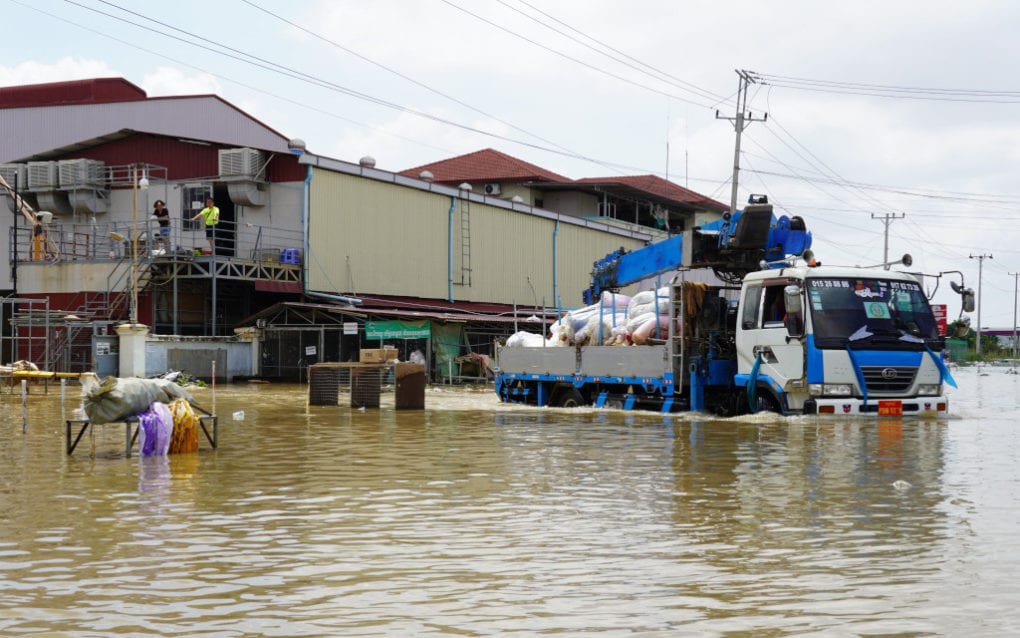 Yon Sokhen, 21, who packages clothes at the factory, said she had been drinking and showering with rainwater since her building's water and electricity supplies were cut.
She said she had a $1,000 loan to repay, which she took out to help her brother after he had a traffic accident. She wants to ask her landlords if she could delay her rent payment, but she's not sure they will agree.
The factory, where she has worked for two years, announced a 10-day suspension of operations. She said she did not think she would get paid during those days, and hoped the suspension period would not be extended.
"I'm waiting, just thinking step by step," Sokhen said.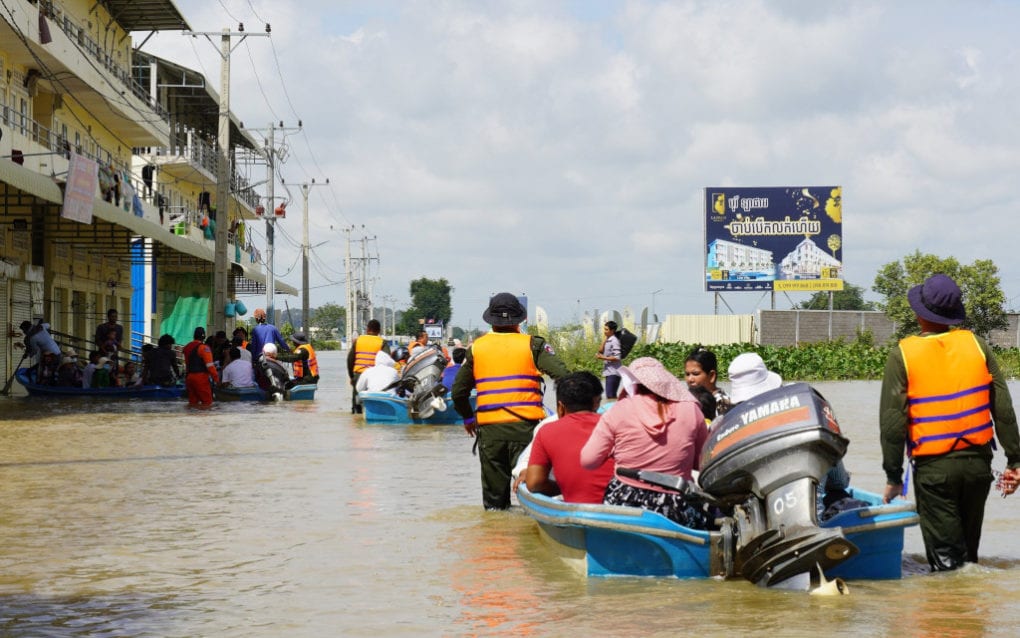 Other workers in the area have also been affected, with food vendor Sao Sokha, 40, saying she couldn't run her small business due to the flooding.
She became a garment worker 10 years ago after selling the family house and land to pay for her parents' medical bills, she said, and later opened her stall.
She was $750 in debt to microlender AMK, she said. "I can't sell food, so I have no income," said the mother of two. "The deadline to pay angkar is coming soon. It's difficult and I don't know where to make the money for this payment," she said, using a word meaning organization that can refer to both NGOs and microfinance companies.
Motor-taxi driver Yang Sambath, 42, said his income had also been hit because of the disruption at the factory. His 18-year-old son also worked there, he said.
His hometown in Kampong Thom province was also flooded, and he worried about his elderly mother's health there. But roads were flooded and he was running out of money, he said.
"When our money runs out, which will be soon, we'll need to borrow money to buy food," he said. The family's budgets will be tight for at least two months now, he said.
On Thursday, military police and other officers drove boats around the floodwaters, taking residents to buy groceries and medical supplies.
The Labor Ministry, the factory and a union said workers should be owed some compensation mostly based on transportation and accommodation allowances.
Ath Thorn, president of the Cambodian Labor Confederation, said that for serious natural disasters, such as earthquakes and flooding lasting two to three months, workers' contracts could be suspended. But for shorter disruptions, transportation and accommodation allowances should be paid, and some factories also paid about 50 percent of salaries, Thorn said.
Labor Ministry spokesperson Heng Sour said the factories would not be allowed to suspend operations for a full month, whereby they would pay $30 a month to workers and the government another $40. Without specifying, he said the compensation would instead be calculated according to the Labor Law.
Thy Bunthon, administrative manager at Y&W, said $20 for monthly transportation and accommodation allowances would be paid, as well as some additional compensation. Workers saying they would get nothing were just confused, he said.
According to the Water Resources Ministry, Dangkao's Prek Tnaut stream was measured at 5.5 meters at 7:30 p.m. Thursday at the Prampi Makara dam, up 4 centimeters from the morning, but down 1.13 meters from the recent peak on October 14.