All Kith Korng would like is a little more time.
He and many of the 300 to 400 families that have been living off the shore of Phnom Penh's Prek Pnov district have floated along for three generations, since the end of the Khmer Rouge era. Authorities confronted Korng, a 36-year-old Cambodian man, last Wednesday and told the community they were polluting the river. But Korng calls this unfair, given that local fishing and fish-farming families have themselves been trying to evade industrial pollution from their shoreline neighbors. Police did not listen to his concerns, he says.
"They just came and forced us to leave. [They] didn't meet with us to talk and help us think of solutions," he says.
After Phnom Penh City Hall threatened to evict those who live on floating houses in the capital with just over one week of notice, the families are torn on what to do, some rapidly disassembling their floating houses and others stalling for time. Some tried to float to Kandal province, but authorities there denied them from staying, Korng says.
"I don't know what to do. Maybe we will just have to dismantle everything," says Leu Tinhnga, 60, as she speaks to reporters in an alley, staring between a row of landed houses toward her own home on the water.
During the past week, she slept in her home on the water, but in the mornings police woke them up with loudspeakers, trying to prevent her from even inhabiting her floating house before the deadline, she says. And daily, she tells them she has no other place to go.
City Hall spokesperson Met Measpheakdey did not respond to requests for comment.
In the alley, men, women and teenage boys carry wooden beams and corrugated iron from the floating houses into piles on the land. While some of the houseboats remain intact as they were before the city's proclamation, others have been pulled apart into piles of metal and wood on floating foundations.
Currently, Tingnha sells snacks at a stall between stilted houses on shore, earning just enough to buy food for herself and her three grandchildren. Raising and selling fish, which they store under their floating houses, usually gives her and others in the community income, but she says the fish aren't ready to sell right now.
"We just want to stay here for six months more because the small fish just [hatched]," she says. "The small fish are too small. No one is going to buy them."
No Home on Land
Even if Tinhnga had savings to rent a new home, finding land would not be a simple matter, as she is ethnically Vietnamese, and despite being born in Cambodia she does not have a national identification card.
In 2018 and 2019, the government launched a campaign confiscating national identification from Vietnamese communities, while Vietnam is also not an option for most, as the country has pushed for ethnically Vietnamese residents to stay in Cambodia as citizens.
Another floating house resident, Da Lin, 37, says she has an immigration card that she has to renew every year: "It's like a tax payment for us to live here."
She says representatives from the Vietnamese Embassy have met with them, but they were not able to do anything about the eviction. Instead, she enlisted help from a neighboring Christian church to help dismantle her floating house. The church provided classes for her two children when they could not go to school without identification, she said, and now two men are perched on the frame of her house, freeing pieces of corrugated roof from the house's barren bones.
Vu Quang Minh, the Vietnamese ambassador to Phnom Penh, did not respond to emailed questions, though he visited river-dwelling communities at least two times since the city announced the eviction, according to posts on his Facebook page.
Viet Nam News reported that its Foreign Ministry was monitoring the situation, and on Thursday called on Cambodian authorities to make a "reasonable roadmap" to move forward with its relocation and provide job options to the displaced communities.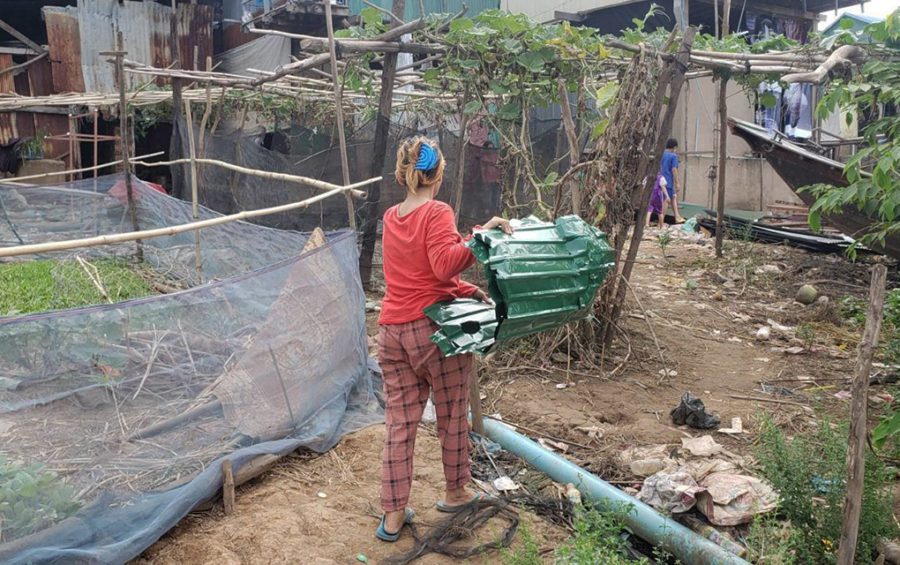 Da Lin piles salvageable pieces of her house next to rows of drying laundry — she has been earning money doing laundry for the neighborhood. While talking with reporters, she interrupts the conversation with a shout, shooing six barefoot children who were standing on one of her sea-green roofing panels.
While she carries pieces of house from the water to her laundry, Sreypov, her sister, comes over to complain about those living on the water. Sreypov says she's also Vietnamese, but she lives on land and scoffs at those living on the water below her. She claims the families on water are leaving trash that floats up on the shore when waters rise, and she agrees with the government's decision to remove the families.
"They want this place to be theirs," she says. "They can sell many fish. They are not very poor. They just want the money."
However, Sreypov too faces eviction. Both she and her sister say city authorities also warned the people living within 50 meters of the shore will have to leave eventually, but the people living on land were given more time. Sreypov says she doesn't mind.
"The land that my house is on is also the state land so whenever they ask us to leave, I would give it back to them," she says.
More Time
Tending fish farms can involve some pollution from the feed, admitted Korng, the Cambodian 36-year-old, and the residents throw their trash along the banks, stepping over crunched plastic cups, food scraps and filled and bound plastic bags. But Korng feels their water pollution doesn't compare to the larger industrial sewage dumps, from a flour factory to the north and Boeng Tamok lake construction to the south.
For decades, there was no major source of pollution, but the water developed a foul smell after 2009, as the city started to industrialize, he says. Today it's constantly a burden — families were able to start selling fish to markets reopening after the city's Covid-19 lockdown, but another batch of fish died, which Korng attributes to pollution.
"There is no solution. Our fish just die," Korng says.
Environment Ministry spokesperson Neth Pheaktra referred questions to City Hall.
Korng says he'd give up fishing for the opportunity to stay, but he'd at least like some time, maybe until the end of the year, to think about where he and the rest of his family can move.
"Those who have land or money would move away, but those who are very poor, they have no choice," he says.
As he picks small sour seeds from a tree, a Cambodian man who lives near the water, who gives his name only as Vanny, observes that one of the water-dwelling families tried to reconstruct a home on the shore. Authorities denied them, so their materials just lie between posts in the ground.
"I think it is too soon that [authorities] are forcing them to leave," he says. "They should give them some time."
However, some are holding out. Sok Chour, 57, says the community will speak once again with police on Friday, before their deadline to remove houses on Saturday. They are hoping the municipality will offer an extension; ideally six months, Chour says, but he would take a month or two to sell fish and dismantle his home.
"The fish are so small. We have no money," he says. "When I move up [on land], I will do anything. I may just be a garbage collector."
But he says he had no idea what to do, as no one had ever warned that living on the water would be a problem before. Lin and Tinhnga also say they haven't been previously warned, though many floating communities live under persistent threat of eviction.
"A week is too soon. I won't take down my house yet," Chour says.