UPDATED 6 p.m. — Top Cambodian officials are going into quarantine after Hungarian Foreign Minister Peter Szijjarto, who visited the country on Tuesday and signed three agreements in front of Prime Minister Hun Sen, tested positive for Covid-19 after arriving in Thailand.
As the Foreign Affairs Ministry confirmed the Covid-19 case and response with a statement in the late afternoon, several government officials disclosed their contact with the Hungarian official and their later movements.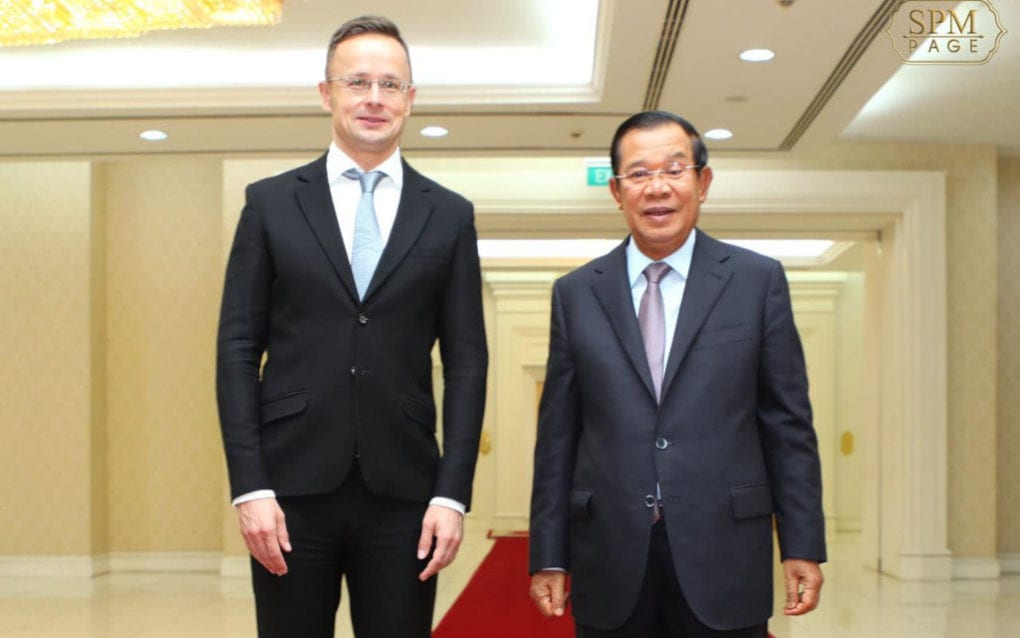 Agriculture Minister Veng Sakhon, who was at the signing ceremony on Tuesday, told VOD earlier in the afternoon that he had not yet received specific information from the Health Ministry, but he and his colleagues at the ministry were now going into quarantine.
He said he visited flooded farmers in Pursat province on Wednesday, but would not specify how many people he had met.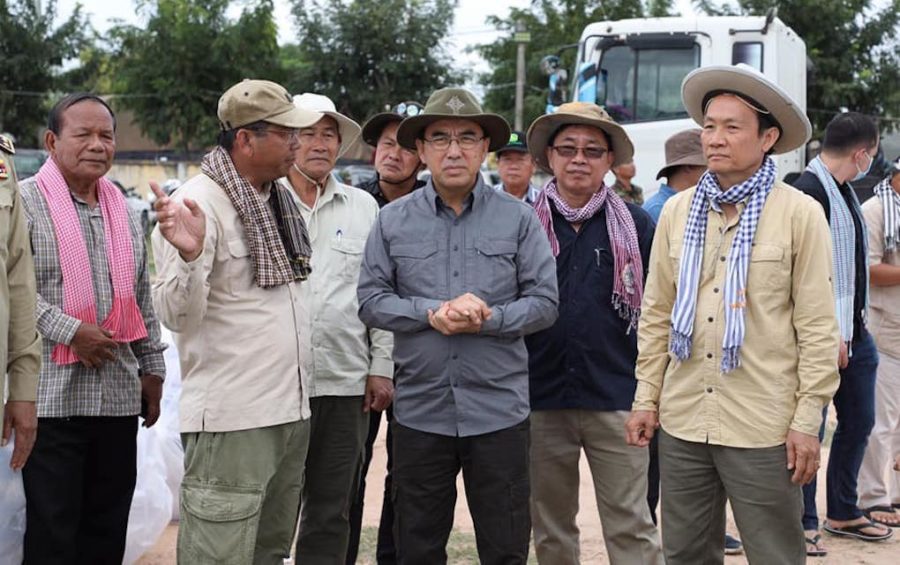 Water Resources Minister Lim Kean Hor said he had shaken hands with Szijjarto, but cleaned his hand with alcohol spray after returning to his seat, so he was not worried about contagion.
He said he and other ministry officials who had contact with the Hungarian foreign minister would be tested and go into quarantine.
Szijjarto had "met a lot" of people, Kean Hor added. "There were several [people] on my side [from the Water Resources Ministry]. There were several from other ministries too."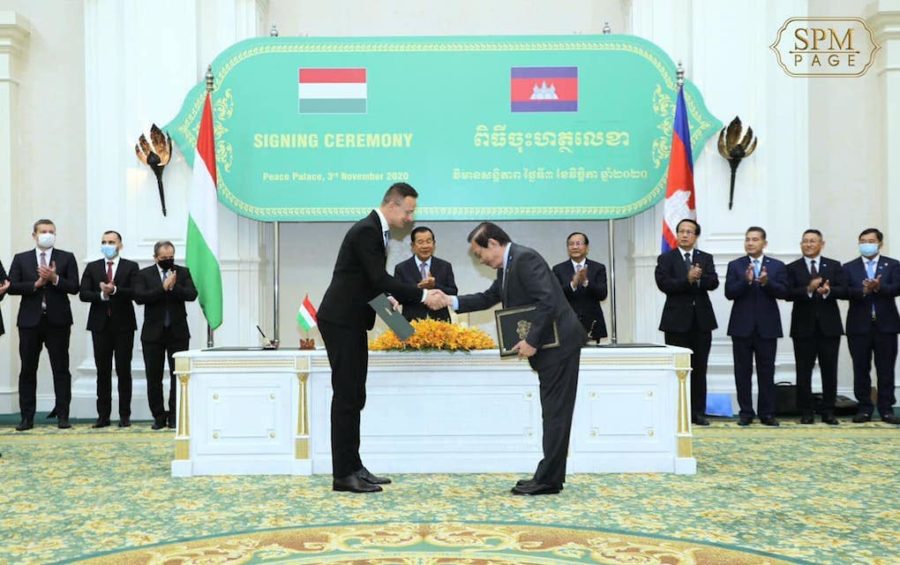 In a statement, the Foreign Affairs Ministry said Szijjarto and all members of his delegation had health certificates attesting that they were Covid-19 free before arriving to Cambodia. But he flew to Bangkok on Tuesday evening and later tested positive, it said.
"After getting this information, the Cambodian government immediately decided to have leaders and all officials who directly met and communicated with the delegates during the visit tested for Covid-19 and put in quarantine according to the Health Ministry's instructions," the statement said.
A representative of the Thai Foreign Affairs Ministry confirmed that the Thai government announced to Thai media that the Hungarian official had tested positive, and said Szijjarto had not met with any Thai nationals aside from the doctor.
Hungarian state news agency MTI reported on Wednesday that Szijjarto tested positive after he continued his diplomatic tour to Thailand, and has no symptoms, according to Reuters.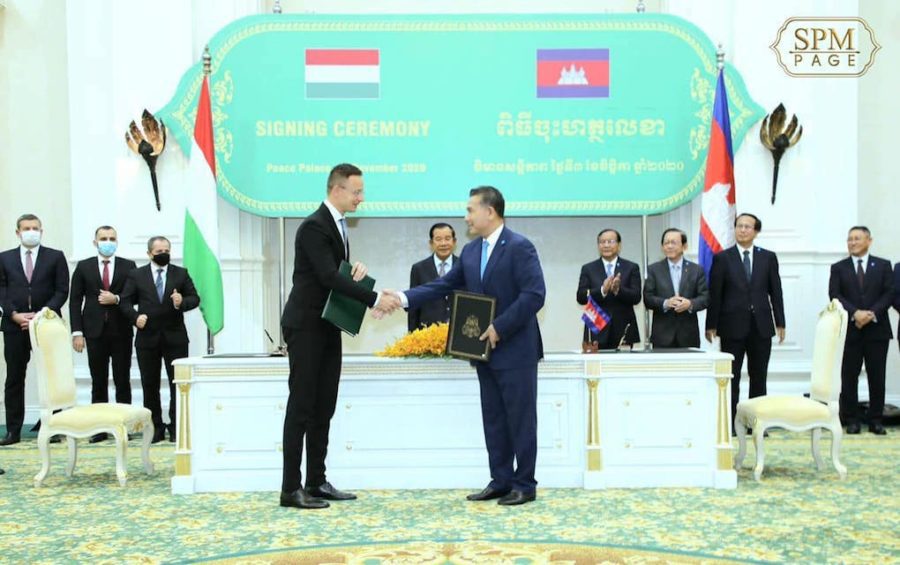 Szijjarto made a visit to Cambodia on Tuesday, with state news agency Agence Kampuchea Presse saying the official visit "will further expand and strengthen the traditionally close relations of friendship and cooperation between the two countries."
The ceremony was held at the Peace Palace in Phnom Penh and presided over by Hun Sen, according to AKP, and saw the signings of an air service agreement with Minister in Charge of Civil Aviation Mao Havannall; an agricultural agreement with Sakhon; and an agreement related to water management with Kean Hor.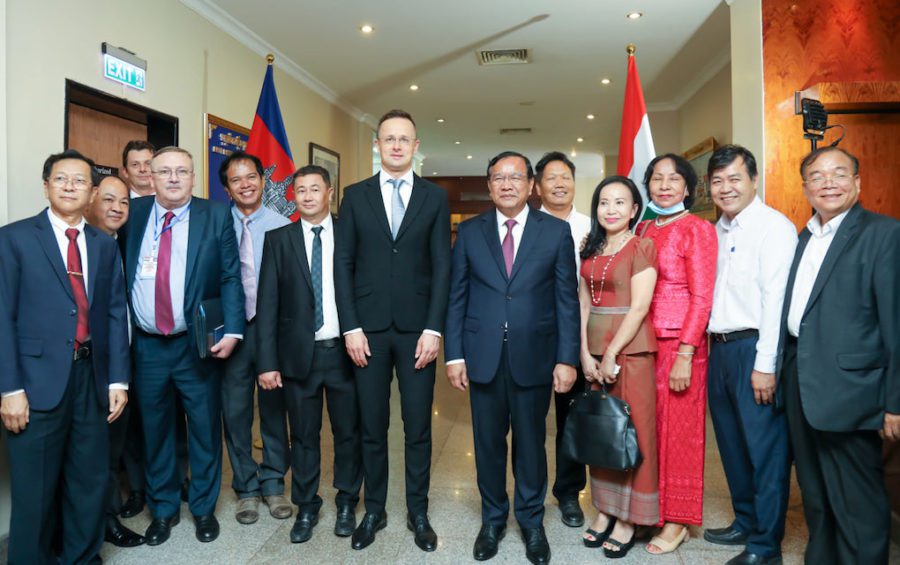 In photographs of the signing ceremony posted to Hun Sen's Facebook page, Szijjarto shakes hands with each official with none of the four men wearing masks. Another photo posted to the Foreign Affairs Ministry's Facebook page shows Szijjarto standing shoulder to shoulder with Foreign Minister Prak Sokhonn and 11 other people, none of whom are wearing masks over their faces.
Government spokesperson Phay Siphan said he did not know whether officials would be tested for coronavirus and said it was the job of the Health Ministry.
Health Ministry spokesperson Or Vandine told reporters in a message that she had no information about Szijjarto testing positive and was on a provincial trip.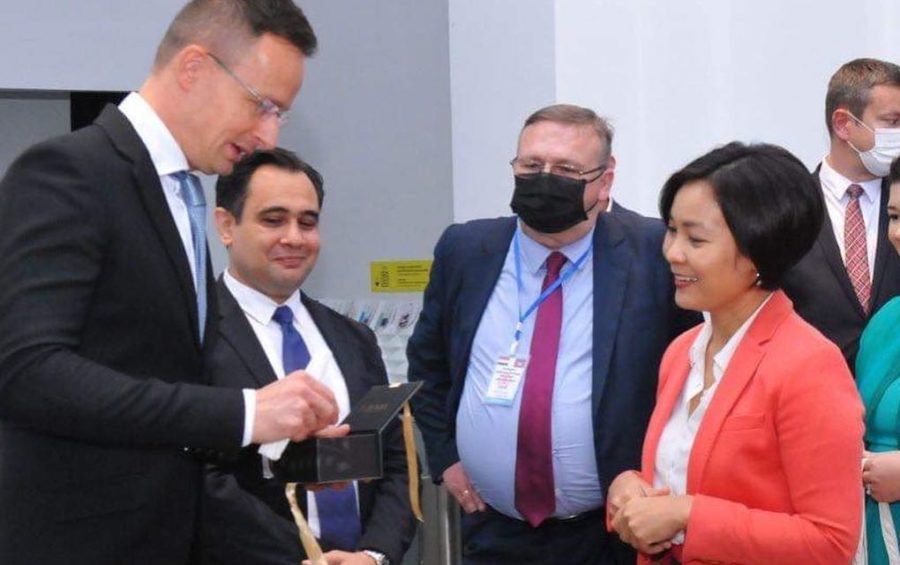 Chea Serey, the National Bank's director-general of central banking, said in a Facebook post that she had been "in very close contact" with Szijjarto during his visit, and she and her entire household were quarantining themselves as of noon on Wednesday "until we no longer pose risk for public health."
"It is really unfortunately news and I wish him and his family recover soon," Serey wrote in the post. "As far as I am concerned, my children and I have tested ourselves and [are] waiting for the result."
It was unclear whether members of Szijjarto's family were traveling with him, and whether any had contracted Covid-19.
Serey met Szijjarto during a visit to Phnom Penh's Cambodia Museum of Money and Economy, according to photos posted to her Facebook page on Tuesday.
She said museum staff who were in close contact were asked to "take necessary steps to ensure the safety of their family and public."
Reporting by Khan Leakhena, Tran Techseng, Danielle Keeton-Olsen and Ouch Sony
Updated at 6 p.m. with statements from the Foreign Affairs Ministry and Chea Serey.
Correction: An earlier version of this article misstated when Szijjarto arrived in Thailand.