This is a two-story series looking at a monkey breeding farm in Pursat and allegations made in a U.S. indictment that the firm and the Agriculture Ministry were in cahoots to export wild-captured macaques.
PURSAT CITY, Pursat — The workload at Vanny Bio Research monkey farm goes up as long-tailed macaques are prepared to be boxed in crates and flown to laboratories overseas. Food preparation teams make extra portions to pack for the road. Medical teams give the monkeys extra injections. And the workers watch as the export-ready macaques are separated from the others.
"Every time they export I'm very sad. We have a lot of close contact with the monkeys. They wail. The next day they will be on a plane," a worker said. "I can't hold in my feelings. I pity them."
Three employees of Vanny Bio Research spoke to VOD about the Pursat monkey farm, whose management is facing indictment from the U.S. court for allegedly laundering wild-captured monkeys as captive-bred. An Agriculture Ministry official was arrested in New York on Wednesday in the case, and Cambodia's Forestry Administration director is also facing charges.
All three of the Vanny Bio Research employees who spoke to reporters said they knew of "forest," or wild, monkeys being brought in from outside. Some said others had been fired for sharing information about the operations, and asked that their identities be concealed for fear of repercussions.
"If I talk to you and bring inside information to the outside, they might sue me. I don't have money to pay for that," one said. Another added that even though they needed the work, they wanted the farm's workings to be uncovered.
According to Agriculture Minister Dith Tina, Cambodia exported 68,076 long-tailed macaques over the past three years. He defends the business, saying the exported monkeys are farm-raised; monkeys are brought to farms and bred, but only second generation monkeys can be exported. He also said monkeys are common in the country: "Those supposed rare animals in USA are so commonly known to Cambodian people as Sva Wat Phnom," he said on Twitter.
But the U.S. indictment alleges that thousands of wild monkeys are illegally mixed in with the captive-bred monkeys for export in order to meet shipment demands, and that Forestry Administration officials have aided the operation. The indictment adds legal weight to decades of allegations of officials participating in plundering Cambodia's national resources, whether trees, land or wildlife.
| | |
| --- | --- |
| Defendant | Position |
| Keo Omaliss | Director of the Forestry Administration |
| Kry Masphal | Deputy Director of the Department of Wildlife and Biodiversity |
| James Man Sang Lau | Owner of Vanny Resources and Vanny Bio Research |
| Dickson Lau | General Manager at Vanny Resources |
| Sunny Chan | Deputy General Manager for Operations at Vanny Group |
| Raphael Cheung Man | Public Relations and Export Manager for Vanny Bio Research |
| Sarah Yeung | Finance Officer of Vanny Group |
| Hing Ip Chung | General Manager of Vanny Bio Research |
Source: U.S. Department of Justice
Inside a walled compound in Pursat city, hundreds of employees work around the clock to take care of a few different species of monkeys, including the long-tailed macaque, three workers said. One shift is 2 a.m. to 11 a.m., and wages are typically under $200 per month. Many workers are recruited from nearby villages.
The smell of feces can be strong, so it isn't popular work among the young, who can find employment at garment factories. But older residents have few alternatives.
On Google Maps, 165 warehouses are clearly visible on the farm via satellite imagery. More recent images from the E.U.'s Sentinel satellite appear to show an expansion to around 295 buildings.
The workers did not have exact figures on how many animals are in the facility, but estimated around 500 per warehouse. This could total tens of thousands or even 100,000 animals.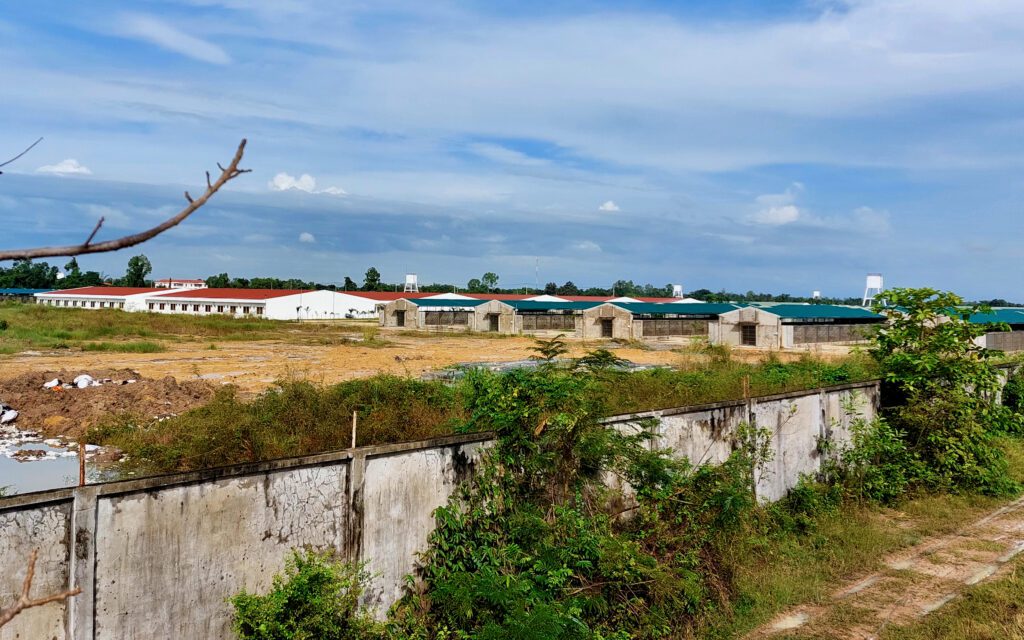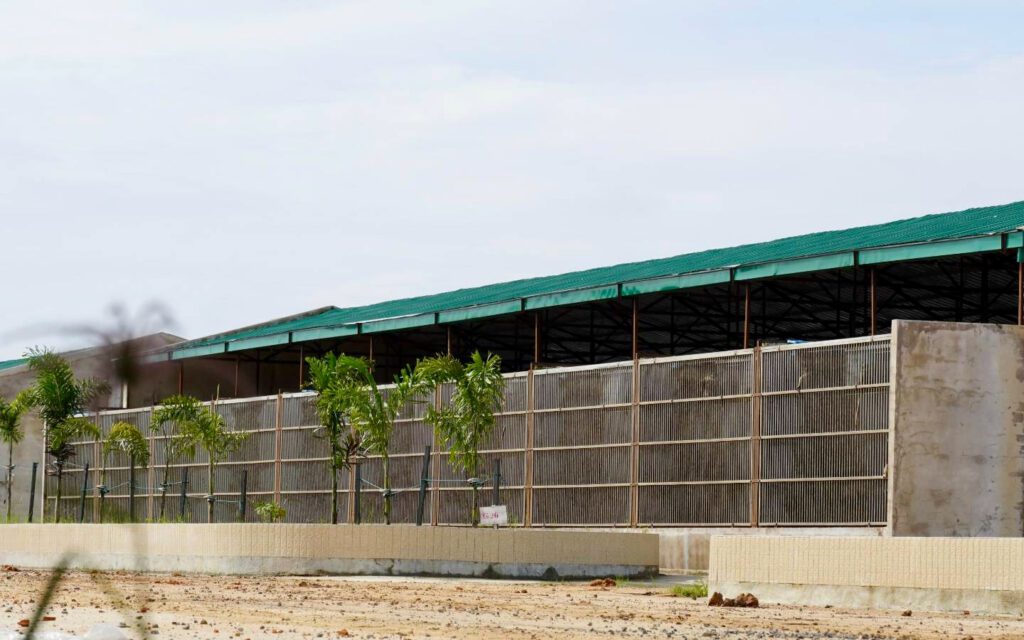 About a dozen monkeys are kept in each large cage, fortified with strong metal bars — around two males and 10 females per cage, according to the workers. They eat four times a day: 6-7 tons of food is served to all the monkeys daily. The meals are mostly pieces of fruit as well as cakes of rice and various ingredients.
All three of the workers said the business had expanded rapidly in the past two years. They all added that outside "forest" monkeys were being brought into the facility.
"Our monkeys are growing slowly, and there are so many exports and we can't bring enough monkeys for them. So they buy wild monkeys," one worker said, echoing the U.S. indictment.
Two workers said they saw a few hundred monkeys brought in every one or two months. The third said they saw a few dozen monkeys brought in every night. The difference could be the result of seeing different things on different shifts, they said.
These shipments could not be verified, but the quantities line up with the U.S. allegations: Between March to October 2020, Vanny Bio Research spent $2.5 million on 14,000 black-market wild monkeys, the court indictment alleges, which averages to around 60-70 per day.
On site, the company said it would only talk if presented with an official letter. No one picked up on a phone number listed with the Commerce Ministry.
One worker alleged that once the wild monkeys arrive at Vanny Bio Research, an X-ray machine checks them for metal airgun pellets inside them.
"Many of the monkeys are injured from being shot," the worker said. This worker said many monkeys were caught in nearby Veal Veng district; the others were unsure of the origins.
"I pity them but what can we do?" another of the workers said. "I thank them for helping me have a job to support my family. We're outside and we don't have that much freedom. So what about them in the cages? When they see us they're excited."
"I feed me, feed my kids, feed my parents, feed my husband," said another worker. "I have to tolerate it for my family."
For surrounding residents, the farm is a source of income but also of foul smells in the river. They alleged that the farm dumps monkey feces into the stream, which stagnates during the dry season. Even cows and buffaloes can't drink the water, some said.
The employees, meanwhile, added that they work under intense pressure.
"The more exports of monkeys, the more pressure, the more work," said one worker, who believed December was going to be crunch time with several shipments due. Vanny Bio Research employees have protested in the past for pay raises.
One worker asked reporters to keep their voices down as the worker spoke of their admiration for whoever had leaked information to the U.S. investigators.
"How could they have the courage?" they said.