Vegetable sellers on Mao Tse Toung Blvd. are pushing back against authorities clearing them from a stretch of a major Phnom Penh road while citing the need to beautify the city for Asean conferences and other international events.
The dispute rose to a near-clash this week as authorities confiscated vegetable sellers' wares, prompting the vendors to retaliate by throwing bananas across the boulevard. The sellers are located just west of the Neak Meas vegetable and fruit market.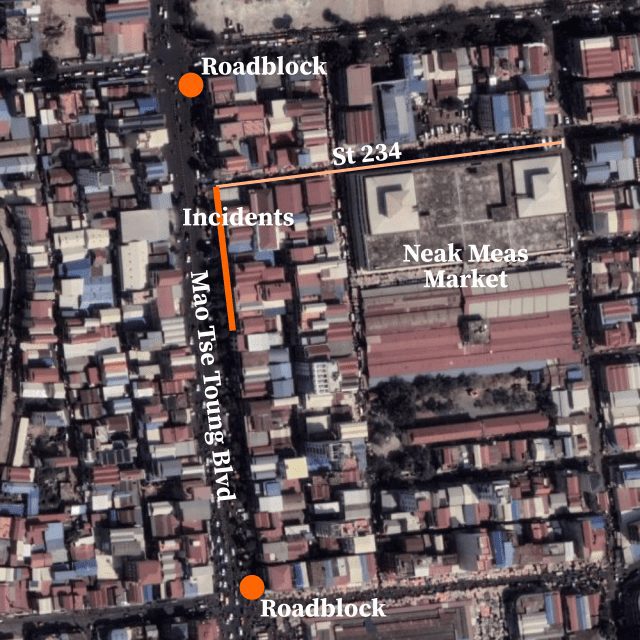 While the district admonished the sellers — saying a vendor had dangerously hurled a metal scale at officials and a motorbike driver had slipped on the road-strewn bananas and needed to be taken to hospital — the sellers reproached officials for their apparently shifting demands and for confiscating produce not just from the roadside but from inside their shops.
Vegetable seller Srey Leak said that two months ago officials had drawn a red line about midway along Mao Tse Toung Blvd.'s large sidewalk, telling vendors to stay inside the line. But later they returned to say that no more sales of fruit and vegetables at all would be allowed along the stretch of road.
"We started selling from inside our building, but they still confiscated our stuff," said a family member, Srey Noun, 52. "We just demand our rights. What are we allowed to sell? Or they should provide a place for us to sell. If they found a place, we would go."
Pros Dean said that from his store, authorities had confiscated five cases of tamarind as well as shade umbrellas.
Another vegetable vendor, Chan Rathana, said authorities had been returning every night this week.
"The first day they didn't say anything. They just came and put everything in front of the house into a truck," Rathana said. Later, authorities took produce from inside his shophouse, he said.
"You can confiscate on the sidewalk. But you can't confiscate from inside the house," he said.
Kea Rin, who was selling green plums, bananas and chilis from a street stall Tuesday afternoon, said the authorities seemed to only arrive at night.
"We don't know why it's only at night," Rin said. She packs up her stall when they come, she said. "They start down the road so you see them coming. If we keep anything out, they will confiscate it."
After midnight early Wednesday morning, at least 16 officials including the Toul Kork district governor and police patrolled the corner of Mao Tse Toung Blvd. and Street 234 — a narrow side road crammed with vegetable sellers, motorbike-drawn trailers, hand-pulled carts, littered trash and a crowd of buyers through the night.
Commerce down the small street was being allowed to continue, but sellers on the corner of Mao Tse Toung Blvd. and along the larger boulevard had already cleared themselves out.
In a statement issued Monday, the district administration said Mao Tse Toung Blvd. was one of 11 priority roads in Phnom Penh designated for maintaining order, easing traffic, clearing sidewalks, beautification and creating a "good, clean environment."
Sellers on Mao Tse Toung Blvd. had been repeatedly notified about measures. The district began taking administrative measures on March 4, but was met with violence the following night, it says. The incitement and obstruction increased on March 6.
"The district administration would like to inform all members of the public, especially those who have used violence in the past: Please stop inciting and committing crimes immediately."
District governor Chea Pisey cited upcoming Asean conferences and international sporting events as part of the motivation for cleaning up the road as a first step in a wider beautification of the city, noting how foreign delegates would be driving along arterial roads.
"It's also about improving Cambodia's image," Pisey said.
Though still under-construction, a space was being built nearby for street sellers to relocate to, and it should be ready in about a year, he said. All street vendors in the wider area — including nearby Monireth Blvd., which bustles with vegetable sellers at night — would eventually be moved there, he said.
People selling out of shophouses would be relocated to a new municipal market being built on landfill in the northern Boeng Tamok lake, he added.
A nearby public market also had two floors of space available for vegetable vendors, but people had stuck to selling on the street, he said.
Authorities had worked to educate the sellers before taking administrative action, distributing notices and announcing the requirements by loudspeaker, he added.
"Many people here have accepted it," Pisey said, alleging it was only a small handful of troublemakers who continued to resist. Those troublemakers had brought in family members to help protest and were causing incitement, he said. They had obstructed public officials, cursed at them, blocked the road and caused a traffic accident, he said.
People had thrown rotten fruit at officials in a mocking way, and if officials had not dodged the heavy metal scale thrown at them, there would have been serious injury, he said.
"If we don't prevent this, it will cause other incidents," he said.
The sellers were telling a one-sided story, Pisey added. "Be careful of incitement. Write in a neutral way," he said.
Officials also had a roadblock set up at night along the stretch of Mao Tse Toung Blvd. to prevent trailers and trucks from coming in.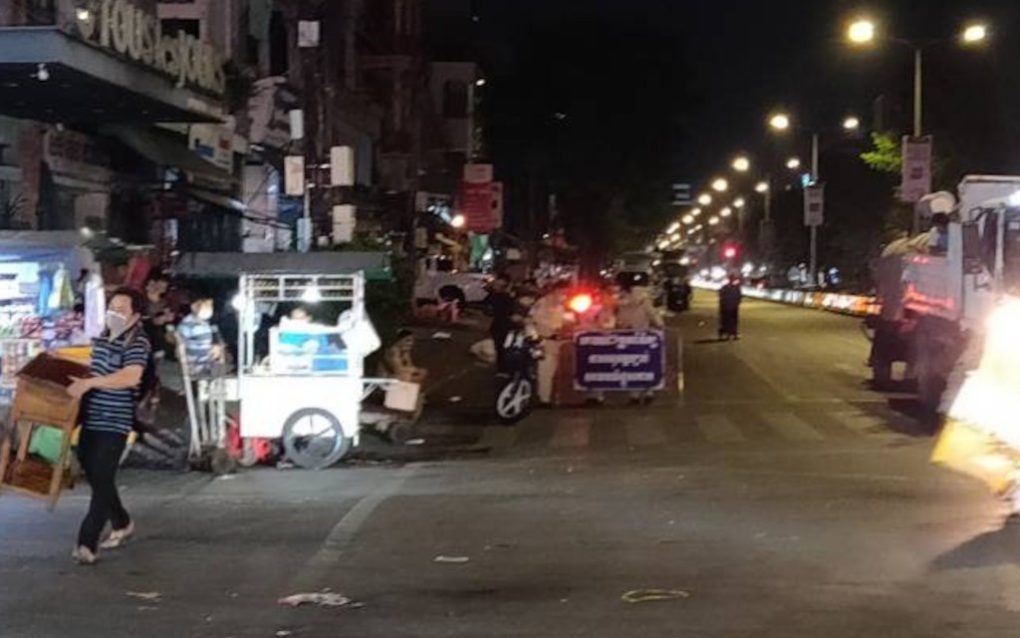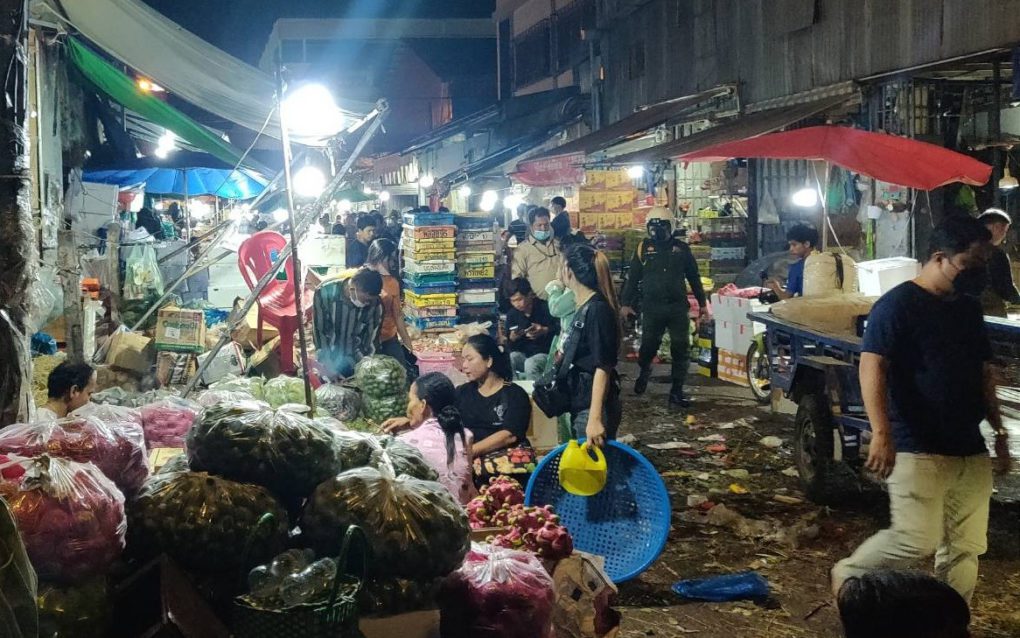 Around 12:30 a.m., however, a van from Kampot had managed to enter the stretch — and had its wheel locked by district officers who then drove off on motorbikes.
Mon Bunthoeun said he frequently came to the area to buy produce, and didn't know what was now happening with his van. He wanted clearer guidance, he said.
"They just locked up my car and left. They didn't tell us anything," Bunthoeun said. "I don't know what to do."