NagaWorld workers protested outside both casino complexes in Phnom Penh on Tuesday, with one worker saying the free passage they had been given in the past week could end when a visiting U.N. official departs Cambodia.
The workers started their strike against the layoff of more than 1,300 workers outside the NagaWorld 1 in December 2021, but have since been blocked at various streets near the casino premises. They walked through the barriers last week on the day U.N. rapporteur Vitit Muntarbhorn observed the protest and have had free access since.
The workers again crossed two layers of police barriers on Sothearos Blvd. and spent one hour outside NagaWold 1 casino and then moved to the newer NagaWorld 2 casino complex a block away. Workers again raised banners, blew horns and chanted slogans.
Nam Tivoan, a protesting worker, said he believed that the friendly treatment they had received from the authorities and police would stop the minute Muntarbhorn ended his visit.
"I think this is acting from the authorities. … Every time they always stopped us and were violent," he said.
Police and authorities have been violent with workers, with a worker getting a bloodied nose two weeks ago as workers and police pulled at the security barricades.
Tivoan said standing outside the casino complex helped the protesters advocate in their dispute against NagaWorld.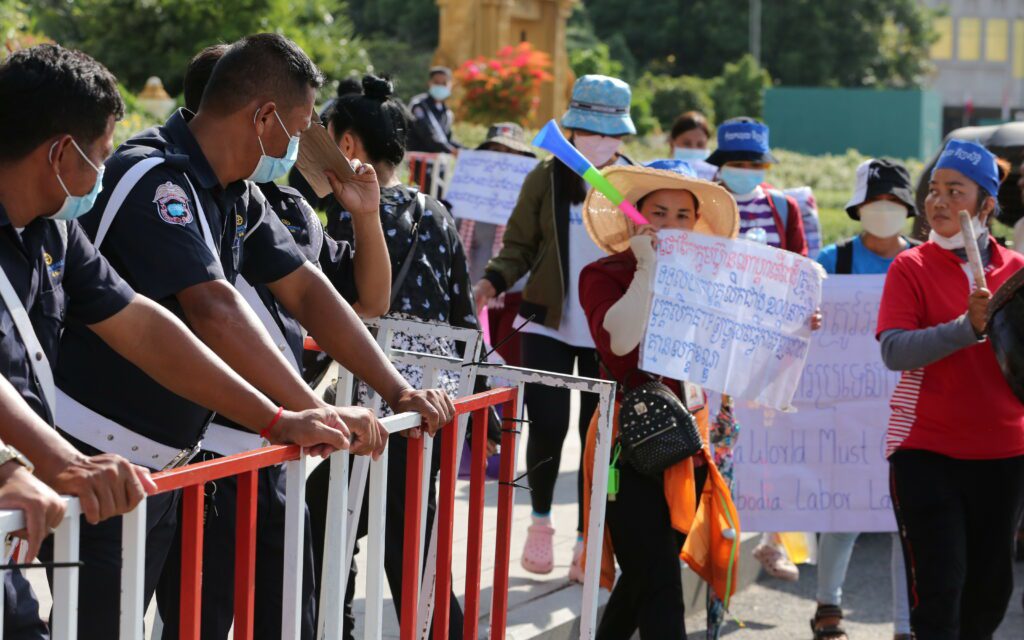 Kem Maly, another worker at the protest, was also surprised the police were compliant with the protesting workers.
"If he doesn't come we also can't stand here," she said.
VOD could not reach Phnom Penh deputy governor Met Measpheakdey on Tuesday.
Vitit, the latest U.N. envoy on human rights in Cambodia, is currently in the midst of a two-week visit to the country.