SOC TRANG province, Vietnam — Organizers say half a million Khmer Krom people attended the opening of a new pagoda in the Mekong delta over the three days leading into the New Year.
Roads were closed for around 300 meters outside the temple gates in the predominantly Khmer-inhabited urban area, and the pagoda was packed day and night, with around 300 stalls set up selling traditional Khmer costumes and sundries.
There was Khmer opera, performances of Khmer songs, and decorated lanterns floated into the air.
All the signs around were in Vietnamese, but people would speak back in Khmer — some fluently, others with a little Vietnamese mixed in.
The new pagoda — replacing an older, smaller facility 2 km away — was funded by donations from the Khmer Krom community in Vietnam, which is officially estimated at 1.3 million people.
Activists, however, put the number of Khmer-heritage people in Vietnam as high as 7 million. For them, the incorporation of the area they call Kampuchea Krom, or lower Cambodia, into Vietnam remains a contentious subject.
Nevertheless, a selective easing of pressure from authorities and renewed interest in Khmer traditions among the younger generation have sparked a revival of the culture and language, ethnic Khmer locals say.
Nearby resident Sin Thi Thanh Leang, 24, attended the opening ceremony late last month in the traditional Khmer clothes of a white shirt and colored skirt. The construction had taken nearly 12 years, but the new pagoda would now become a hub for the ethnic Khmer community, she said.
"I feel happy to see that everything is ready. From now on we can get together in the pagoda and hold festivals easily," she said.
Danh Set, 33, calls Soc Trang province Khleang, the Khmer word from before the region became part of Vietnam. Set lives close to the new pagoda, and worked as part of a group that welcomed visitors to the opening.
He was glad to see the temple styled like Angkor Wat, as he had grown up under the Vietnam state and felt protecting Khmer traditions was important, he said. "If the nation dies there is nothing," he said, adding that he was unhappy that Vietnamese authorities had compelled the pagoda to fly the state flag.
He has had trouble with authorities for posting videos online about what he viewed as Khmer history, one about how the region used to be part of Cambodia. Set was detained twice last year, the first time for two days and the second for five hours, he said.
"The police asked me who led me to do that, but I said I just want to do it myself," he said. Despite the pressure, he still felt it was his mission to help ethnic Khmer people preserve their language and traditions, he said.
Wat Moni Rainsy Serey Vong Thomchot is only the newest among hundreds of Khmer pagodas in Vietnam, some dating back centuries. Some have stone inscriptions on their walls, more elaborate than the paintings common to Cambodian pagodas.
Tra Vinh province, to the northeast of Soc Trang, has more than 140 pagodas, including one on a site that the Khmer Kampuchea Krom Association claims dates back to the year 373, centuries before the Angkorian period. In this province, Khmer people are considered an ethnic minority, comprising about 30% of the province's population.
In decades past, tensions were higher: the 1950s through the 1970s saw ethnic violence in both directions, and about 15 years ago Khmer Krom monks led repeated protests that sparked crackdowns and arrests.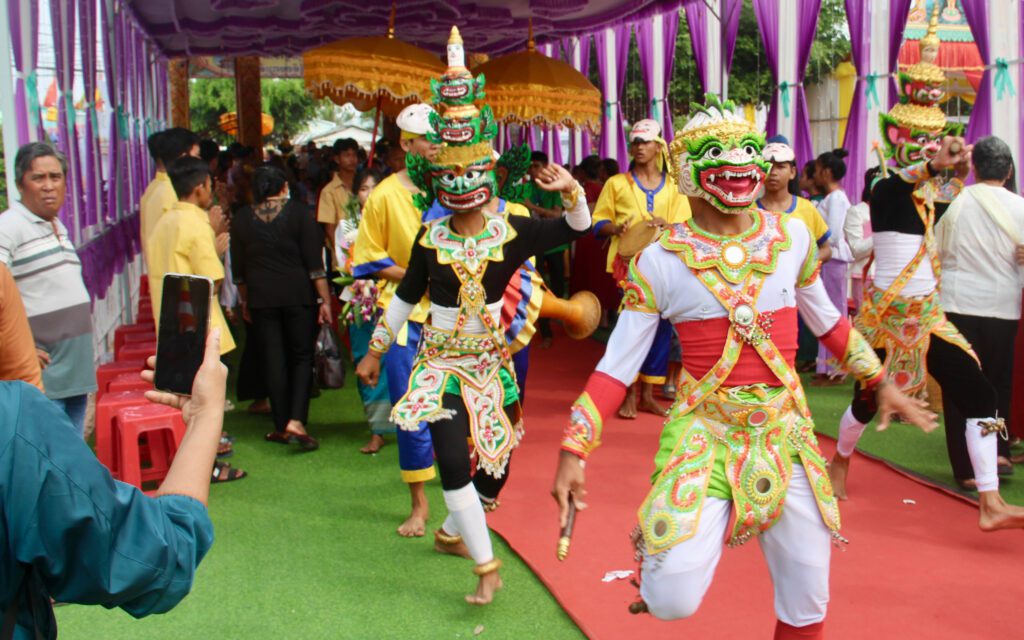 Thach Thoy, 39, a teacher at Pnokombot pagoda in Chau Thanh district there, said pagodas continued to be at the center of Khmer language education. There were still restrictions around teaching history, but the Vietnamese state supported Khmer-language education, including funding some teachers, he said.
There were both year-round classes and special courses during school breaks, he said, adding that, notably, both boys and girls studied at pagodas. In Cambodia, pagoda education is typically restricted to boys.
But Khmer-language teachers sometimes still tried to teach history from the Khmer perspective, Thoy said.
Kampuchea Krom activists argue that colonial France wrongly handed the area to the newly formed state of Vietnam in 1949, and that the region rightly belongs to Cambodia. It's a topic that also elicits strong nationalist sentiments in Cambodia.
For Thoy, there has also been a different kind of threat to local Khmer traditions: Many parents don't see the use in their children learning the language anymore, he said. He was working to teach the next generation to feel more strongly about their culture, and believed the new generation was more interested than the last, he said.
"If we educate them a lot, I hope the Khmer-Krom children will learn more than this generation," he said.
Thong Yin, 53, lives near the Tra Vinh pagoda. He said he was seeing more children attend pagoda schools than before.
His son joined a monastery after finishing his public education, and his daughter studies Khmer and teaches English to monks, he said.
"It is our Khmer tradition to give our children to be ordained as monks to learn and preserve Khmer language," he said.