Chan Bony, a 42-year-old mother of three, says 23 years of working at a garment factory left her with few useful skills.
"I know exactly how to do my job," Bony says. But that job, over more than two decades, was mostly limited to sewing sleeves. "I can only do that part professionally, but no other part. So I can't run my own clothing business."
Bony lost her job at Phnom Penh's Chu Hsing Garment factory about a year ago, as international clothing orders and consumer demand plummeted amid the Covid-19 pandemic. She has been unable to find work since.
Chul Sreymom, 40, a 20-year veteran in the industry, says she has been continually looking for work since her factory closed down, also about a year ago.
Employers don't outright say they won't hire older workers, but when candidates gather at a factory for recruitment, it's clear who's picked for a job and who's left out, Sreymom says.
"The person who comes out to select workers only chooses the younger," she says.
Both workers say that 35 years old seems to be the cutoff for hiring.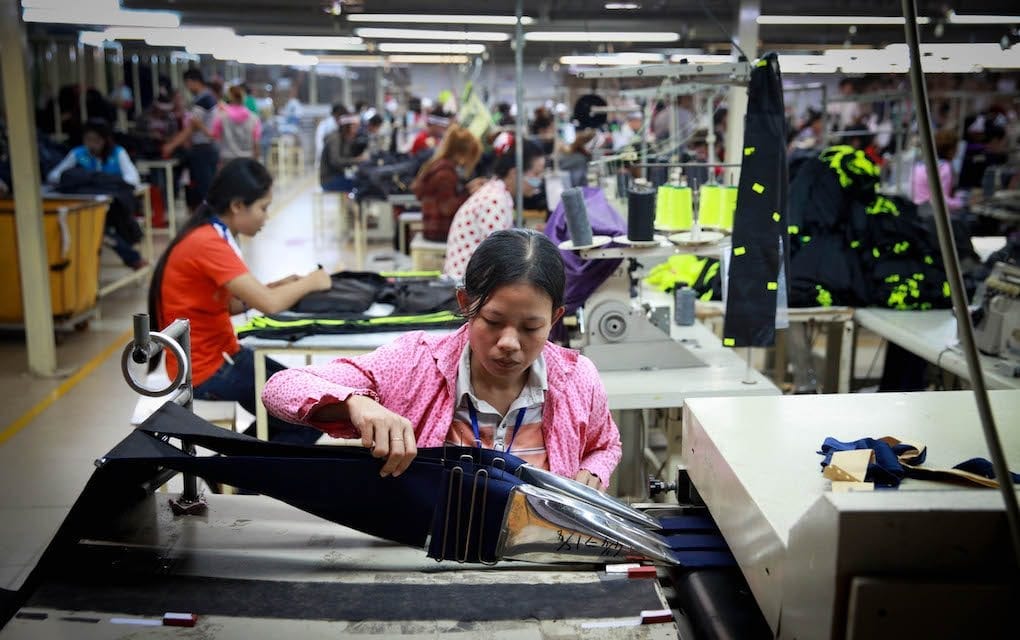 In 2018, the International Labor Organization reported that 84.3 percent of garment sector workers were under the age of 35, even as the 2019 census shows that just 56 percent of the working age population were under that age.
As factory workers age, their contracts are less likely to be renewed, they struggle to be hired, and they're cast out with little training to take on anything new, workers and advocates say. The problem is two-fold, they add: There's discrimination against older workers as being slow despite their experience, and even decades of work doesn't equip factory workers with the knowledge or skills to move on.
According to the Labor Ministry, some 71,000 workers have lost their jobs as 129 factories shut down amid the pandemic.
Bony, the sleeve sewer, says she and her husband are trying to set up their own business, a small store offering both tailoring and beef skewers.
"We got a $7,000 loan from a microfinance institution to establish the store and run the business, but we don't have any experience or skill. So it's very challenging for us to run the business smoothly and make a profit," Bony says. "I and my husband are struggling to understand what the market needs. We just follow other people's businesses."
She would like some business training, but for now it is enough of a challenge to pay her bills, including school fees for her children, she says.
"Some months I even borrow from other family members to pay back the debt," Bony says.
Prok Vanny, a consultant on gender equality issues, says it's a growing problem for the industry as employers churn through workers.
"They profit from the workers [until they] become slow, less energetic, weak and unhealthy after several years of employment," Vanny says.
"There's discrimination against recruiting older women," she adds, encouraging the establishment of training programs to allow women to find new opportunities as they age.
Vanny says families also push their daughters to work at factories without thinking of their futures.
"They take loans from microfinance [lenders] without a business plan, many of them build a big house … or buy vehicles, and their daughters need to work to make money to pay back the debt," she says.
Yang Sophorn, president of Cambodian Alliance of Trade Unions, says it is a trend throughout the industry that employers won't hire workers over 35.
"They think the workers will be getting slow and not very productive," Sophorn says. "But they don't see the positive advantages."
Older workers can be more reliable, where younger employees can be more flighty, thinking there are always other opportunities, she says.
Neither the Labor Ministry nor the Garment Manufacturers Association in Cambodia responded to questions.
Sreymom, who has been looking for work for a year, says she has managed to find some temporary, non-guaranteed work.
"They dismiss me whenever they don't have a lot of work at the factory," she says.
It's a common predicament, says Luy Eng, a union representative at Eastex factory located in Phnom Penh's Pur Senchey district. Older workers are usually the first to be cut, she says.
"For contracts that aren't renewed because they're fixed-term, the majority of those workers who are passed over are over 35 years old," Eng says.