UPDATED 8:56 a.m. — Phnom Penh residents are restricted from leaving their homes except to buy food three times a week or for work and emergencies, and business activities must be curtailed except for those that provide for "daily needs" or are conducted online, Prime Minister Hun Sen declared just before midnight.
In an official order posted to Hun Sen's Facebook page, the government announced a two-week lockdown in the capital and Kandal province's Takhmao city, effective from Thursday through April 28.
People are banned from leaving their homes except to go to work, to buy food three times a week near where they live, or in the case of health emergencies or to get vaccinated, the document says. People must bring IDs at such times, it says.
It adds that business activities are banned except for those that provide for daily needs, such as food production, certain factories, public institutions and the armed forces. Online work is permitted, as are restaurants providing food for delivery, hotels and guesthouses, and goods transportation.
The Foreign Affairs Ministry has made an English version of the order available on its Facebook page.
The announcement came hours after Phnom Penh grocery stores and markets became crowded with shoppers late Wednesday amid suggestions of a citywide lockdown, with authorities not confirming the order despite an audio message from Hun Sen circulating on local media.
In a message issued around 8:20 p.m., Health Ministry spokesperson Or Vandine urged people to remain calm. She did not provide confirmation about the potential lockdown, but said the government would make sure people had access to food.
"I urge all citizens to remain calm rather than rushing to the market, which creates an overcrowding that increases the risk of transmitting COVID-19 virus," the message's English translation said.
"Please believe in the measures of the Royal Government [to] have the right mindset and will not close down everything so that there may be a way to allow people to find food to eat."
City Hall spokesperson Met Measpheakdey and Phnom Penh police chief Sar Thet said around 6:30 p.m. that they could not confirm the lockdown until an official announcement was made.
"Wait for the document. There is no confirmation yet," Measpheakdey said.
Thet said: "We have not seen an official document yet. Wait and see."
In an audio message circulated by some local media outlets Wednesday afternoon — which government spokesperson Phay Siphan said was indeed Prime Minister Hun Sen's voice, though Siphan said he had not received any information to confirm the order — the premier says Phnom Penh and Takhmao city need to be locked down.
"Our situation is too serious," he says in the recording. "I've decided to lock down the city for two weeks. If not, it will spread all over. There is no single district that has not been impacted. Now I order an announcement to lock down Phnom Penh city tonight."
Photos posted on social media Wednesday evening showed Phnom Penh residents crowding markets, grocery stores and shops, which reporters witnessed in at least two communes.
An 8 p.m. to 5 a.m. curfew is already in place in the capital amid a serious Covid-19 outbreak, while seven Phnom Penh villages and two communes were last week locked down amid the disease's spread.
For the villages and communes previously put under lockdown, travel in and out was restricted with roadblocks and permitted only for work or emergencies, while residents were instructed to shop at markets only two times a week.
In Toul Tom Poung, shoppers flocked to some stores in the evening amid the suggestions of an impending lockdown.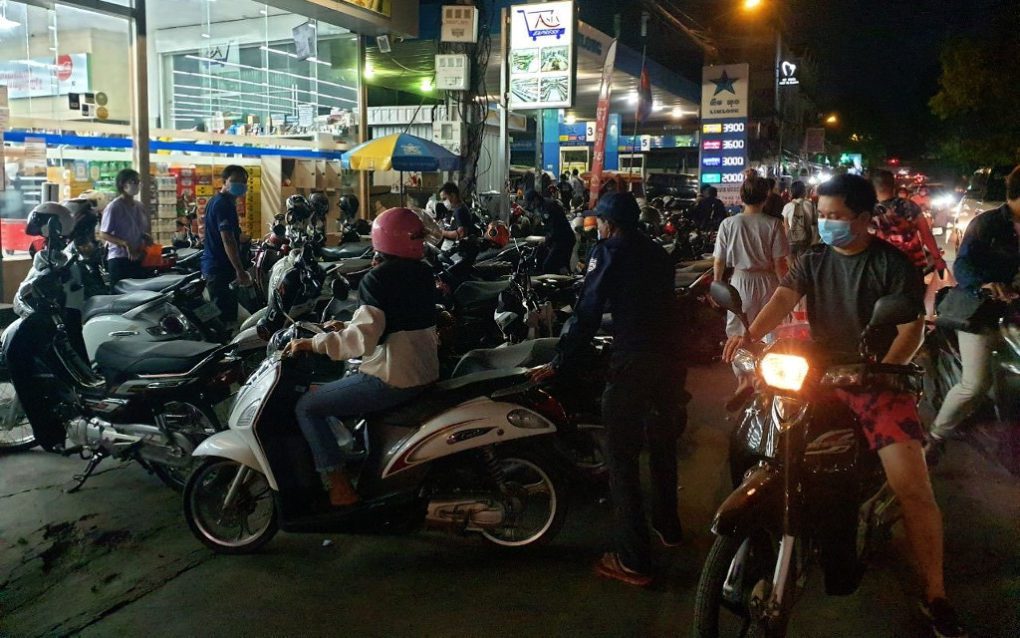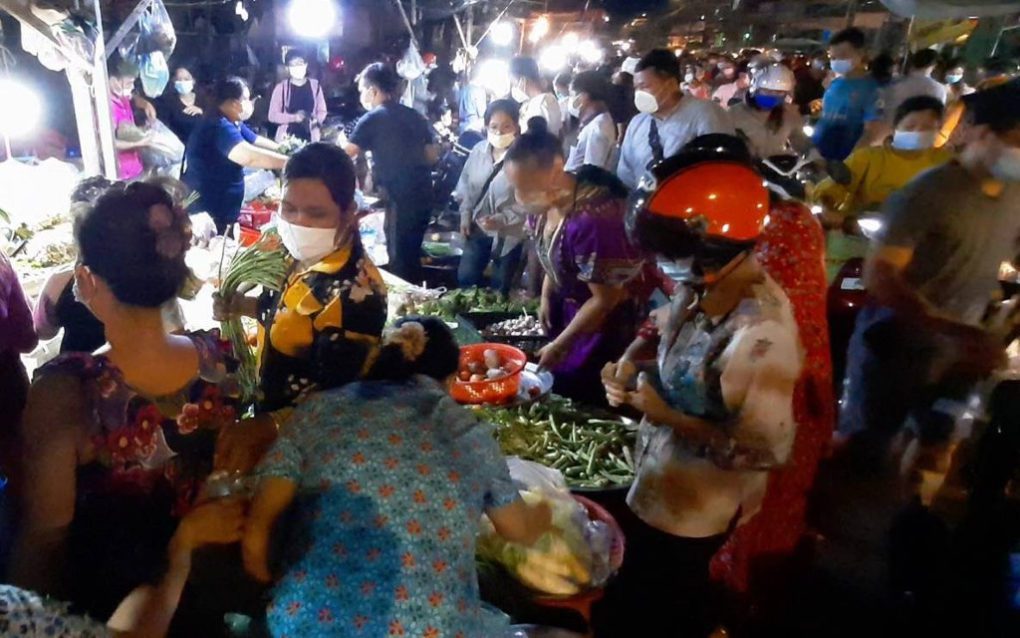 A street fried chicken seller, who gave his name only as Sopheak, said the rush was sudden.
"The government should inform us a few days in advance so that we can prepare, so people do not flood the markets to buy food. The government does it too quickly," he said.
A supermarket security guard, who declined to be named, said crowds were arriving at the shop to buy food.
"It is very difficult because there are so many people coming. It is hard to control for social distancing."
Updated at 9:20 p.m. with Or Vandine's message.
Updated at 10:11 p.m. with photos from Toul Tom Poung market.
Updated at 1:09 a.m. with Hun Sen's order.
Updated at 7:55 a.m. with more detail about permitted activities.
Updated at 8:56 a.m. with link to Foreign Affairs Ministry translation.